Doug McIvor is spirits manager at Berry Bros & Rudd, the man behind Blue Hanger blended malt, Penny Blue XO Mauritian rum and the Berrys' Own Selection spirits range. Doug began his whisky career at Milroy's in Soho, to which he returned to tell Richard Woodard about invading Swedes, two Germans and National Orgasm Day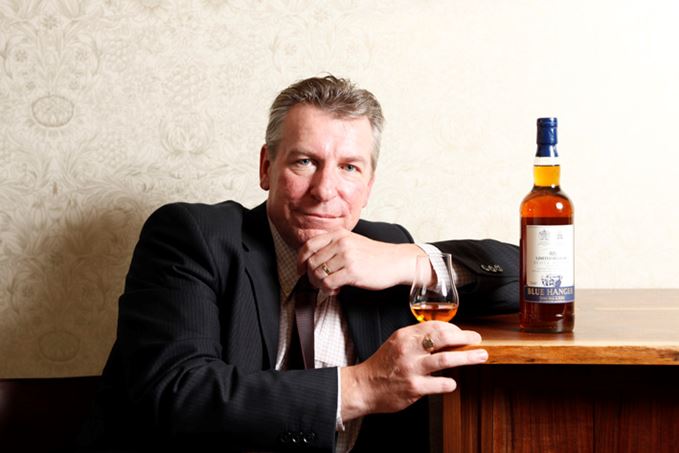 'God, this place brings back some memories, I can tell you. I remember unblocking the fireplace upstairs here and God knows how much soot came down.
'I've found with some Scotch whisky blends that you start off kind of over-complicating things, just to see if you can use everything. But then, when you start stripping things away, you start to see the real potential of what you've got.
'I've got a couple of big German things in my life – a German Shepherd and a big five-litre 1987 Mercedes, which is my hobby. But there's too much of the former left behind inside the latter.
'What brought me to Milroy's? I saw a job advertised for a family wine company with a W1 address. I'd been down on the south coast, but not trying to be a whisky or wine writer like so many other people. When I got here, the business turned out to be 50% whisky.
'When I get the chance, I go carp fishing, but I'm the kind of guy who would just turn up with a rod. I choose places where I can park very close to the water, so when it rains I can just leg it.
'I used to have a race with my former mother-in-law, to see who could get through the Telegraph crossword and half a bottle of Macallan first. The crossword didn't really matter and, by the time you'd got through a few fingers of the bottle, the cryptic side of it was a bit lost on you anyway.
'Fishing's my outdoor hobby, but my indoor hobby is philately. And that, I can tell you, gets you absolutely nowhere*.
* Editor's note: this is Doug's sense of humour. You'll get used to it (or not).
'For the first six months at Milroy's, Jack Milroy, who was this great big bear of a man, referred to me as 'who's that boy?'. I stayed for 10 years – through some rocky times and some very good times.
'The job at Berry Bros was a blank canvas because they didn't have a great reputation for spirits, despite owning Cutty Sark and having been independent bottlers for a couple of hundred years.

Funny guy: Despite appearances here, Doug McIvor has quite a sense of humour

My first dram was when I was around six or seven, and it was Teacher's. My parents were both teachers, so…
'It was the early '70s during a miner's strike, and our house was very, very cold. I came down in the morning and found my pet gerbils lying on their backs, legs in the air, in a state of rigor mortis…
'I started screaming, so my sister came downstairs. She went and got some whisky and dabbed it around the mouths of the gerbils – and they soon started moving around…
'I didn't think much of it until it happened again. This time I didn't wake my sister; I poured a cap and it worked, so I thought it might warm me up too. Then it was 'one for you, one for me'. I had a very interesting time in school that day.
'It was a party atmosphere at Milroy's on Saturday afternoons. We used to get the Swedes, who flew into Stansted on a Saturday morning, started at Milroy's, had a bite to eat and then went to see Mamma Mia. Coals to Newcastle.
'People have said that my personality does come through in the blends I make, and they feel there's a consistency and it's reassuring. Basically, I'm only looking for one key element that's the same for everyone at Berrys, whether they're a wine buyer or the chairman: is it good to drink?
'In the late '60s, Cutty was the biggest-selling brand in the States and, if you're up there, someone wants to knock you off. Dewar's and Chivas and the rest had the money to throw at advertising in order to do that.
'To me, blending's about complexity, balance and texture. As long as there aren't any bad elements, that should work. I look for a good mouthfeel, which is important to me because mouthfeel is a carrier for a long and persistent flavour.
'That was my office, just over there. I remember I slept here once and it was so cold, I had to turn on the photocopier to keep myself warm.
'I saw the other day they were advertising National Orgasm Day for 31 July. Can you imagine organising an event like that and nobody comes?
'Five years after selling Cutty, getting Glenrothes and growing the other brands, including Berrys' Own Selection, we're back at a place where we've replaced what we'd lost, but these are premium products and that fits much better with where we want to be.
'I went pike fishing in the second biggest lake in Sweden with some pals, and I took along a bottle of Clynelish. Every time we caught a pike, we had a dram. By the end of the day, I was sunburnt to bits, the bottle was empty and we had about 14 pike.
'What I'd describe as my filing cabinet whisky is whichever release of Blue Hanger we have on the go at the time. Every time you try a whisky, you find something new about it. Blue Hanger is a kind of evolution – the more I learn about the current release, the more mental pictures I can feed into my brain for the next release.
'My sense of humour comes from my other real love in life: good ale and good company. And the wetter I get, the drier I become.
'Whisky is ultimately something you can sit down with in a darkened room, with your favourite music, and just let your senses fill up.'