London wine and spirits merchant Berry Bros & Rudd (BBR) has partnered with Scottish photographer Lindsay Robertson to launch a range of blended Scotch whiskies.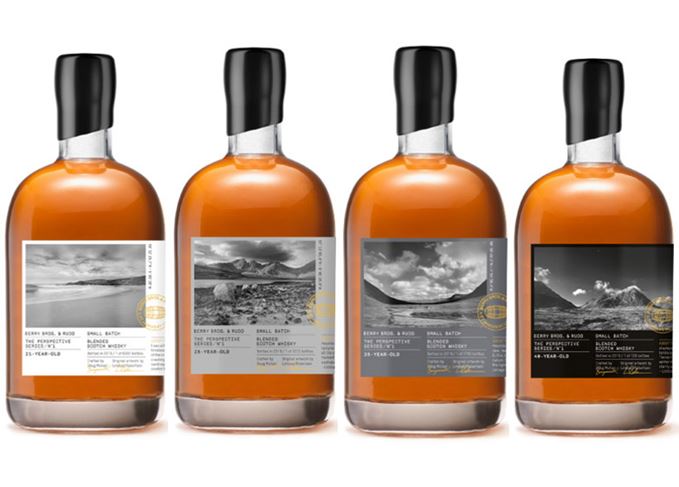 The Perspective Series is a range of limited edition blends, each featuring a photograph of a Scottish landscape which acts as 'a visual metaphor of the flavour of the whisky'.
Berry Bros master blender Doug McIvor said the range is 'all about using our senses'.
'Absorbing the spectacular images on the label whilst taking a sip of the amber dew provides a powerful combination that can amplify and instil joyful memories of a time and a place,' he said.
'Visual beauty is emotive, and I look for balance and complexity, maturity and texture in the whisky.'
The Perspective Series, which will be available to buy from Berry Bros from 25 March, will initially include four expressions aged for between 21 and 40 years.
The 21-year-old (£89, 6,300 bottles) is described as having notes of vibrant fruit oak and spice. It is bottled at 43% abv and is accompanied by an image of Sandwood Bay in Sutherland.
The 25-year-old (£145, 3,200 bottles) is also bottled at 43% abv and is described as being 'full, viscous, fresh and lively'. It is accompanied by an image of The Cuillin mountain range on Skye.
A 35-year-old expression (£250, 1,700 bottles) comes with a label depicting Rannoch Moor. It's bottled at 43% abv also, and described as having 'rich mature notes of fruit and malt' with a 'lively crispiness from the grain'.
Finally, the 40-year-old (£450, 120 bottles) is bottled at 40.1% abv with a label showing Buachaille Etive Mòr in the Highlands. It's described as having 'plentiful soft, ripe tropical fruit' notes with 'hints of vanilla, coffee beans and subtle yet uplifting spice'.
Robertson added: 'Photography is to see. The art of being aware of our natural surroundings which are the raw ingredients to compose the image – that image is then captured within a moment in time.
'Whisky is similar in that it is the taste which is the art… using the same raw natural ingredients, composing and distilling these ingredients in time, then patiently awaiting the day of maturity with anticipation.'
The Perspective Series will evolve over time to feature new collaborations with different visual artists.