Monkey Shoulder's global brand ambassador has seen the blended malt grow from a peripheral brand to one of William Grant & Sons' biggest success stories. He tells Becky Paskin what makes it the 'trendiest' Scotch in the world, why single malts are running out of 'geeky' marketing messages, and how he's merged the worlds of whisky and video games.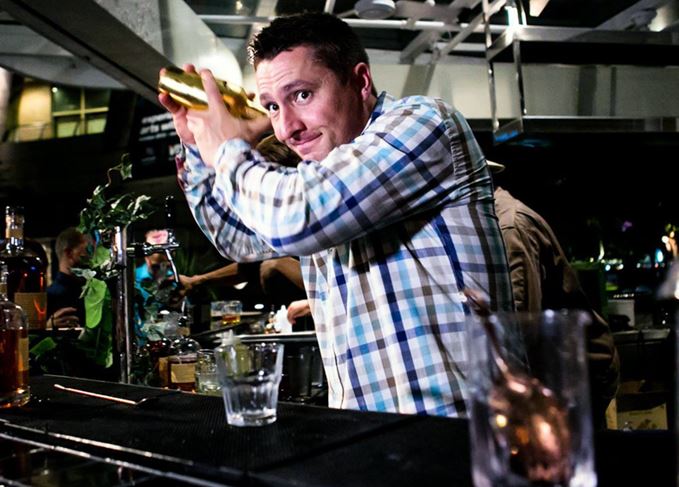 'Being fun is difficult in Scotch whisky because the category is so established as being serious. That's the whole reason Monkey Shoulder exists. It was created not to have the stigma of a single malt or the familiarity of a blend; we wanted to sit somewhere in the middle so we could create an occasion outside the traditional whisky moment.
'People still think Monkey Shoulder is a blend, but I'd say our attitude is that of a lifestyle brand – if we are ever quizzed on how it is made, we will tell them, but we try not to get bogged down explaining to people the difference between a single malt, a grain or a blend. The question is more about whether they like it.
'There's nothing wrong with grain whisky. It's perceived as inferior because single malts were selling themselves as better than blends and now that's engrained in consumers. When that marketing didn't work any more, it moved to non-chill-filtration being better than chill-filtration, and caramel colouring being bad. Now it's at a stage that the smaller, hand-crafted and rare brands are better. Eventually they will go full-circle, drop all the age statements – which is already happening – and go back to having a bit of fun with it, because they'll run out of geeky crap to sell to people.
'Our job is to introduce people who don't drink Scotch whisky to the category. If they start drinking it and like it, they're more likely to find another whisky they like.
'Being named the trendiest Scotch whisky [by Drinks International] was amazing. Grant Neave [UK brand ambassador] wants to make a shirt that says "trendy" and cruise around and promote it, but we've won loads of awards over the years and never once bragged about it. I love this award the most because it's voted for by bartenders and consumers who've tried it and like it. Word of mouth tends to work better than advertising for us.
'The number of people who have fallen in love with Monkey Shoulder and are sharing it has reached a tipping point over the last year and a half. They've been fans for a long time and because the brand hasn't changed massively and isn't seen on billboards everywhere, they've been able to stay true to it.
'We've become a core brand for the company now too, which means it's aligned with all our main brands. It wasn't always that way. When I started on the brand [in 2010] people were busy taking care of Glenfiddich and Grant's and no one was looking after Monkey Shoulder. It was always difficult – you had to wave your arms around a lot – but now everyone is taking it seriously.
'I'm the type of person that will open whisky. I managed to get a couple of bottles of Tun 1401 Batch 1; the first one I opened and the second I opened last year. It was going for over £2,000 at that stage and I was drunk and like "check this out". It's gone now, though. It's for drinking at the end of the day. You don't want to get hit by a bus and be on your deathbed and be like: "I wish I'd opened that Tun 1401 and tried it".
'The nature of my job means I'm always on the go. We've just worked out my calendar up until the middle of November, and even then I'm missing loads of markets I can't personally go to.
'If I could zap from one market to the next and not worry about the flights, I'd constantly be there. If I could take [my partner] Electra with me, I'd be on the road the whole time.
'Gaming is a bit of a release for me, but I've now brought work into the gaming environment. I started playing video games with top bartenders around the world and, as we have headsets, we chat while playing. That's why I started a Boozy Gamers group on Facebook to bring as many industry people together as possible. The advantage is they tend to play a couple of hours before they go to work and a couple of hours after they finish work. The guys from Employees Only [in New York] seem to be online all the time.
'I've wanted to be a bartender since I was 14. Either that, a pilot or a copywriter. In old Western movies, which I was into when I was a kid, nobody matters apart from the good guys, the bad guys and the saloon keeper. The bank manager might be in it sometimes but he's always a pussy who backs out of everything. The saloon keeper is the kind of guy that pulls a shotgun out from behind the bar and says "not in my bar". He's central to culture and society within a town.
'Whatever bartenders get into, the rest of society does five years later. Bartenders got into tattoos and moustaches around 2003, now everyone has them. Even croupier clips – when they were popular they were impossible to find. Now Tie Rack has them.
'When I started as a bartender, I did a work-based training and assessment course, two different bartending courses and a hospitality management course. I spent thousands of dollars on all these training courses, but when I went for my first bar job they said they didn't employ people without experience. So I said I'd work for free until I'm better than the worst bartender in the bar. They took me on; it was two weeks before I started getting paid.
'I was an extremely arrogant little shit when I was a kid. I had the tenacity when I was 15 to make myself my own parent/guardian so I could write my own excuse notes, like: "Dean cannot wear his school uniform today because he hasn't washed it".
'I built a bar in my back garden, but the dream is to own an actual bar that charges people for drinks. The number one thing that's missing from the industry is a bar that brings back the old hospitality that innkeepers had. There was accommodation upstairs, a trough outside for your horse, there was ale and food – and that was it. I'd like to have a trough outside my bar too. And saloon doors. But it's more the mentality and hospitality of an all-encompassing place I'm after.'