Edrington has revealed the location of its new international headquarters in Glasgow, which will end the city of Perth's historic ties with Scotch whisky.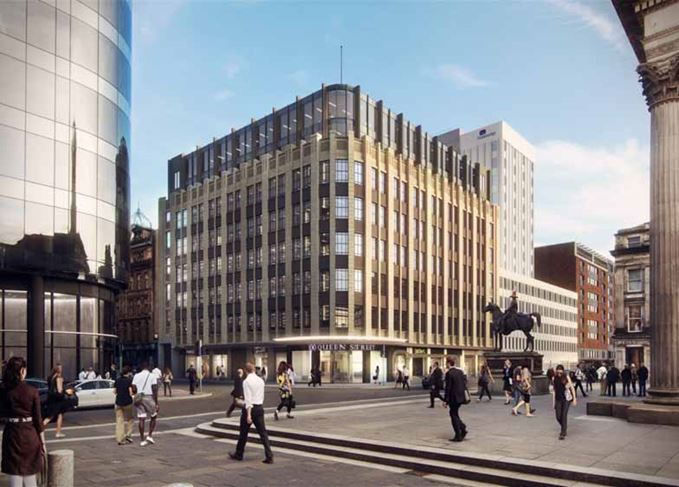 The Famous Grouse, Macallan and Highland Park owner will relocate to 100 Queen Street, near Glasgow's Royal Exchange Square, in spring 2017 – a move that will result in an estimated 21 redundancies, 13 in Perth and eight in Glasgow.
Ian Curle, Edrington's chief executive, said: 'Bringing together our leadership and business units in a central Glasgow location will help to ensure that the business is in the best possible shape to deliver long term growth.
'It will improve international connections and bring us close to the creative and digital skills necessary to grow our business.'
The new building is owned by Esson Properties and is in the process of undergoing an £8.25 million renovation, including the addition of two extra floors.
It will enable the group to manage its board and business units from one location, which are currently split between Great Western Road, Glasgow, and West Kinfauns, Perth.
A total of 130 people will be based at the 100 Queen Street site, including the executive board, finance, legal and corporate affairs team, senior members of the firm's global operations, HR and business technology division.
Edrington employs 2,325 people around the world, more than 60% of whom are based outside of Scotland.
The drinks company has experienced a 'challenging' year, with political and economic volatility resulting in reduced profits in its full year 2015/16 financial results.
The closure of Edrington's West Kinfauns office on the outskirts of Perth ends the city's long historical relationship with whisky, which dates back to the days of the great early blenders such Arthur Bell, Matthew Gloag and John Dewar.