Bruichladdich distillery is releasing what is claimed to be the peatiest whisky produced in Scotland as part of its new Octomore Eights Masterclass series.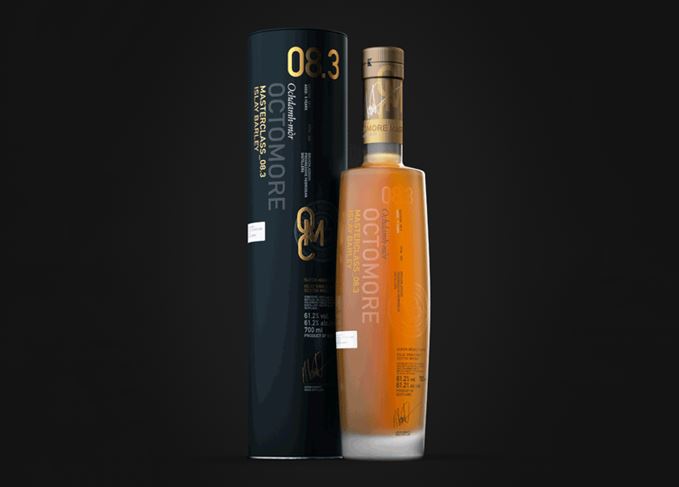 The Islay distillery's Octomore Masterclass 08.3 edition contains barley peated to a phenol level of 309ppm (parts per million).
Until now the peatiest whisky on record was Octomore 06.3, released in 2015 and containing barley peated to 258ppm.
The new Octomore Masterclass 08.3 contains whisky distilled in 2011 from barley harvested by the nearby Octomore Farm the previous autumn.
Bruichladdich said drying the Islay barley with peat smoke during the malting process produced 'unprecedented' results.
'Using HPLC (high performance liquid chromatography), the readings came back at 309.1ppm,' the distillery noted.
'The nature and variety of Octomore depends on far more than simply numbers, but these were staggering. Off the scale.'
A whisky's ppm usually refers to the amount of phenols imparted onto the barley during the drying stage of the malting process, rather than being a direct indication of the 'smokiness' of the whisky itself.
The ppm level can vary depending on whether a colorimetric reading or one from HLPC is taken, the latter producing higher figures.
However, Bruichladdich claimed that Octomore 08.3 is the peatiest malt yet made at the distillery.
A spokesperson said: 'We believe it to be the peatiest Scotch ever produced, but then we are not some omnipotent, all-knowing Yoda.'
Following distillation, the heavily peated spirit was matured in a combination of ex-Bourbon casks, and ex-wine casks made from European oak, for five years.

Symbolic moment: Octomore Masterclass is the first collection created by Adam Hannett

The expression is the only release in the new Masterclass series not bottled as an eight-year-old.
Carl Reavey, head of communications at Bruichladdich, said: 'The rules are meant to be broken of course. Octomore has usually been five years old (except when it has been 10, or seven). The eights are, inevitably, eight years old, except for the one that isn't.'
He added that the new series is 'the first chapter in the Octomore odyssey to be entirely created by [master distiller] Adam Hannett, and the first to be presented as a coherent Masterclass'.
He added: 'Octomore actually means "The Big Eighth", so we have reached an important milestone. Adam sees this as a symbolic moment – one to pause and reflect on the subtle control of sensory nuance, past, present and future.'
The four whiskies comprising the Octomore Masterclass Eight series are:
Octomore Masterclass 08.1
Strength: 59.3% abv
Distilled: 2008; bottled as an eight-year-old
Phenol level: 167ppm
Cask: First-fill American oak barrels
Availability: 42,000 bottles; global release in September 2017
Price: £120
Octomore Masterclass 08.2
Strength: 58.4% abv
Distilled: 2008; bottled as an eight-year-old
Phenol level: 167ppm
Cask: Six years in refill ex-Sauternes, French Mourvèdre and Austrian sweet wine casks. The casks are vatted and finished in first-fill Italian ex-Amarone casks for two years
Availability: 36,000 bottles; global travel retail release in September 2017
Price: £125
Octomore Masterclass 08.3
​Strength: 61.2% abv
Distilled: 2011; bottled as a five-year-old
Phenol level: 309.1ppm
Cask: 56% ex-Bourbon American oak; 44% ex-Pauillac, Ventoux, Rhône and Burgundy European oak casks
Availability: 18,000 bottles; global release in September 2017
Price: £165
Octomore Masterclass 08.4
​Strength: 58.7% abv
Distilled: 2009; bottled as an eight-year-old
Phenol level: 170ppm
Cask: 20% virgin oak casks; 80% first-fill American oak casks, finished in second-fill virgin oak from France.
Availability: 12,000 bottles; global release in 2018
Price: £150