Islay's Bruichladdich distillery has unveiled its latest series of heavily peated Octomore single malts, including the range's youngest whisky released to date.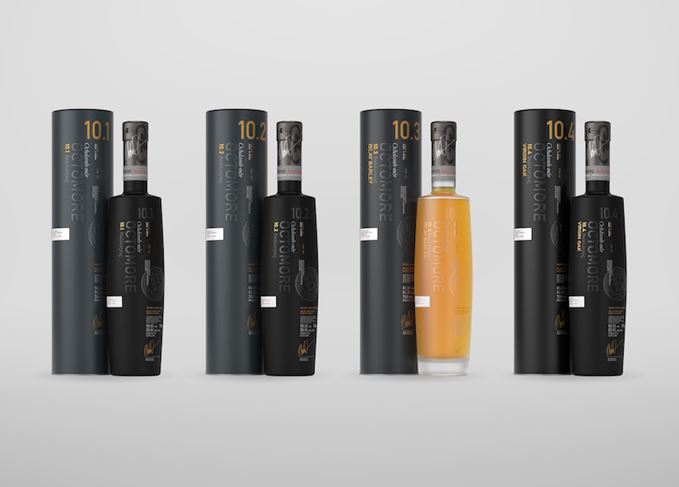 The latest release of a series that began in 2002, Octomore 10 includes four single malts, three of which are available now, with Octomore 10.4 set to be released in January 2020.
Octomore 10.1 is described as 'stripped back' and the 'benchmark' of the series, and was distilled from Scottish barley in 2013.
Exclusively matured in American oak, it was bottled at five years old and 59.8% abv, with a peating level of 107 parts per million (ppm) and costs £125 per 70cl bottle.
Octomore 10.2, exclusively available in travel retail, was matured in a combination of first-fill American oak casks and third-fill French oak casks, the latter previously used to mature 'the finest' Sauternes dessert wine.
Peated to 96.9ppm and bottled at eight years old and 56.9% abv, it promises 'a delicate balance between the tropical fruit notes of the Sauternes and the floral, fruity Octomore spirit', and is priced at £150 or €165.
Octomore 10.3 was distilled in 2013 from barley grown on Islay in 2012 by farmer James Brown, and was matured for six years in ex-American oak casks.
Described as a 'single field, single vintage, single malt', it was peated to 114ppm and bottled at 61.3% abv. It costs £175 per 70cl bottle.
Octomore 10.4, available from January 2020, is the youngest Octomore release to date at three years old, having been distilled in 2016 from the 2015 barley harvest.
The whisky was matured in 28 virgin Limousin French oak casks, with a high toast designed to lessen the wood's naturally high tannin impact.
Described as having 'a dry fruit character that is impeccably well-rounded', Octomore 10.4 will be bottled at 63.5% abv, and will cost about £155.