Rare Scotch whisky sales have broken records in the first half of 2017, as UK auctions reach new highs in both the number and value of bottles sold, a new report has revealed.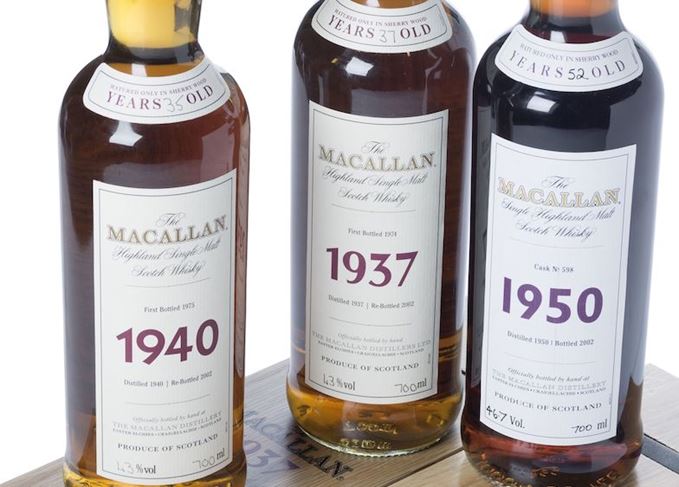 The value of collectable bottles of single malt Scotch whisky sold at auction has risen by 93.7%, reaching a record half-year high of £11.2m, according to market analyst and brokerage firm, Rare Whisky 101 (RW101).
In the same period, the number of bottles sold rose by nearly half (to 39,061), while the average value of a collectable bottle reached a record high of £286.13 – almost £69 more than in the first half of 2016.
Macallan leads the way with the most expensive bottle sold during this period – a 50-year-old Macallan Lalique that fetched £65,210 in April.
In the UK resale market, Macallan now accounts for roughly 10% of all rare whisky and for nearly a third of every £1,000 spent.
This growth has led to predictions that auctions of Scotch in particular could break records this year.
RW101 founder Andy Simpson said: 'Never has the secondary market for rare whisky been so strong, and we expect the value of Scotch sold at auction in the UK to break £20m this year for the first time ever.
'At a brand level, individual producers are continually pushing the prices of their premium-aged stock. Couple this primary market price inflation with increased global demand and declining stocks of discontinued bottles, and we still look to be in the "perfect storm" for the right bottles to continue to appreciating in value.'

Market analyst: RW101's Andy Simpson (left) says it is a 'good time to be investing'

The latest figures follow what RW101 described as 'an exceptional year' in 2016, as well as recent reports that the UK whisky auction market is worth £2million a month.
And with projections looking positive, Simpson suggests it is still a good time to be investing.
He said: 'With any investment asset experiencing such a run, it all could come to an end. But right now, the right bottles of Scotch seem to be in ever-increasing demand.
'With so little significantly-aged stock still maturing in the cask, it's unlikely we'll see prices easing for rarities in the short-to-medium term.'