From being bought a book on distilleries as a teenager and exchanging bottles with his father, Andy Simpson's life seems to have led inexorably into collecting and investing in whisky – not to mention recording auction data. The co-founder of Rare Whisky 101 speaks to Angus MacRaild.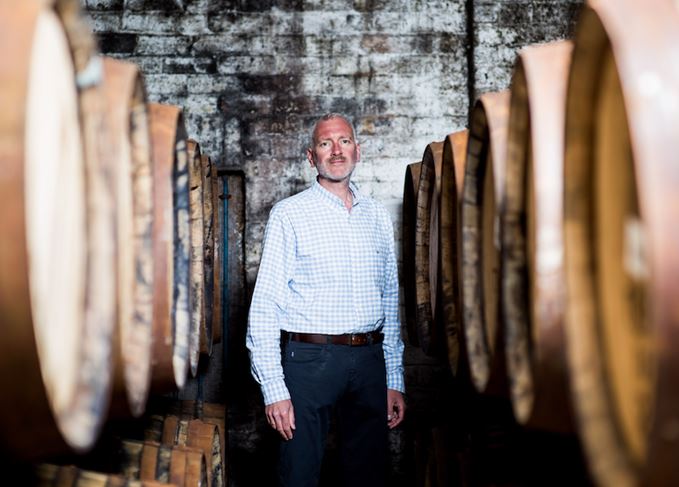 Who are you and what do you do?
'I'm Andy Simpson. I'm one of the two founding directors (with David Robertson) at Rare Whisky 101 and started Whisky Highland originally back in 2008.'
What whiskies do you collect and why?
'Anything and everything Scotch. I buy to drink, I buy to collect and I also buy as an investment. While it's almost impossible to do, I still try and buy two of everything – one to drink and one to keep. Availability, external market demand and a lack of time usually prevents that these days.
'From a collecting/investing perspective the bottles I buy have changed over the years. I remember the last year I really bought much on the primary (retail) market was 2011 – there was the Glenfiddich Foundation Reserve, the PX Ardbeg Fèis Ìle and a few other good collectibles.
'Over recent years I've found my interest in the primary market has diminished, so I pretty much just buy older discontinued bottles in the secondary market now.'
How did you first get into whisky?
'Scotch has really been in the family from birth. My father rubbed Scotch on my gums when I was a teething tot. After that, when I was still a teenager, he bought me a book on distilleries and said we were going to exchange bottles from different distilleries on each birthday and Christmas and drink our way through Scotland.
'As my palate was still too tender as an adolescent, I squirreled away bottles rather than drinking them and inadvertently became one of those strange animals known as a "whisky collector".
'I then fell in love with Scotch, the distilleries, the myth, the magic, the chemistry, the people and the places; it's a passion that's stayed with me now for 28 years.'
When, and why, did you begin thinking about whisky as an investment?
'It was in the days when there was no real secondary market to speak of, and there were a few bottles appearing here and there, usually bolted onto the back of wine auctions. I started to see some bottles increase a little in value over time and that was it.

Islay malts: Simpson can't see the 'bubble' of rare Scotch whisky bursting any time soon

'I then had a natural curiosity with the bottles I had to see if they could/would be any sort of investment, but had no real idea of what was driving the market, what was increasing in value and why. So I challenged myself to find out.
'From the early 2000s I then started recording auction sales data on a simple spreadsheet. Once the market started to pick up a little, I remember it took me about an hour per day to keep on top of the data, so I think I've spent an estimated total time creating our current database of just over one full year at a full-time eight hours per day.
'Now we have a team of ex-HMRC investigators who help out as the market's exploded. We've also just employed a new broker/analyst, Jamie Timoney, to help out with valuations, reports and other fun stuff too.'
Isn't there an argument that investing in whisky relies on the exploitation of the long-established passions of drinkers and collectors?
'I'm not sure passion for whisky is exclusive to just those who drink it. We deal with thousands of collectors and investors around the globe, and the big thing which is a common thread is that their passion for whisky precedes their collecting/investing. I remember only ever speaking to one single collector/investor who was tee-total and had no passion for anything other than gain.
'We've always maintained that drinker, collector and investor work (inadvertently or not) symbiotically. If drinker/collectors didn't still own some of the old gems we see on today's market, the collector/investor wouldn't have anywhere other than the primary market to buy from.
'Equally, one person's investment today is frequently another's favourite drink tomorrow. So we have this circular relationship where collector/investors buy from drinker/collectors and drinkers buy from investor/collectors.'
Prices have been remarkably high recently at auctions. What do you think is driving this?
'So many factors. The simple rarity of certain bottles almost dictates they're going to see a premium. We do know that many of these bottles are being opened and consumed rather than lining the shelves.

Business partner: Simpson is the co-founder of Rare Whisky 101 with David Robertson

'There's a growing number of drinker/collectors who will pay a premium to get the amazing old bottles of yesteryear. As an example, Caol Ila's Manager's Dram appeared fairly regularly at auction a few years ago and sold for less than £400; now you'd be looking at £3,000 plus commission.
'It's an awesome drink, so many bottles meet their rightful, fitting end of being opened. That then further decreases supply and, providing demand remains the same or increases, that pushes prices higher for bottles remaining in the market. It also appeals to collectors too; if someone's missing that bottle, then it's about what value completing the Manager's Dram collection has.
'While the broader secondary market is expanding rapidly, some of the rarest bottles are actually appearing less frequently at auction, so when they do, demand in some cases is massive. The value of scarcity is a key influencer.'
People talk a lot about a 'correction' or a burst of the bubble. Do you think this is likely?
'At some point, I think a correction for certain bottles from certain distilleries is inevitable. How big that correction is, is far less easy to forecast. History shows us that we've already seen values for bottles from some distilleries tumble. Throughout the last three months of 2010 we saw almost 50% wiped off rare Glenmorangie values and it's taken until relatively recently for those values to return to pre-crash levels.
'In terms of a bubble bursting, in the current market, I think that's unlikely. Bubbles burst instantly and leave nothing, akin to when a company goes bust and its shares are worthless. That's really not likely; it's an improbable possibility, so not impossible, but nonetheless unlikely in the current market.
'I can't even see prices returning to early 2000s levels… Port Ellen 1st Release for £100? Macallan 18-year-olds for £50? While demand is as strong or stronger than it is now, there will be upward pressure on prices.'

Old Lagavulin: Simpson has his eye on this venerable bottling of the Islay malt, up for auction soon

Do you agree that the character of Scotch whisky has changed over recent decades? For better or worse, in your view?
'Oh, for sure, 100% agree. I'm not sure many would disagree, to be fair. I think it's changed for "the more consistent" and it's changed to enable growth of the industry to meet increased demand.
'We (the Now & Then Club) occasionally compare old variants of entry-level bottles with their contemporary counterparts and score the results. So, answering from a personal perspective, certainly for my palate, I've preferred the previous incarnation in almost 100% of cases.
'That's also how I remember Scotch with bottles I tried 10 or 15 or 20 years ago, and I pick up a dram of the new version in the pub occasionally. It happened very recently with a well-known, highly-regarded 18-year-old dram. I just fancied one to end the night… my recollection is of a very different profile from a few years ago; the new variant was bland.
'I think the character of Scotch in general "had" to change as it's been an enabler for broader growth in the industry… but from a personal perspective, for my palate and preferences, it's changed for the worse.'
What are some of the favourite bottles in your collection?
'I love some of the old, almost unique bottles. Most of these I just won't open. I have a Glenburgie believed to be a single bottle, originally produced for a VIP visitor. The Dufftown Seven Stills Race is also a favourite as there were only 24 produced.

Best friend: Simpson says David Robertson is a 'brother', as well as business partner

'So not really the Macallan 18s, or the Highland Park or Ardbeg single casks – the stuff which represents a more typical investment (although I do like those bottles too!) – it tends to be the weird, almost plain-labelled oddities and rarities I love.'
What would be your Holy Grail bottles to find, from an investment perspective and from a collecting perspective?
'An old Lagavulin would be amazing, just amazing. One is coming up at auction later this year at Ramsay Cornish Auctioneers in Edinburgh (although I should be keeping that quiet from a selfish perspective). I've never seen it before and the provenance checks out.
'I suspect I'll have a flutter and see where it gets me, but I can imagine there will be a fight between one or two with deeper wallets than I. That ticks all the boxes for me.
'I also quite fancy a bottle of the 1926 Macallan Fine & Rare (or Blake or Adami, it's all the same and I've no preference), but I'd have to sell the house.'
What are some of your favourite day-to-day drinking whiskies?
'Benromach 15 (and 10 cask strength), Aberlour A'Bunadh, Glendronach Allardice 18, Lagavulin 16. There used to be many more, but I now tend to buy at auction and drink discontinued older stuff like the lovely 10-year-old Gordon & MacPhail Balblair.'
What are the best whiskies you've ever tasted?
'Brora 1972 22-year-old Rare Malts Selection is still my number one. Fifty pounds a bottle in the day… now about £5,000, so I tend not to have too much of that any more. Loved 1936 35-year-old Mortlach – that's just stellar juice – the Rosebank 20 Zenith Bonfanti bottling, Macallan 1979 Gran Reserva and, from a crazy good-value perspective, an old 1970s bottle of 8-year-old Glen Urquhart – a dark broody, malt-heavy blend for the Italian market.'
What's been the best whisky experience of your life so far?
'From a ceremonial perspective, being made a Keeper of the Quaich – that was awesome. From a personal perspective, probably the first time I met Robbo [David Robertson] – he's now a brother and a best friend as well as a business partner.
'I remember I was with him at Dalmore doing some work stuff when he got the call to say the final bottle of Trinitas had sold at Harrods for £120,000… it was the most expensive bottle at the time, so that stands out in my memory.
'Moving forward, the one I'm looking forward to most is opening something really, really damn special to celebrate when my beautiful wife is fully recovered from breast cancer, which we had diagnosed almost a year ago… that'll be a great one – I may even have to break out a Brora '72 for that!'