The first whisky distillery to open in the Borders for 180 years is set to open its doors next month.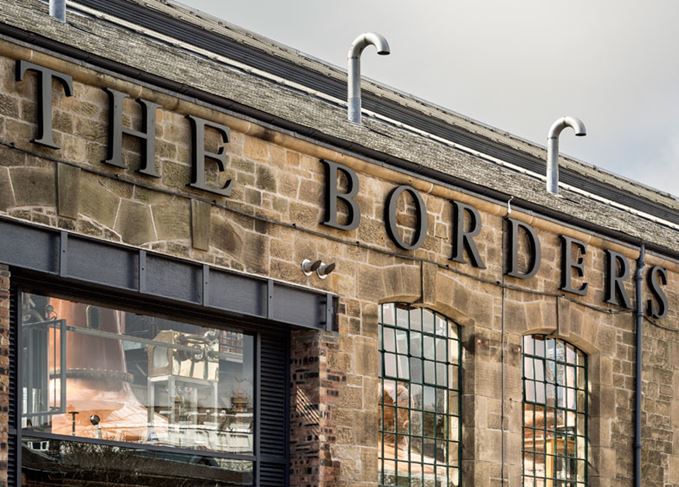 The Borders distillery in Hawick will officially open to the public on 1 May, with tours already available to book in advance.
The distillery, owned by The Three Stills Company (TTSC) will be housed in a former factory on Hawick's Commercial Road, following a £10 million refurbishment.
Once fully operational – it is currently undergoing trial distillation runs – Borders distillery will produce up to two million litres of spirit each year from four pot stills.
The style of whisky produced at Borders will be light, fruity and floral, typical of a Lowlands style, and matured in predominantly ex-Bourbon casks with some influence from Portuguese red wine and rum casks.
Tony Roberts, co-owner of Three Stills Distillery Company, said: 'We started distilling on 6 March at 10.11am precisely; that was when the first liquid ran off the stills.
'It was all very emotional and gratifying, because it's what all the hard work's been about the last five years.'

Light and floral: The spirit produced on Borders' four stills will be a typical Lowland style

Roberts added that a distillery manager from 'a very big whisky company', who would be named in the next few weeks, had been hired to run the site.
He said: 'We're going to do a standard tour to begin with, however we expect at some point to introduce some more prolonged and in-depth tours for those who are interesting in having the opportunity to ask a distillery manager lots of questions.'
Borders distillery is the first of three new projects planned for the Borders region of Scotland.
Mossburn Distillers & Blenders, which operates Torabhaig distillery on Skye, expects to open Reivers, the first of two dual malt and grain distilleries, in June.
The project takes its name from the savage raiders that pillaged the Borders in the 13th century.
Meanwhile R&B Distillers is considering building a distillery in Peebles, following a public vote to find the most appropriate site for the group. However, a site is yet to be located.
The last distillery to operate in the area was Kelso, which was closed in 1837 after 12 years of operation.
Borders distillery is currently in the process of recruiting visitor centre staff ahead of its opening. Those interested should email Tony Roberts at: [email protected].