BenRiach distillery has released Batch 15 of its single cask programme, a selection of 17 whiskies aged for between nine and 26 years.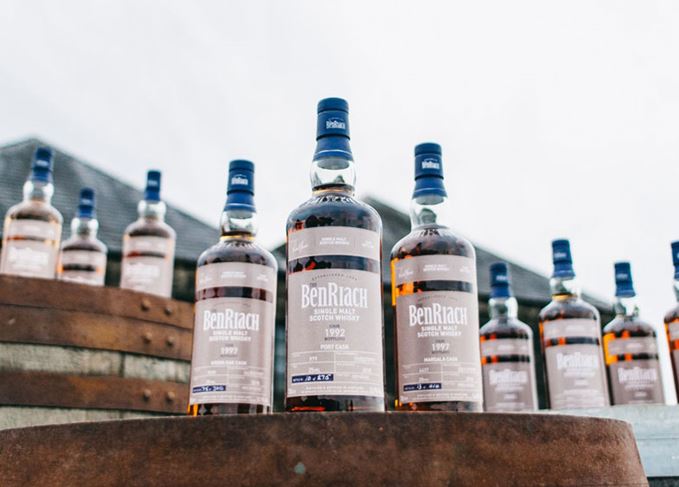 The annually-released selection is a range of peated and unpeated single cask whiskies selected by master blender Rachel Barrie, which she believes 'celebrates the distillery's creative distilling and maturation heritage'.
Batch 15 includes 11 unpeated and six peated expressons, matured in a range of casks from rum barrels and virgin oak to Port pipes and Sauternes barriques.
Among the releases are a 26-year-old aged solely in a Burgundy barrique, plus a 20-year-old matured in a virgin oak hogshead.
'Batch 15 provides a rare opportunity to explore the many facets of BenRiach maturation in one batch, something us whisky makers are lucky to do every day,' said Barrie.
'From the sweet side of Marsala wood to the exotic fruity side of rum and the barbecued smokiness of charred American virgin oak, there is a cask to suit every whisky lover's palate.'
The range is available to buy from specialist retailers in Europe, Asia, Australia, New Zealand and Canada, with prices yet to be confirmed.
The 17 expressions featured in BenRiach Batch 15 are:
BenRiach 1991, 26-year-old, Cask #6898 (Burgundy barrique), 49.4% abv
BenRiach 1992, 25-year-old, Cask #979 (Port hogshead), 53.9% abv
BenRiach 1995, 22-year-old, Cask #7383 (Peated, oloroso Sherry butt), 51.1% abv
BenRiach 1997, 20-year-old, Cask #4437 (Marsala hogshead), 54.8% abv
BenRiach 1997, 20-year-old, Cask #7859 (virgin oak hogshead), 53.1% abv
BenRiach 2005, 12-year-old, Cask #5014 (oloroso Sherry butt), 58.1% abv
BenRiach 2006, 11-year-old, Cask #1855 (Sauternes barrique), 56.5% abv
BenRiach 2006, 11-year-old, Cask #2406 (Port pipe), 58.7% abv
BenRiach 2007, 10-year-old, Cask #8731 (Muscatel hogshead), 59.2% abv
BenRiach 2007, 10-year-old, Cask #8737 (Moscatel hogshead), 58.9% abv
BenRiach 2007, 10-year-old, Cask #3236 (oloroso Sherry butt), 58.5% abv
BenRiach 2008, 10-year-old, Cask #5807 (Sauternes barrique), 59.7% abv
BenRiach 2005, 12-year-old, Cask #2682 (peated, Port pipe), 53.9% abv
BenRiach 2007, 10-year-old, Cask #7722 (peated, virgin oak hogshead), 57.1% abv
BenRiach 2007, 10-year-old, Cask #3071 (peated, oloroso Sherry butt), 58.3% abv
BenRiach 2007, 11-year-old, Cask #7610 (peated, rum barrel), 59.5% abv
BenRiach 2008, 9-year-old, Cask #2048 (peated, Port pipe), 61.7% abv