A new whisky trail is set to launch on Scotland's west coast to highlight the islands' 'stunning' scenery and remote distilleries.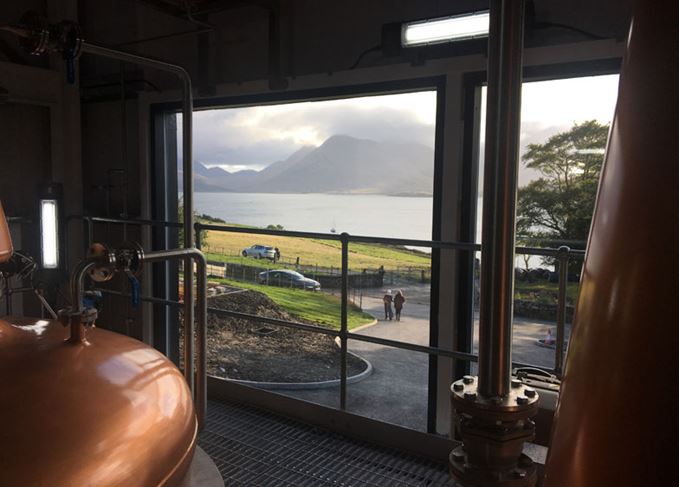 The Hebridean Whisky Trail will give travellers the opportunity to enjoy four very different distilleries across the 'wild Atlantic' islands of Skye, Raasay and Harris.
Calmac Ferries offers a flexible Hopscotch ticket, valid for 31 days from the date of the first journey, which can be used in either direction along the chosen route.
Ferries sail from Mallaig on the mainland to Armadale on Skye, Sconser on Skye's west coast to Raasay, and Uig on Skye's east coast to Tarbert on Harris.
Travellers can navigate the islands by car or foot, taking in distilleries such as Talisker and Torabhaig on Skye, the new Isle of Raasay distillery, and community-owned Harris distillery.More information about navigatng the trail, and things to see and do along the route, can be found at hebrideanwhisky.com.
The trail will be launched on 15 August by Karen Betts, CEO of the Scotch Whisky Association, with an official opening ceremony at Raasay distillery.

Whisky tourism: Talisker on Skye is one of four distilleries to visit along the Hebridean Whisky Trail

Alasdair Day, co-founder of R&B Distillers, which owns Raasay distillery, explained that the new trail was established after Talisker approached the team to discuss how to improve tourism in the area.
He said: 'Talisker have plans to expand their visitor centre, but until they've done that they aren't able to keep up with the demand from the huge amount of visitors seeking to go on their tours each year.
'Hopefully, we can help take some of that excess, when they are particularly busy, using the trail, meaning it not only helps them but also helps to put our names on the map too.
'People want experiences, and a visitor centre means you can taste the whisky, see how it is made and in some cases (such as Raasay's) stay in the area in which that whisky is created.
'By creating the Hebridean Whisky Trail we are offering a completely new whisky experience. It's about the food and whisky, but also it's about the travel and the views. There's a number of exciting things people can enjoy.'
The drinks entrepreneur stated that there are a lot of sights people can 'tick off' along the Hebridean Whisky Trail, with mountains, castles and beaches on offer alongside the usual distillery tours.
He added: 'There are a lot of things to see on the route, with views of the Cuilins from Raasay, the castles and restaurants on Skye and of course the white beaches on Harris.'

Hop to it: Discover the Hebrides and its whisky-producing islands (Photo: West Coast Cruises)