We are currently seeing a renaissance in Scotch whisky, with new distilleries re-establishing whisky making in places where it had been forgotten or under-represented. One such area is Skye and Raasay. Dave Broom goes to investigate its newest arrivals.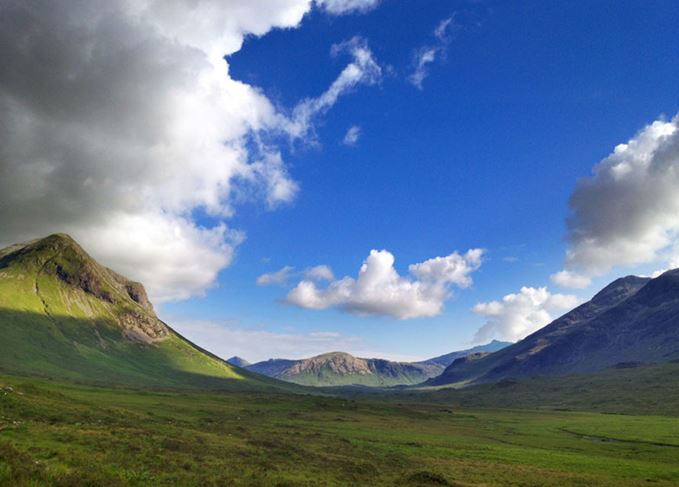 Don't think you can just nip over to Skye. It's a five-hour drive to the bridge from Glasgow (on a good day, which in my experience it rarely is). Even the journey from Inverness takes two hours by road or train (if you opt for the latter, check bus times when you get to Skye). In other words, relax. Enjoy the drive.
Neil Mathieson, chief executive of Mossburn Distillers, and I took the Inverness option, taking the spectacular high road which at the summit, high over Loch Carron, the Cuillin emerges on the horizon. On a good day that is. The sole welcome we had on the road was a hoodie crow coughing in the void of a rain-soaked glen.
For most of my whisky life, a journey to Skye meant Talisker (itself an hour or so from the bridge) and a reminder of the whisky which started me off on this career. Now, however, we turned left just before Broadford and headed 16 miles down the Sleat [pron: Slate] Peninsula to Skye's newest distillery, Torabhaig.
With its limewashed walls, waterwheel and pagoda roof it looks as if it has been here on the shore, looking over to Knoydart, for a hundred years. In fact, this 200-year-old farm steading has only just been converted. 'A challenging build,' as Mathieson put it, necessitating treading a tricky path between the demands of Historic Scotland, the architectural vision, and the need to have a functional plant within the walls of a listed (and listing) building.

Visiting Torabhaig: Skye's newest distillery resides in a converted 18th century farm steading

The distillery's workings occupy the longest wall of the steading's open rectangle. Inside, you slalom your way past the mashtun and eight wooden washbacks, already filled with wash. Torabhaig is, however, still finding its feet. There's a welcome fluidity to the thinking. After all, if you can't ask the question, 'what is Torabhaig?' at the start of its life, then when can you?
That means using the same variety of peated and unpeated barley from three different maltings, different peating levels, and yeast strains, but always clear wort, long ferments and the same cask types. 'There's a requirement to be experimental,' Neil says. 'This isn't about sticking to a formula. Whisky is a living thing.' In that case, Torabhaig is very much alive.
We decant to the wood-panelled bar of the nearby Eilean Iarmain hotel, which is already rammed with people – locals propping up the bar, the usual clusters of happily bemused tourists, and a tidal wave of students festooned with instruments. They've come from Sabhail Mòr Ostaig (SMO), the Gaelic college established in 1973 by Sir Iain Noble.
For him, language was at the heart of regeneration. He owned the 23,000-acre estate, the hotel, and as well as SMO, started Praban na Linne, the 'Gaelic whisky' company. What is now Torabhaig was another of his dreams – he sold the site to Marussia in 2013.
We've been joined by hotel manager Garry Wallace. 'Have you seen the still?' he asks. I begin to enthuse about Torabhaig. 'Not that one. Ours.' We head round the back of the building. In a narrow room sits a steampunk bathysphere with a botanical basket welded into its lyne arm. Skye's first gin still, and the first I've seen with a worm tub.

Gathering place: The bar at Eilean Iarmain hotel attracts both locals and tourists alike

Back in the bar the music is roaring, as we dine on local seafood and venison, drink Té Bheag and talk about how the community is coming together, of scholarships and plans for Torabhaig to be Skye-run, hotels in full occupancy from April to October, Garry's plans for live streaming theatre and opera into a new cinema on the property. The Hebrides have been marginalised culturally, politically and linguistically. That now seems to be changing.
The morning after, mildly bleary, we head north to Sconser. Normally, I'd have gone further, up to the legendary Sligachan Hotel and onwards to Talisker. That distillery, it strikes me now, wasn't just a focal point for whisky, but Skye itself. It showed what was possible in this location and around it a new Skye began to form. It remains the beacon of quality.
The Skye I grew up loving was a place for walkers, climbers and the seekers for the wild. You stayed in draughty hotels and bunkhouses, holidayed in B&Bs. Now, you can also dine in Michelin-starred hotels and stay in top-end hotels (draughts have been excluded) as well as having the freshest possible seafood at Lochbay in Waternish, or the Oyster Shed above Talisker. Pints – locally brewed – and drams can be quaffed in bars like Carbost's Old Inn, Portree's Isles Inn and Bosville Hotel, Waternish's Stein Inn, or Seamus' Bar at the Slig with its 400 whiskies.
Skye gives you a sense of space. It also gives perspective, a glimpse of your insignificance and the immensity of time. People love it for its emptiness, but that's precious little comfort if you live there. As author Robert Macfarlane wrote, 'Skye isn't empty, it is emptied'. These are Clearance lands, places where people were evicted to make way for sheep and either sent off the island or in Talisker's case, put to work in the distillery.
All of that is distilled on Raasay. The ferry which links it with Sconser is called 'Hallaig', after one of the island's cleared villages, and the subject of Sorley Maclean's poem, which starts:
'Time, the deer, is in the wood of Hallaig'. It is a poem about loss and landscape, of clearances and the end of community, all of which was happening until recently.

Island perspective: Raasay's gleaming new stillhouse looks back out toward the Isle of Skye

My first memory of hearing about Raasay was in the '70s when the residents were in dispute with then owner Dr Green (aka 'Dr No') over his refusal to allow any investment on the island.
This 14-mile long sliver of sandstone and gneiss, the home of the Big Men (there's various interpretations as to what facet of their size this refers to) is an encapsulation of the Hebridean experience. It's a place of the shape-shifting each-uisge [water horse] which lurks in the depths of Loch na Mna, of Pictish stones, and settlements whose children had to be tethered for fear they'd fall over the cliffs.
Its history has also been a litany of disinterest and self-interest. One landlord (George Rainy, who cleared Hallaig) banned marriage and built a wall to separate the fertile south as a playground for himself, leaving the remaining people to live on the poorer northern ground.
Raasay's story has been one of leavings and emptying. But dig a little and it also becomes one of resilience. Take Calum MacLeod, who hand-built a two-mile road between Brochel and his home at Arnish because the authorities refused to. 'Calum's Road' became Raasay's symbol of what was possible. The island slowly changed. A community hall, a new ferry terminal, the rebuilding of Raasay House, the retention of shooting rights by the community. Small victories, an incremental building of hope showing that the emptied could be filled once again.
Isle of Raasay distillery's newest fillings are new make, long fermented (up to 110 hours), heavily peated and unpeated, to be aged separately in different woods and then blended. There's even a nod to Talisker in the water jacket on the wash still's lyne arm and purifier pipe.
'We had the view, we had the water, so we thought, why not barley?' says Alasdair Day, co-founder of Raasay owner R&B Distillers. So Bere has been planted, 'as soon as it started to grow you could see it was meant to be here,' as well as trials with Swedish (Kannas) and Icelandic (Iskria) varieties. There're plans for using local peat as well.

Island inspiration: Raasay distillery, like its neighbour Talisker, features a water jacket on the wash still's purifier pipe

When Boswell and Johnson came a-visiting in 1773, the latter reported: 'We found nothing but civility, elegance, and plenty. After the usual refreshments, and the usual conversation, the evening came upon us. The carpet was then rolled off the floor; the musician was called, and the whole company was invited to dance, nor did ever fairies trip with greater alacrity.'
I'm unsure whether the dancing on the distillery's opening night was fairy like, it was more like Scottish martial arts with musical accompaniment: birling and spinning, shouts and laughter; drams and conversation.
We talk into the wee hours about farming – 'get the sheep off and plant the barley', of the revived walled garden, how the old Wee Frees would be spinning in their graves at the idea of whisky being made (the ferry only started running on a Sunday in 2004) and the need for a pub; and how the population had stabilised and there are children in the school.
The sense of a new whisky community spreads across both islands. There are plans for Skye's distilleries linking with Raasay's and Harris' to create a new whisky route, and proposals that the distilleries share engineering logistics.
It was easy to slip into the romantic view that this area should only have one distillery, but that is to conform to an urban view. People cannot live on beauty. Distilleries bring people who spend money and create the need for a greater infrastructure and hospitality, which in turn keeps people on the island. Whisky is a seed which helps create a community.
'If you revive your language,' Sir Iain Noble once said, 'you have a greater chance of reviving your community.' I'd add, a distillery helps that process. Talisker has shown that. The others will reinforce it.
In MacLean's Hallaig, the poet stops time:
'a vehement bullet will come from the gun of Love
and will strike the deer that goes dizzily,
sniffing at the grass-grown ruined homes'
Time is arrested so as to preserve the memory, but its freezing also gives hope of a regeneration, of new shoots emerging, saplings in the woods, barley in the fields, ideas in the minds.
People no longer leave here. They arrive.
How to get there
The nearest airports are Glasgow (international) and Inverness (local), both of which offer car hire. Alternatively, City Link offers coaches from both locations to Skye. The three ferry ports on Skye – Armadale, Sconser and Uig, are serviced by Calmac, which run to Mallaig on the mainland, Raasay, Lochmaddy on North Uist or Tarbert on Harris. If you prefer the scenic route and are in no rush, opt for the Glenelg ferry which takes in spectacular views. Skye is also connected to the mainland via road bridge, between the villages of Kyle of Lochalsh (mainland) and Kyleakin (Skye). Local buses operate on the island but are not always frequent. You can find the route here.
Where to stay
Skye:
Eilean Iarmain, Sleat, Isleornsay; 01471 833332; eileaniarmain.co.uk
Toravaig House Hotel, Manse Of Sleat; 01471 820200; toravaig.com
Duisdale House Isleornsay; 01471 833202; duisdale.com
Sligachan Hotel Sligachan; 01478 650204; sligachan.co.uk
Raasay:
Raasay House; 01478 660300; raasay-house.co.uk
Where to eat
Skye:
Kinloch Lodge (also hotel), Sleat; 01471 833333; kinloch-lodge.co.uk
Three Chimneys (also has accommodation), Colbost House, Dunvegan; 01470 511258; threechimneys.co.uk
Red Skye, The Old Schoolhouse, Breakish; redskyerestaurant.co.uk
Loch Bay Restaurant, 1 Macleods Terrace, Stein; 01470 592235; lochbay-restaurant.co.uk
Oyster Shed, Carbost; skyeoysterman.co.uk
Where to drink
Skye:
Old Inn, Carbost; 01478 640205; www.theoldinnskye.co.uk
Isles Inn, Portree; 01478 612129; www.accommodationskye.co.uk
Bosville Hotel, Portree; 01478 612846; www.bosvillehotel.co.uk
Stein Inn, Waternish; 01470 592 362; www.stein-inn.co.uk
Seamus' Bar, Sligachan Hotel; 01478 650204; sligachan.co.uk