The sale of a limited edition Macallan bottling caused traffic chaos and road closures in Speyside yesterday (14 August).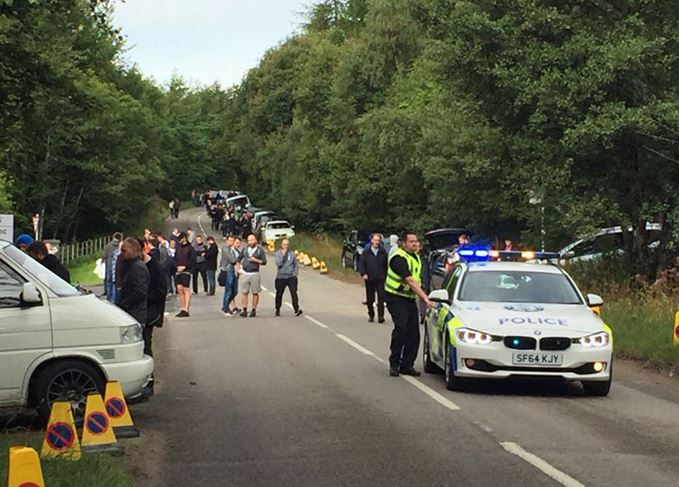 Macallan Genesis, a £495 bottle created to celebrate the opening of the new £140m distillery in Craigellachie, went on sale at the site at 9.30am on a first-come, first-serve basis.
Potential buyers camped outside the distillery overnight, lining the B9102 down to the A941, in the hope of being able to purchase one of a reported 360 bottles available on the day.
The demand was so 'overwhelming' that Moray Police were forced to close a section of the B9102 for safety reasons.
Sam Sellick, a bartender at Fiddler's Inn in Drumnadrochit and The Pot Still in Glasgow, arrived at 7.15am and described 'chaotic' scenes.
He said: 'When we turned up there were cars everywhere – about 250 of them – parked on verges, men scraping their BMWs up kerbs to get anywhere near.
'I like Macallan, but I never would have imagined the scenes that there were when I turned up – there was zero organisation.'
Only the first 80 cars – the number of spaces in Macallan's car park – were granted access to the distillery to purchase a bottle, with no pedestrian access allowed.
'People who were guaranteed to get in were selling spots in their cars for £400,' Sellick said.
Some Macallan fans, like Sellick, came away empty-handed.
Macallan said on Twitter: 'Following the release of our new Genesis Limited Edition bottle yesterday, we would like to issue an apology to any customers who were disappointed in being unable to get a bottle and to those affected by road disruption.'

Overnight stay: Some collectors camped outside the distillery and abandoned their cars along the A941 to Rothes

A spokesperson for the distillery added: 'Following the acclaim surrounding the opening of our new distillery, we are experiencing high demand for our new Genesis Limited Edition bottling. This bottle was created to celebrate the distillery's innovative new design and went on sale today (Tuesday August 14).
'Whilst every effort was made to communicate to our customers that there would be no access to the site prior to 09:30, a number of people hoping to secure one of these limited bottles gathered at the gates causing a local road to become blocked.
'After we contacted local police to help minimise any disruption, the road was swiftly cleared and sales got under way at the distillery when it opened.
'We are grateful to Moray Police for their assistance and in light of the issues, we are reviewing our procedures.'
Alistair Mateer, aerospace engineering manager and whisky enthusiast, who had queued overnight to secure his bottles, said Macallan hadn't considered a fair queuing system to cope with the demand for its limited edition.
'The security guys behind the gates were not taking ownership of the problem,' he said. 'You had more people than bottles out on the road, and their only feedback was the gate opens at 9.30am and you couldn't queue vehicles because it's a public road.
'At 8.30am they closed the road at either end, and that avoided the road filling up with anymore cars.'
Asked what drove whisky fans to queue overnight for Macallan Genesis, Mateer said: 'There's nothing that makes it particularly special compared to other Macallan releases, although it does mark the opening of the new distillery.
'What made it challenging is that Macallan gave everyone four days notice for a distillery-only bottling, so it was always going to be very difficult as there was more time [for people] to prepare. That and the resale value are what drove the high numbers.'
Macallan Genesis is a limited edition, no-age-statement malt created as a collaboration between the distillery and its architect, Rogers Stirk Harbour + Partners.
Some 2,500 bottles have been created, the majority of which will be on sale only at Macallan's own airport shops in the Far East.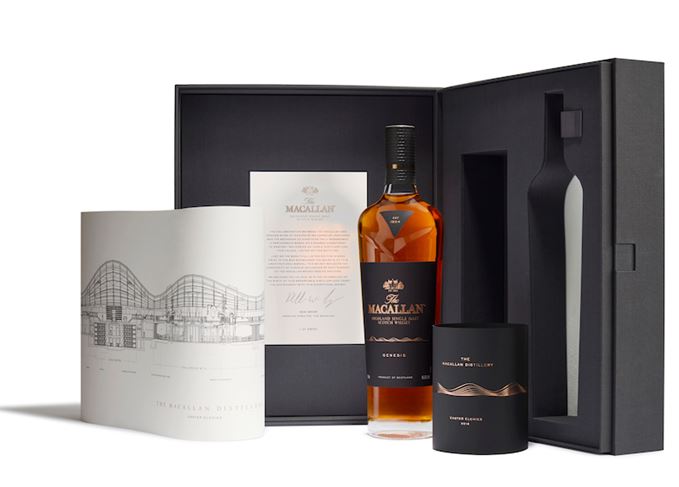 Collectors' item: A reported 340 bottled of the Macallan Genesis were available to buy from the distillery on the day