As head of brand development, Geoff Kirk has a broad role at Macallan overseeing consumer engagement, brand education, the distillery's new archive and authentication. He's now back in the UK after living and working in Asia for more than 20 years. He spoke to Richard Woodard.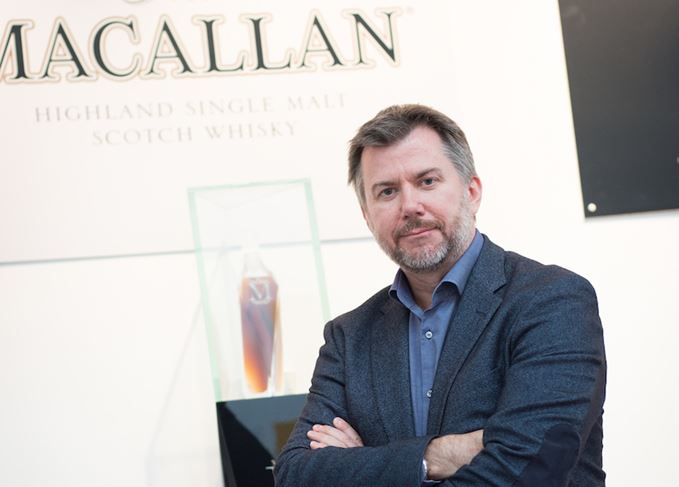 'The new distillery gave us the opportunity to set new standards from a production perspective and a compliance perspective. We are fortunate to have the land and space.
'I can say from a personal point of view we're very happy but not ever happy enough. With something so major and fundamentally different, I think it was inevitable that almost from day one we're thinking about what comes next in terms of evolution. How do we bring it to the next level?
'The one thing that surprised me is a much lower proportion of people who are disappointed or don't appreciate what's being done, or choose to take a contrary stance. We'd prepared ourselves that there would be people that don't like this – the style, the concept; actually, it's been few and far between.
'We've always seen the value of having a proper archive, we just haven't put the resource behind it like this. How do we understand what we physically have and how do we work with other industry partners and private individuals to enhance everything?
'I think [negativity towards Macallan] is just a natural dynamic. It's certainly not unique to the Macallan. It will be common to any brand, service or product that's popular.
'You could put people into four categories, either side of the divide: those who absolutely love the Macallan and almost wouldn't care what we did. With others, it's conditional love, but not blind love.
'Then, for some, it's "Macallan's just not for me". The other category of people choose to take a contrary stance, maybe because it elevates what they genuinely love or enjoy or have an advocacy of.
'For the people who don't get what we do, honestly that's more than fine. The Scotch whisky industry and malts are so strong that there's more than enough diversity of styles of whisky, of heritage, of presentation. We can't be all things to all people, and we're not trying to be. We're trying to make the Macallan the best it can be in the world we have today.

Positive reaction: Criticism of the new Macallan distillery has been sparse, says Kirk

'It would be wrong to dumb things down and to be ubiquitous and be too widespread. It literally doesn't make sense. The tall poppy syndrome is inevitable, but I just don't see it as significant.
'The distillation, the maturation, the whisky-making – as long as we approach that with our own integrity and make sure that never comes comes second or third down the line behind stories or positioning or packaging, then we're doing the right thing.
'Everything else we do – the partnerships we have – has to follow that and be complementary to that. It has to be with people of similar mindset, that have the same values. When we assess the partnerships, those are the key criteria – not just fame or notoriety. Do they get what we stand for and what we do behind the scenes?
'The whole "first come, first served" bit for limited editions, that unfortunately causes a lot of frustration. [The recent Genesis release] showed a bit of a lack of foresight and naivety on our part. We simply didn't foresee the traffic implications of that. Unless we find a very specific way that causes no meaningful disruption within the community, we simply cannot continue to do things in the same way.
'I was in Asia for 22 years and have been back in the UK for just over two years. Asia is multi-faceted. I think the region in general is faster-paced because it needs to be, because there's so much social change.
'But then you have Japan, where not a lot changes. The culture is pretty static, the economy is static, although also very big. That diversity comes through into the styles of whisky that people are purchasing or consuming.
'A partial generalisation about Asia and spirits consumption would be to say that consumers tend to more brand-aware than category-aware, certainly in China or Vietnam, where people might regularly switch between Scotch and Cognac because it was just a brand thing in their mind – Johnnie Walker, Chivas, Hennessy, Macallan – they're all in that same reference set in some parts of the region.

Food fables: While in Asia, Geoff Kirk was happy to try some rather esoteric dishes

'High-end Macallan would be purchased to be opened, consumed and shared almost immediately. There's not such a strong collectors mentality. But that may have changed recently because of the escalation of value.
'The pace and scale of change in Asia is such that brands can't say "now we get it" and just sit back and have a set strategy. In five or 10 years there could be a fundamental shift depending on trends and consumer expectations.
'I'm a complete sports nut. I'm too old to play any more, but I did quite a lot of rugby, cricket, football, a bit of athletics – you name it. We have three now almost teenage kids, so they take up a lot of our time, plus two crazy golden retrievers who literally demand a lot of attention.
'My wife and I like travelling, and love food and wine, not just whisky – although my wife loves whisky as well. Others might describe us as "foodies" although I don't like the word. Living in Asia was an opportunity to experience some amazing cuisine.
'I've had whale sperm. A young lady came up to us in a restaurant and said: "I just had whale sperm." We said: "Don't you mean sperm whale?" She said: "No…" It's a bit like tofu – very nondescript, very bland. One of those things served for the experience, not for the taste.
'And I guess the other one took a while to translate from Vietnamese into English in Hanoi. On the menu it was a nine-course porcupine dinner. The more they were talking about the animal, a colleague said: "That's not a porcupine." So we Google searched it and it was a pangolin, a kind of armoured anteater, but we were right through the dinner by that stage.
'I prefer to respect other cultures and at least try these things. I've eaten whale meat in Japan, but there's only one thing I would refuse to eat and that's dolphin, although I've never seen it on a menu. I've never eaten dog meat that I'm aware of. I'm a dog lover, so I'm not sure how I would react if I saw that on the menu.'