Benromach is to release a 20-year-old single cask whisky to celebrate the 20th anniversary of its reopening.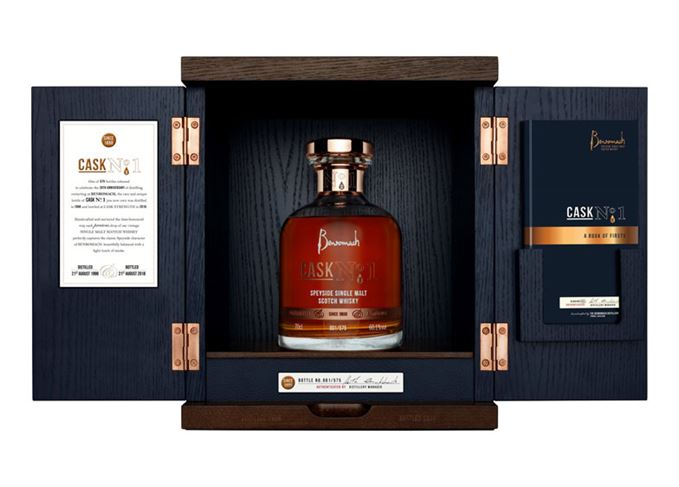 Benromach Cask No 1 contains whisky from the first cask to be laid down at the Speyside distillery when it reopened in 1998, following 15 years of silence.
The first-fill Sherry butt was signed by His Royal Highness the Duke of Rothesay, Prince Charles, during the distillery's official opening ceremony in 1998.
Keith Cruickshank, Benromach distillery manager, said: 'I was proud to witness HRH the Duke of Rothesay sign the first cask of our own distilled spirit 20 years ago.
'This unique single cask offers whisky lovers the chance to own, savour and share an incredibly special moment in the history of the Benromach distillery.'
Just 575 bottles of Benromach Cask No 1 will be made available, priced at £1,000 per bottle, and exclusively from Benromach's distillery visitor centre.
All proceeds from the sale of the decanters will be donated to charitable causes.

Royal seal: Prince Charles signed the cask during Benromach's official openeing ceremony

Bottled at 60.1% abv, the single malt is described as having notes of 'succulent blackberries and stewed damson plum with a hint of roasted hazelnut and charred oak on the finish'.
Each whisky is presented in a decanter closed with a copper stopper and housed in a wooden presentation box alongside a certificate of authenticity and accompanying book.
Benromach Cask No 1 is available to pre-order now and will be released on 15 October – the exact anniversary of the distillery's reopening.
Benromach distillery was mothballed in 1983 by Distillers Company Ltd, and remained closed for 15 years before being reopened by independent bottling firm Gordon & MacPhail.
Earlier this year Benromach also released a limited edition 20th Anniversary malt containing some of the first whisky distilled at the site since its reopening.