One of Scotland's newest distilleries is helping to pioneer the return of a long-lost traditional style of whisky by infusing its new make malt spirit with botanicals.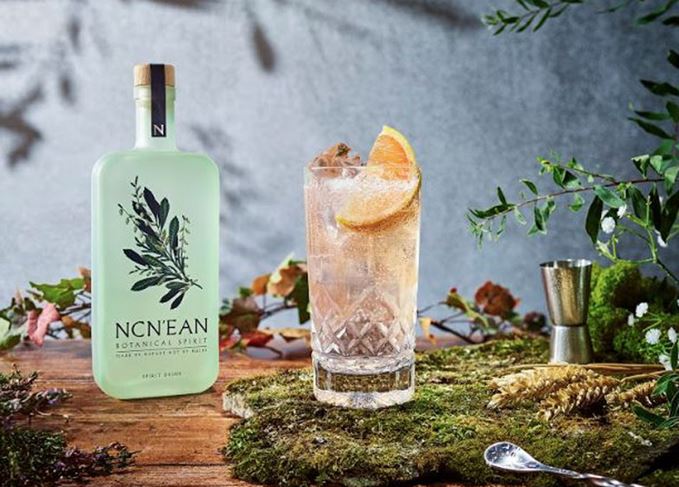 Ncn'ean distillery, situated on Scotland's west coast near Oban, has released its first limited run of Botanical Spirit – a base of the distillery's new make that's been redistilled with a selection of local and exotic botanicals.
Described as a mix between whisky and gin, Ncn'ean Botanical Spirit is reminiscent of Scotland's traditional usquebaugh, which was made by infusing local herbs and honey with fruit extracts and fresh spirit.
Redistilled with fresh grapefruit, coriander, juniper and locally foraged herbs such as bog myrtle, thyme, sorrel and heather, the botanical spirit is described as having 'creamy, nutty barley notes with grapefruit, herbs and sour berries'.
Although it contains juniper, the Botanical Spirit cannot be called gin under EU legislation as it does not use grain neutral spirit (distilled above 96.5% abv) as its base.
Annabel Thomas, founder of Ncn'ean distillery which opened in March 2017, said: 'Whilst laying down whisky in our warehouses, a lot of people commented that our new make spirit was so good we should bottle it.
'Credit for this must go in part to Dr. Jim Swan, one of the legends of our industry, who helped shape our recipe and whole approach to whisky making. And it was this, combined with the wild herbs and flowers we find all around the distillery, that inspired us to create this spirit.'
Similarly, Lindores Abbey distillery in Fife also released a botanical spirit earlier this year called Aqua Vitae, made by infusing its own malt spirit with local botanicals.
An initial run of 5,000 bottles of Ncn'ean Botanical Spirit is now available exclusively from The Whisky Exchange for £27.95.
This article contains affiliate links, which means we may earn a small commission if a reader clicks through and makes a purchase. All our journalism is independent and is in no way influenced by any advertiser or commercial initiative.