Ballantine's has released new music-inspired limited editions of its Finest and 12-year-old blends, with packaging artwork designed to 'explore sound waves' from contemporary artist Felipe Pantone.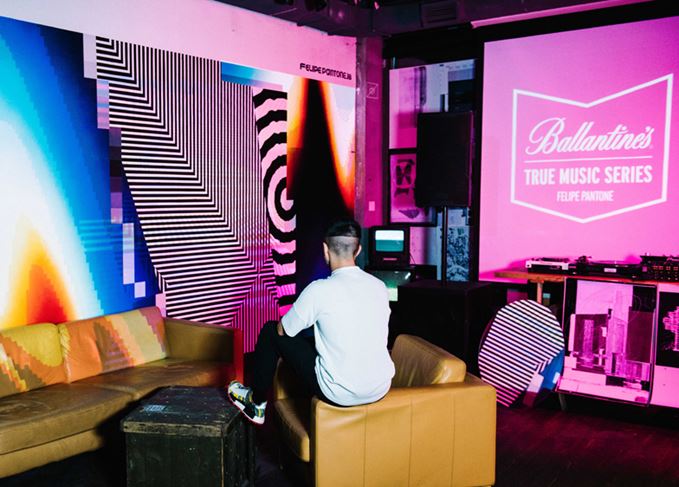 Pantone is an Argentinian-Spanish street artist whose work has been exhibited at the Ibiza Beach Hotel, in a music video for Anderson Paak and on the front cover of an album by The Strokes' lead singer Julian Casablancas.
His artwork features 'distinctive geometric patterns, vivid colours, holograms and optical art' and is said to be a 'visual representation' of music.
The art is presented on a wraparound label for the brand's flagship Finest blend, and on the outer packaging boxes of Finest and Ballantine's 12-year-old.
Pantone said: 'I've always been surrounded by musicians and collaborating with Ballantine's – a whisky brand that's all about music – allowed me to explore a style marked by sound waves and flowing bits, juxtaposed with my signature elements.'
The new limited editions form the most recent iteration of the brand's True Music Series, an annual release aiming to 'give uncompromising artists a unique platform' to share their art and music.

Audio package: Pantone's designs for Ballantine's Finest and 12-year-old expressions


Ballantine's will also take examples of Pantone's work and use them to decorate music venues around the world, displaying the digital art on sound-reactive projectors which allow the art to change in time with the music.
Tom Elton, Ballantine's head of music, said: 'The limited edition packaging is only the beginning. We have some really exciting plans to bring Felipe's artwork to life in some of the coolest music communities around the world, including Gost Zvuk in Russia and with Kid Fonque in South Africa.'
Previous iterations of the True Music Series have featured artwork designed in collaboration with beatboxer Reeps One and graphic designers Dave Ma and Leif Podhajsky.