Chivas Brothers has introduced Ballantine's Hard Fired, a smoky, 'masculine' Scotch whisky finished in extra-charred casks.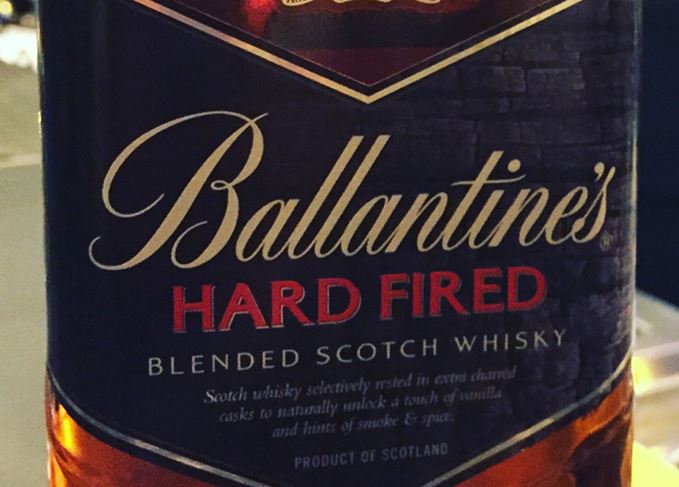 The new permanent addition to the Ballantine's range was developed following consumer requests for further innovation within Scotch whisky that didn't involve the addition of sugar or flavours.
Ballantine's master blender Sandy Hyslop developed a bespoke blend to finish in casks that had been 'hard fired' – a process historically used by Chivas Brothers to restore used casks.
Working with the company's cooperage, Hyslop empties the whisky from second-fill American oak barrels for no longer than 24 hours to prevent the oak from drying out. The barrels are then given a heavy char and refilled with the bespoke blend for a period of months.
Unlike the standard cask rejuvenation procedure, which involves scraping the char from used barrels before recharring them – a process known as dechar, rechar – the used casks retain their original charring and receive a second intense char on top.
The result, said Hyslop, is a 'smooth, creamy and subtly smoky Scotch whisky' that derives its smoky character from char rather than peat.
'Ballantine's Hard Fired showcases the natural and unique results that American oak and fire produce on Scotch whisky,' he added. 'When charred, casks form a natural layer of caramelised wood sugars that react with whisky and a double char understandably intensifies this effect.'
Peter Moore, Ballantine's global brand director, said Hard Fired is a 'natural progression' for the brand in its quest for innovation.
'It won't go unnoticed that we are interested in exploring a whole range of different experiences and different flavours and options with Ballantine's,' he said.
'Ballantine's Hard Fired is a modern, masculine expression that responds to current trends in the whisky market that demand new experiences while enjoying Scotch whisky. It reaches into a male interest in fire and smoke and craft, which makes it a little bit more masculine than the rest of the Ballantine's range.'
The new expression, priced at around £25 for a 700ml bottle, will be initially released in France and Poland before a global launch in March 2016.