Littlemill has launched a 40 Year Old Celestial Edition single malt, the 'oldest' expression from the lost Lowland distillery released to date, to celebrate the work of its former distillery manager.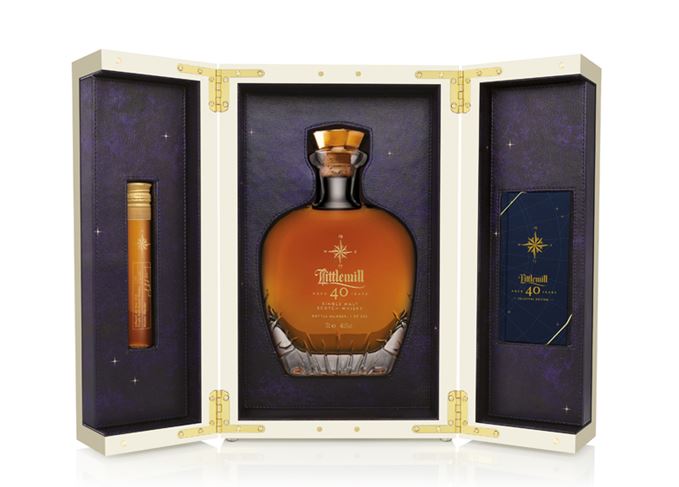 The whisky was distilled on 10 October 1977 and has been matured in a variety of different cask types: refill American oak casks, first-fill ex-Bourbon casks and first-fill ex-oloroso Sherry casks.
The Celestial Edition was produced to honour Littlemill distillery manager Duncan Thomas, who pioneered several distilling techniques, including the installation of hybrid stills with rectifying heads, which allowed a number of different spirit characters to be created.
Michael Henry, master blender at Littlemill owner Loch Lomond Group, said: 'The Celestial Edition is a fitting way to celebrate the legacy left by Duncan Thomas and the truly exceptional liquid is worthy of his name.'
Bottled at 46.8% abv, the whisky is said to carry 'floral bursts of honeysuckle and elderflower' on the nose, and 'lime citrus, then richer dried fruits of sultana and raisins before vanilla toffee' on the palate.
Only 250 crystal decanters of the Celestial Edition have been produced, packaged in a presentation box depicting the position of the stars on the evening the whisky was first filled into casks.
The presentation box also includes an additional 5cl vial of the 40-year-old, for buyers who wish to try the liquid while keeping the bottle sealed.
The 40-year-old single malt is priced at £6,000 and is available to buy from specialist retailers.
One of Scotland's oldest distilleries, Littlemill fell silent in 1992 before its stills were removed and transferred to Loch Lomond distillery.