Dalmore master blender Richard Paterson has partnered with renowned Michelin-starred Italian chef Massimo Bottura to produce a one-of-a-kind bottle for auction.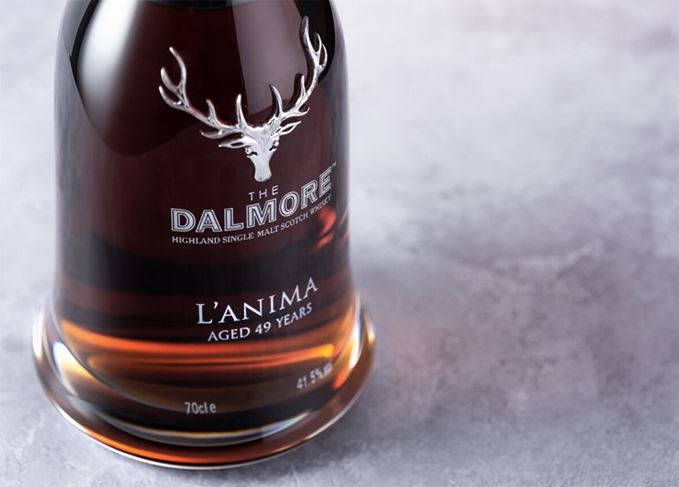 Dalmore L'Anima Aged 49 Years is a unique bottling which will be auctioned at Sotheby's this spring, with all proceeds donated to Bottura's non-profit organisation Food for Soul.
The single malt is a marriage of Dalmore whiskies matured in ex-Bourbon barrels, Gonzalez Byass Sherry casks, which previously held 40-year-old Pedro Ximinez Sherry, and Graham's vintage Port pipes.
Dalmore L'Anima – meaning soul in Italian – is said to have been inspired by Paterson and Bottura's 'shared creativity' and 'understanding of flavour', with a palate of 'freshly brewed Java coffee, Demerara sugar, pecan pie and crème brûlée', reminiscent of Bottura's cooking.
Bottura, who owns the three-Michelin starred Osteria Francescana in Modena, voted the best restaurant in the world by the World's 50 Best Restaurant Awards in 2018, said: 'Our creative processes seamlessly fused together with our passion and deep understanding of flavour complexity and connection to create a very special bottle that brings together some of the most precious Scotch whisky barrels in the world.'
Paterson added: 'Bottura's approach to deconstructing and reinventing daring food pairings is very similar to the way I approach whisky making.
'The coming together of our passions allowed me to create a whisky that is bold, different, full of warmth and completely unforgettable – it is a true reflection of the love, blood and balsamic that unites us.'

Creative synergy: Massimo Bottura and Richard Paterson share a similar approach to flavour

The expression is bottled at 41.5% abv and presented in a crystal decanter in a handcrafted Italian Olive Wood, American Black Walnut and solid Ebony cabinet made by Scottish craftsman John Galvin.
It will be auctioned by Sotheby's between 25 April and 9 May without a reserve. Display bottles will be available for viewing at Sotheby's New York and Hong Kong, with the original bottling on display in London.
Bottura's Food for Soul project encourages communities to simultaneously fight against food waste and poverty through the establishment of local 'soup kitchens', which turn surplus food into gourmet dishes to feed vulnerable people.
The project began with Refettorio Ambrosiano in Milan, which operated using food waste from the Expo2015 world fair, with further activations created in Modena, Bologna, Naples as well as Rio de Janeiro, London and Paris.
Video: Food for Soul's inaugural Refettorio Ambrosiano in Milan: