Whisky makers are plundering the history books, resurrecting old names and bringing them back into the spotlight. Richard Woodard examines two projects with contrasting philosophies.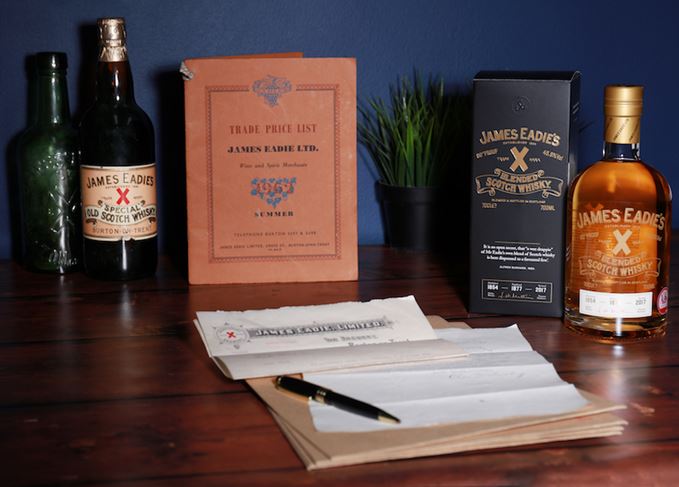 Whisky has a rich and diverse history, but a number of the household names of yesteryear have failed to survive into the 21st century, fading from memory and preserved only in the annals and ledgers of the past.
As whisky makers search for authentic stories that resonate in the millennial age, they are raiding the history books and rediscovering some of these forgotten brands, returning them to the spotlight with new bottlings and releases.
Two contrasting projects illustrate this phenomenon: one a personal, family initiative to try to recreate a blended whisky of the past; the other a more freestyle resurrection of one of the pioneers of modern Scotch, comprising a number of new releases – and the construction of a distillery in the historic whisky location of Leith.
The family project: James Eadie

Old and new: An original James Eadie bottle side-by-side with the 21st-century version

Around the time that he was preparing to launch online trading platform Whisky Invest Direct, Rupert Patrick began to think about another project: the revival of James Eadie, the eponymous blended Scotch created by his great-great-grandfather.
The story, as much as the whisky, intrigued him. Eadie had left school at 14, then moved south to Burton upon Trent to set up a brewery in 1854, aged only 24, while also continuing the family tradition of blending whisky.
In 1877, he took advantage of new legislation to register a simple logo – James Eadie's Trade Mark 'X' – and the whisky sold under that name ended up behind the bars of more than 300 James Eadie pubs. The James Eadie business was eventually sold to brewer Bass, which ceased production of the whisky in 1947.
Eadie also attracted the attention of Victorian whisky and beer writer Alfred Barnard, who visited the James Eadie brewery and sampled the blend, describing it as 'an ancient Scotch mixture that was dispensed to a favoured few' in his book, Noted Breweries of Great Britain and Ireland (Vol II).
That, along with scattered family memorabilia and the fact that 'quite a few cases' of the whisky were still kept by Eadie's descendants, was enough to persuade Patrick to visit Burton's National Brewery Archive.
'There were 30 years' worth of [Eadie's] whisky ledgers, covering 1870 to 1900,' he recalls. 'That was the real find. We put the white gloves on and it was just an amazing moment. We thought: "We can do this. We can absolutely do this."'
The ledgers gave the recipe for the James Eadie blend; assembling the component parts, however, took more than a year. 'There's probably four or five that we just couldn't get hold of because they closed in the 1920s and 1930s, like Kirkliston and Provanmill,' explains Patrick.
'The other 14 were pretty doable, including Cambus and Littlemill [which closed in 1993 and 1992 respectively]. I thought we might be able to get that stock and it would be nice to have two grains, rather than one.
'I knew the hard part would be Talisker, Lagavulin, Aberlour and GlenDronach. The more we looked at the Rolls-Royce ingredients, the more difficult it appeared.'

Useful contacts: Rupert Patrick's industry connections helped him source the whisky he needed

The task was made easier by Patrick's industry connections: he'd worked at Ian Macleod Distillers for several years, as well as at Beam and Diageo. 'At least I knew as a salesman which door to knock on,' he says.
'The first approach didn't work. The second approach, where I told them we're trying to resurrect an old whisky blend, with an old bottle from the 1940s, the golden age of Scotch… it was a yes straightaway.'
What the ledgers and the surviving whisky from the 1940s could not tell Patrick was exactly how the Victorian James Eadie blend would have tasted. 'We just can't know,' he admits. 'But we do know the percentages – broadly how much Islay whiskies he had in it, for example.'
Together with these regional proportions – so much Campbeltown, so much Highland and so on – Eadie's recipe called for a ratio of 56% grain and 44% malt, and Patrick reckons that his blender – the highly experienced Norman Mathison – has kept 'pretty much' to Eadie's age stipulations.
'A lot of the Lagavulin he was using was the 16-year-old, so we're not quite there with the Lagavulin age,' says Patrick. 'That's where Norman's skill comes in – taking what's available and making it as good as possible.'
The 'new' James Eadie, priced at about £45 a bottle – 'I wanted this to be a whisky that people drink and not collect,' says Patrick – has secured listings with Royal Mile Whiskies, Master of Malt and UK supermarket Waitrose, along with international distribution. But how sustainable is it?
'We're certainly ok for a few years,' says Patrick. 'For the majority of the ingredients, it's fine – it'll be ok to build with pretty healthy growth. In a few years, the blend will obviously have to change a little bit. The Littlemill might run out, but we can go back for the Cambus.'
There could be spin-offs too – the Eadie ledgers refer to bespoke whiskies blended for a couple of pubs, which could spawn limited editions, as well as the recipe for the last batch of Special Old Scotch Whisky, which might be bottled using a replica of the original packaging.
The Scotch pioneer: John Crabbie

Different era: While John Crabbie was a blender, the new whiskies are single malts

'This is a story that needs to be told. I feel quite passionate and emotional about it, which is weird, since I'm nearing the end of my career.'
Former Whyte & Mackay sales director David Brown had thought that the Glasgow Distillery would be his last big whisky project – but then Halewood Wines & Spirits, owner of the John Crabbie brand, came calling.
'They said: "Look, we love what you're doing in Glasgow; how do you fancy coming and doing that with us in Edinburgh?"' The fact that Edinburgh is Brown's home town, and that he lives two miles from Leith, helped swing it.
'I thought it was the perfect opportunity to do something that would leave a bit of a legacy,' he says. 'I would be really jealous of the guy who was doing it if it wasn't me.'
Then Brown began to read up on Crabbie and, if he hadn't been sold on the project before, he was now. The name may have become more associated with green ginger wine than whisky, but John Crabbie was the first chairman of the North British grain distillery, a plant he helped establish with Andrew Usher to break the near-monopoly of Distillers Company Ltd (DCL).
'He was doing things that were pushing the boundaries,' says Brown. 'Using the first Coffey stills; blending to improve the quality of the whisky. He's given us permission to go and do anything.'
While the James Eadie project involves the painstaking recreation of a blend, the philosophy with Crabbie is altogether freer. 'We're going to be very respectful of the history and the legacy, but the best thing is he's given us a licence to go off and do interesting stuff,' says Brown. 'We absolutely must use that historic connection, but at the same time not get stuck in the past. We've probably got more in common with the modern craft distilleries.'

Historical importance: The port of Leith was once the 'epicentre' of Scotch whisky

The initial John Crabbie releases, using sourced whiskies while plans for a new distillery are finalised, reflect this thinking. Yes, there's an eight-year-old in homage to Crabbie's famous eight-year-old blend, but it's a single malt. 'He wouldn't have done that as a blend today, he would have done it as a malt,' says Brown firmly.
Meanwhile, a companion 30-year-old malt – a lightly peated Speysider that resulted from a 'mistake' made at its unnamed distillery – is selling fast, with Brown already planning a replacement of a similar age profile.
The John Crabbie distillery, initially earmarked for Granton Harbour, is now set to be built at an 'urban location' in Leith. 'Leith carried about 60 distilleries at one point,' points out Brown. 'About 90% of all Scotch was matured in Leith until the 1960s – this was the epicentre of the whisky world.'
The distillery will probably echo the versatile approach used at Glasgow, making a mix of unpeated, peated and triple-distilled spirit, although Brown is at pains to point out that 'others will probably be pushing the boundaries more than us'. A range of cask finishes will also feature.
Until the distillery is up and running, the aim is to 'fill in the gaps' in the nascent Crabbie range of sourced single malts – maybe with an NAS, a 12- or 15-year-old and an 18-year-old. 'You can't have a portfolio with an eight and a 30,' says Brown. 'It's a bit like only having a putter and a driver in your bag.
'Actually it's quite liberating because what it allows you to do is to shop around,' he adds. 'Essentially you've got access to everybody's whisky stock, although not everybody is going to sell it to you – just like John Crabbie, when he went to the islands and bought Jura and Laphroaig.
'There isn't 200 years' continuous distilling of Crabbie, and we're not going to pretend that there is, but we are going to use his philosophy. That gives us pretty much carte blanche.'