Luxury blended whisky Royal Salute has released two new 21-year-old whiskies – a blend including whisky from closed distilleries and a blended malt – as permanent additions to its core range.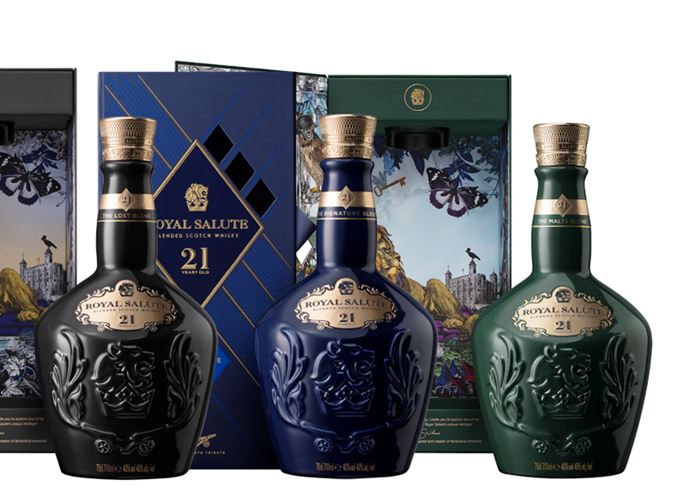 The two new expressions, both bottled at 40% abv and priced around US$135, are joining the range alongside the brand's flagship 21-year-old Signature Blend.
Sandy Hyslop, master blender for Royal Salute, said: 'Royal Salute has been available at 21 years old since 1953, so to be able to offer two new permanent expressions to the range is really exciting to me: it's like leaving my own personal legacy with the brand.'
The Royal Salute 21 Year Old Malts Blend contains 'at least' 21 different malt whiskies from five Scotch whisky-producing regions, with 'sweet, fruity flavours like peaches in syrup' on the nose and 'indulgent orchard fruit and boiled sweets' on the palate.
The 21 Year Old Lost Blend contains whisky from closed single malt distilleries, including Imperial and Caperdonich (in its peated and unpeated forms), and from closed grain distillery Dumbarton.
Hyslop said: 'We wanted something discernibly different to Royal Salute's signature blend and I wanted something spicy and sophisticatedly smoky.
'It's the easiest thing in the world to make an overpoweringly smoky whisky; the real trick is making a delicately smoky whisky that complements Royal Salute's DNA.'
Said to contain 'clementine and charred orange' notes on the nose and 'toasted hazelnut with tantalising smoke' on the palate, the Lost Blend is a global travel retail exclusive.
The Malts Blend and the pre-existing Signature Blend – which has been updated with new packaging, created in collaboration with fine artist Kristjana Williams, to match the two new expressions – are available in selected stores worldwide.
In addition to the new core range, Royal Salute is planning to release its first grain whisky later in the year, with full details yet to be released.