Royal Salute is celebrating the marriage of Prince Harry and Meghan Markle with a $10,000 Royal Wedding Edition blended Scotch.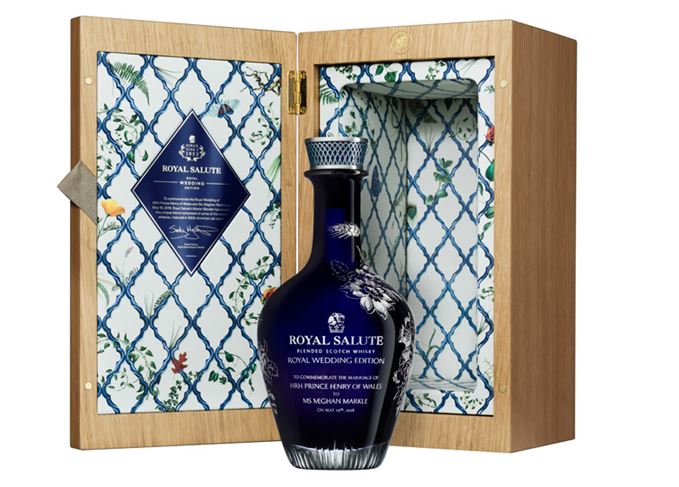 Just 70 bottles of the luxury blend have been created, the first of which will be gifted to the royal couple for their wedding on 19 May.
The blend has been created using whiskies matured entirely in American oak barrels – a nod to Markle's US heritage – and includes a 'significant portion' of first-fill casks.
The oldest whisky in the Royal Salute Royal Wedding Edition is 55 years old, while liquid matured for 36 and 33 years has also been added in recognition of the royal couples' current ages.
Created by Chivas Brothers master blender Sandy Hyslop, the expression contains malt whisky sourced from Longmorn, Strathisla, Caperdonich and Glen Keith distilleries, among others, blended with grain whisky sourced from Strathclyde distillery.
Mathieu Deslandes, marketing director, prestige, for brand owner Chivas Brothers, said: 'Although we're a commercial company, this is not a commercial project. This is about what we stand for, and our association with the royal family over so many years.'
Bottled at 54.5% abv, the whisky is said to have 'creamy vanilla and burned mandarin' on the nose and 'tropical fruits, chocolate and ginger' on the palate, according to Royal Salute brand ambassador Torquhil Ian Campbell, the Duke of Argyll.
The Royal Wedding Edition is housed in a hand-blown Darlington crystal bottle with engravings of roses – 'the Queen's favourite flower' according to Campbell – thistles to signify Scotland and barley to represent Scotch whisky, while the bottle is placed in an American oak presentation box.
The whisky will be on sale globally at selected retail outlets and through special enquiry.
Royal Salute has a long association with the royal family since its launch in 1953 to commemorate the coronation of Queen Elizabeth II – to whom a bottle of 21-year-old was gifted.
The brand keeps a selection of casks in the Royal Salute Vault at Strathisla distillery to mark royal celebrations, which have included the Queen's Golden Jubilee in 2002 and Diamond Jubilee in 2012, for which a US$200,000 (£150,000) diamond-encrusted bottle named Tribute to Honour was created.
In 2015 the brand launched the Royal Salute Age Collection, a limited edition set of 10 blended Scotch whiskies, to mark the Queen's 63rd year on the throne – the longest reign of any British monarch.