Diageo has partnered with zombie apocalypse TV series The Walking Dead to release a new Kentucky Straight Bourbon.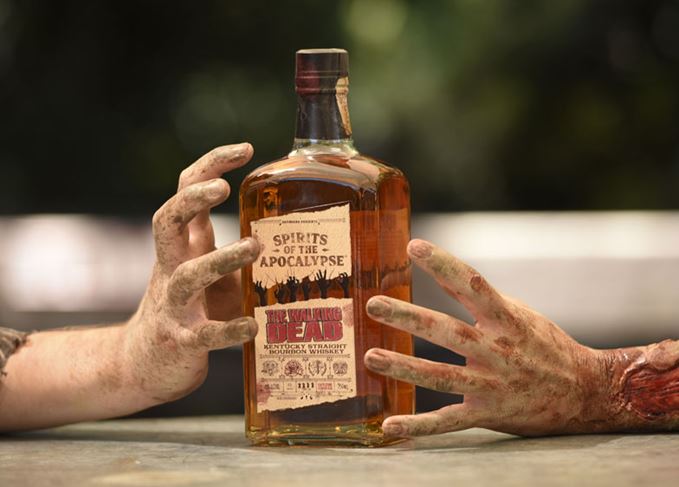 Spirits of the Apocalypse is set to be released later this autumn ahead of the 10th season of the hit series.
It follows Diageo's successful partnership with the Game of Thrones franchise, which the spirits company claimed has driven Scotch whisky sales in the past year.
That partnership saw the release of Johnnie Walker White Walker, and eight Game of Thrones-inspired single malts.
Spirits of the Apocalypse Kentucky Straight Bourbon was revealed at the 50th annual San Diego Comic Con as a 'strategic alliance' between Skybound Entertainment, the company behind The Walking Dead comic series, and whisky maker Diageo.
The reveal party served cocktails featuring the whiskey, including Maggie's Lemonade, Princess Punch and Old Man Rick.

Biting for Bourbon: The Walking Dead is the latest TV franchise to partner with Diageo to produce a whisky

A description for the whiskey reads: 'Set in an apocalyptic world where the dead feed off the living, society has crumbled to the verge of extinction. There is no government, no stores, no mail delivery, no cable TV. But luckily, there is bourbon. Coming soon.'
The expression, which will be a US exclusive, will be released this autumn as a limited edition for between US$31.99 and $37.
The whiskey has been matured for at least four years and is bottled at 94 proof (47% abv).
While the name Spirits of the Apocalypse hints at further releases under the brand, perhaps with different spirit varieties, Diageo has kept tight-lipped.
The company said in a statement: 'More information will be released later this summer.'
The 10th season of The Walking Dead is set to air on 6 October 2019, with three spin-off movies also on their way.