The success of Johnnie Walker White Walker and the Game of Thrones malts boosted sales for Diageo, Scotland's largest distiller, last year.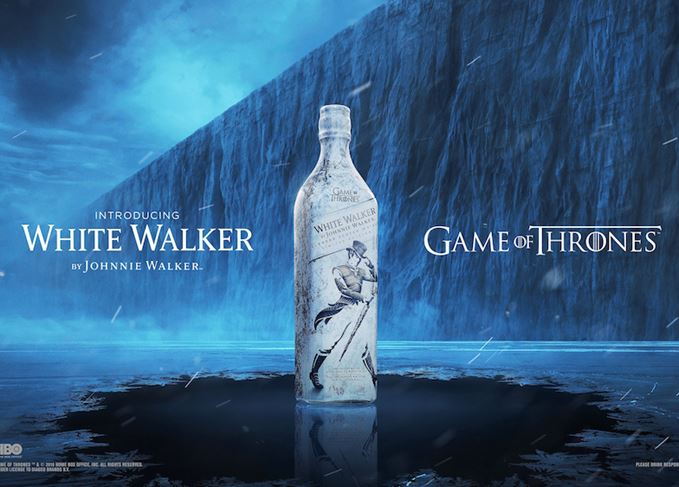 The spirits giant launched Johnnie Walker White Walker – named after Game of Thrones' more fearsome villains – in October 2018, following it up with the autumn/winter release of eight single malts under the series' banner.
In its 2018/19 end of year financial results, Diageo claimed the special editions boosted sales for its Scotch brands, with Johnnie Walker up 7%, and its single malts up 12%.
Diageo's entire Scotch whisky portfolio, which accounts for a quarter of its income and also includes the J&B, Buchanan's and Old Parr blends, saw sales increase by 6% during the year.
The group claimed that the launch of Johnnie Walker White Walker in North America, where sales of the brand increased 6%, 'recruited new consumers in Scotch', while 'Asia Pacific, North America and Europe benefitted from the launch of the Game of Thrones Single Malt Scotch Whisky Collection'.
However the launches failed to offset a continued decline for Scotch whisky in Europe, where sales of Diageo's blended Scotch J&B fell by 10%.

Walk on: The Game of Thrones legacy continues with the release of Johnnie Walker A Song of Ice and FIre

Johnnie Walker White Walker was designed to be served from the freezer, with the words 'Winter is Here' revealed on the bottle at a low temperature.
The Game of Thrones collection featured eight malts from across Diageo's portfolio, each named after one of the Great Houses and the Night's Watch featured in the series.
The final series of HBO's Game of Thrones aired in April 2019, with the final episode drawing 19.3 million viewers in the US, making it the most-watched TV programme in the network's history.
Although the eighth and final series of the popular show failed to impress fans, HBO has ruled out a remake, despite a petition gaining more than 1.6m signatures.
The series end has not stopped Diageo from continuing its relationship with the show, as two further Game of Thrones-inspired Johnnie Walkers are set for release in October.
Johnnie Walker A Song of Ice and Fire are two limited edition blends inspired by mystical beasts in the show: the Direwolves that served the House of Stark, and the dragons commanded by Daenerys Targaryen, the 'Mother of Dragons'.