A five-volume book compendium detailing the 3,000-bottle rare whisky collection amassed by Italian collector Valentino Zagatti is to be released later this year.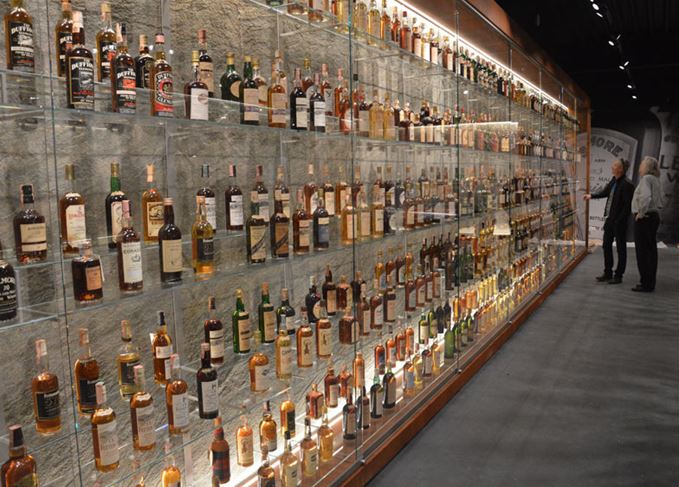 The Unseen Valentino Zagatti Collection is one of the largest private collections of old and rare whisky, currently on public display in Sassenheim in the Netherlands.
It includes the world's oldest whisky, bottled in 1843, as well as four bottles of Parkmore, which closed in 1931, and Macallan single malts distilled in 1910.
Having been amassed by Zagatti over 60 years, it has now been immortalised in a five-volume publication by whisky writers Hans and Becky Offringa.
The couple painstakingly researched and photographed every bottle in the collection to create the 1,500-page tome.
Hans Offringa said: 'In the past two years Becky and I received permission to access many company archives. During research we collected lots of interesting historical data not published before.
'Furthermore, we had each individual bottle photographed under identical light circumstances. In hindsight I am not surprised we ended up with a cassette with five books, weighing a good fifteen kilos.'

'Dream project': The five-book compendium lists the historical significance of each bottle in the collection

The compendium, which is presented in a blue slipcase, will be available from 28 November for €695 with a limited run of 500 sets printed. However it is currently available to pre-order from theunseencollection.com/the-book-project.
The books were commissioned by the Zagatti Collection's owner, Scotch Whisky International (SWI), which acquired the bottles in 2014 under the premise they would be kept intact for at least 10 years.
However, the collection is set to be auctioned at the end of 2020.
Michael Kappen, chief executive of the SWI, said: 'The books that will be presented in November are the ultimate reference guide for collectors and whisky lovers alike.
'Nevermore a collection of such fame will be offered for sale. The fact that we were able to acquire this collection in 2015, a collection now also presented in a colossal book publication, is a crown on the work of all those who have been involved in one of the largest projects at Scotch Whisky International so far.'
The collection has previously been published in book form in Zagatti's own The Best Collection of Malt, released in 1999 and 2004.