Some of the whisky world's greatest collections are hoarded away from prying eyes, but there are a few treasure troves of dream drams that are available to visit – if you know where to look. Matt Evans reports.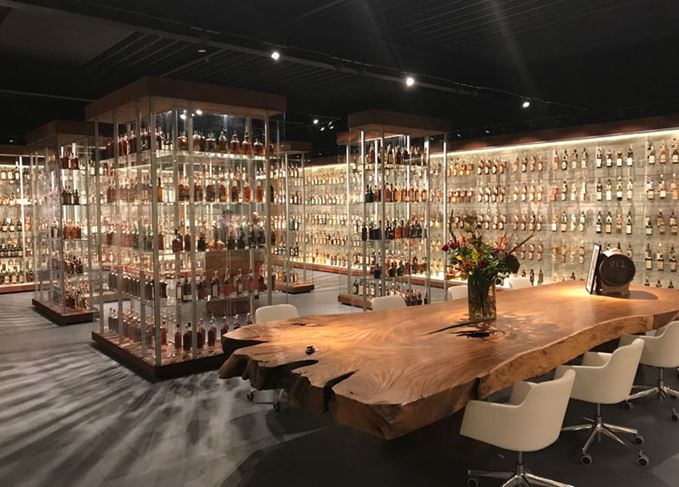 Many of the collectors featured on this site possess brobdingnagian amounts of bottles. However, the vast majority of collections are private, and their owners are unlikely to entertain strangers knocking at their door for a cup of tea and a gawk at their Springbanks.
But a few of the biggest, most significant collections are on display for all to see. The eyes of the world were on the Netherlands last week, as an exhibition of Valentino Zagatti's famous whisky collection officially opened to the public. But why visit a collection and spend hours examining ranks of bottles, when you can neither sample nor purchase what's on the shelves?
For the casual fan with four or five bottles in the cupboard, it's an opportunity to experience what it's like to go further down the rabbit hole. For those keen on whisky history, serious collections could contain mythical bottles rarely seen on the auction block. Whether you're an enthusiastic scholar or just a curious fan, these are the accessible libraries of whiskies past you need to know about, in case you ever find yourself in Edinburgh, Venice or Färjestaden with time to kill and a thirst for knowledge.

The Diageo Claive Vidiz Collection

Where: The Scotch Whisky Experience, Edinburgh, Scotland
Significance: Arguably the most high-profile whisky collection in the world
Size: 3,384 bottles
Perhaps the best known Scotch whisky collection is that amounted by Claive Vidiz, a Brazilian businessman who spent almost four decades hunting down rare bottles. He began collecting in the 1970s, when he'd pick up odd bottles on business trips abroad, but the collection quickly grew to quadruple figures. By 2006, and now well into his seventies, Vidiz sold his prized possessions to drinks giant Diageo.
Since 2008, it has been on display at The Scotch Whisky Experience on Edinburgh's Royal Mile, the visitor attraction that has become many tourists' first real experience with Scotch whisky. 'To know it is here for people from all over the world to see and enjoy gives me great happiness,' says Vidiz. 'I wanted it to remain together and to be open to the world for people to learn from.'
When it was first unveiled to the public it was misreported in the press as 'the world's largest' whisky collection, which was not the case. However, in terms of the collections on public display, few could argue that Vidiz has created one of the most influential, and most viewed, Scotch whisky exhibits in the world.

Hotel Skansen

Where: Hotel Skansen, Öland, Sweden
Significance: Guinness World Record for the most varieties of whisky commercially available
Size: 1,179 varieties available for purchase, over 10,000 bottles total
Ever imagined your perfect whisky bar? Take a jaunt in Färjestaden, a town situated on the Swedish island of Öland, and you'll find Hotel Skansen, which was recently awarded the Guinness World Record for the 'most varieties of whisky commercially available'. The hotel stole the crown from Scotland's Glenesk Hotel in June this year, and boasts a mammoth 1,179 different whiskies available for purchase by the dram.
Surrounding the bar's varnished wooden tables and plush red sofas are shelves upon shelves of whiskies both common and rare, with the most expensive – a Chinese bottling named Diaoyutai, according to Guinness – costing 9990 Swedish kr (£85,300) for the bottle.
Although the record is for total varieties rather than the number of individual bottles, owner Fredrik Norén claims his collection spans around 10,000 bottles in total. The most exciting bottle in the hotel? 'Robert Brown Speciality,' Norén says, 'bottled on license for the Prince of Wales in 1895. It is very rare and was on a shipwreck on the bottom of the ocean for 107 years.'

The Unseen Valentino Zagatti Collection

Where: Scotch Whisky International, Sassenheim, Netherlands
Significance: Collection of rare whiskies, including the 'world's oldest' bottle of Scotch
Size: 2,951 rare bottles
The Netherlands might be the last place you look for a slice of whisky history, but the town of Sassenheim is now home to a headline-drawing dram collection. Italian collector Valentino Zagatti had been quietly amassing rare bottles for three quarters of his lifetime. Now well into his eighties, the Italian has sold his incredible collection to investment firm Scotch Whisky International. The collection began publically exhibiting in October 2018.
An elegant museum, the immaculate shelves stretch the length and breadth of the room, centred round Zagatti's oldest bottle dating from 1843. Other significant bottlings include Macallans distilled in 1910, a 12-year-old Port Ellen commemorating the Queen's visit to Islay in 1980, and an eight-year-old Bowmore Zagatti obtained for the equivalent of a mere £13.
The Zagatti Collection began somewhat unceremoniously – he stopped smoking and wanted to spend his money on something more substantial – but is now the subject of three separate books and legally bound to stay together for at least 10 years. The exhibition is only open to visit on the third Sunday of every month, by appointment only, but you have plenty of time to get a glimpse of this cross-section of whisky history.

Lion's Whisky

Where: Ceggia, Venezia, Italy
Significance: Includes an almost complete collection of Samaroli bottlings, plus every Black Bowmore
Size: Between 20,000 and 25,000 bottles
From Valentino Zagatti to Bar Metro's Giorgio D'Ambrosio, Italy is well known in the industry as a hotbed of serious whisky collectors. For proof, you only need to take a short trip outside Venice to Lion's Whisky, the home of Diego Sandrin's gargantuan collection. Every wall of the shop is adorned with glass cabinets full of rare curiosities, but even that isn't the extent of it: Sandrin has held back a few gems to keep at home.
'Most of my collection is on display at Lion's site, but I have about 1,000 special bottles at home – Macallans, etc,' says Sandrin. 'I have the Springbank 1919, I have the Port Ellen Queen's Visit, 63-year-old Ben Nevis and all the Black Bowmores.'
However, Sandrin's collection is most notable for his bottles from the famous Italian independent bottler, the late Silvano Samaroli. Sandrin has accumulated 200 of Samaroli's older bottlings with clear glass, and 150 more recent dark glass bottles. These include a Laphroaig from 1970 signed by Samaroli personally, a rare cask strength Springbank 12-year-old number one, and four Bowmore Bouquets (one of which auctioned for over £25,000 this year). This is one of the most complete collections of Samaroli bottlings in the world, and certainly one of the most accessible. Next time you're in Venice, seek out this noteworthy collection for a rare picture of the fervour of Italian collectors.

The Diageo Archive

Where: Diageo, Menstrie, Scotland
Significance: Unrivalled pieces of Scotch whisky history
Size: 10,000 bottles (not all of which are whisky)
In the little Scottish village of Menstrie lies an unparalleled collection of whisky memorabilia, a tall white room full of bottles of all shapes and sizes, all paying homage to drinks multinational Diageo's library of brands. Although it's usually closed off to the public, Diageo does throw open the doors to its collection once a year for International Scotch Day, giving it a magical vibe – a fantasy treasure hoard which only opens on the Solstice or during a blue moon. Make the trek to Menstrie and you can see the collection's scope first-hand. Diageo has enough resources to hire a team of six archivists to dig deep into the history books, tracking down pieces and bottles that can't be found anywhere else.
'When the archive was established, a lot of the really old, long-standing brands like Johnnie Walker, Buchanan's and White Horse – what I call the old DCL/ United Distillers brands – did a really good job of keeping everything,' archive manager Christine McCafferty said in a Scotchwhisky.com interview in 2016. 'Since then, we've been adding to the collection, gathering historical material, but also new items created to build an archive for the future.'
Although the collection is a treasure trove of valuable pieces, including a John Walker & Sons decanter created for the Queen's Diamond Jubilee, worth £100,000, the most interesting piece is an 1870 bottle of Old Highland, the brand that became Johnnie Walker Red Label. It arrived at the archive complete with a snake inside the bottle that had been pickled in its contents. 'We don't know why,' mused McCafferty. 'It definitely left Scotland without a snake.'