Valentino Zagatti has dedicated almost three quarters of his life to collecting whisky, resulting in one of the most famous collections in the world. An exhibition of his collection opened in the Netherlands this week. Zagatti flew in from Italy, and met with Thijs Klaverstijn to talk about his extraordinary life journey.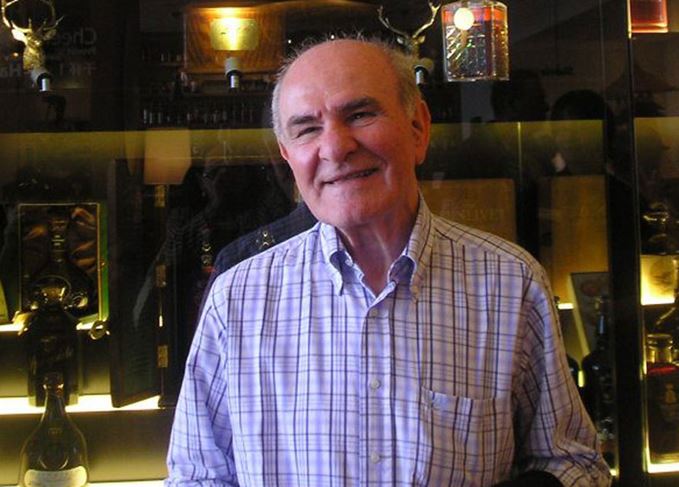 The Scotch Whisky International (SWI) building is quite an unassuming one, located on an unassuming street, part of an unassuming business park in Sassenheim, a town not far from Amsterdam in the Netherlands. It is sandwiched in between a retailer of building materials and a boat dealer – a far cry from the glens, stags, and lochs often associated with Scotland's usquebaugh. If it weren't for the signage on the building's exterior, you'd never expect to find any Scotch whisky in this part of the world. Yet it is here that one of the most remarkable whisky events of the last five years takes place.
Several dozen people inside the SWI building are sipping their drinks while conversing about their latest whisky conquests. Names of different distilleries float around the room, escaping the murmur of voices. Macallan, Glenfiddich, Glenfarclas, Highland Park. Among the crowd of bigwigs are representatives of companies like Gordon & MacPhail and Edrington, as well as investors. Investors? Yes, investors. SWI is an investment firm, as the stock ticker fitted alongside their building betrays. A few members of the press are also present. All these people are here because an Italian decided to stop smoking almost six decades ago.
Valentino Zagatti, 84 years old, is the man of honour today. From 1960 onwards he made it his life goal to amass one of the most diverse whisky collections in the world, surpassing some 3,000 bottles, and containing many of the rarest whiskies. It literally filled the family home in Lugo di Ravenna from floor to ceiling – only the master bedroom and bathroom were spared. Four years ago it was sold to SWI, backed by a group of 20 investors.

Life's work: Zagatti's collection features around 3,000 bottles, collected over 60 years

'The day I sold my collection was an extremely emotional day for me', Zagatti confides. 'It took me almost 60 years to amass my collection. During those decades, it became like a child to me. Imagine saying goodbye to a child. When they told me they were going to make my collection into a museum, that's what finally made me decide to sell my collection.'
The opening of that museum is the reason why Zagatti made the trip to the Netherlands, bringing along his children and grandchildren. Patiently awaiting the official opening ceremony, the Zagattis are sitting comfortably in big leather armchairs on the second floor of the SWI building. After a short speech by CEO Michel Kappen, Valentino Zagatti is invited to open the doors to his life's work. As he enters the room, Kappen and his family have to explain to him what is going on, because Zagatti has been blind for all of his adult life, and part of his childhood too.
Upon hearing the room described to him, Zagatti is incredulous. Rows and rows of display cabinets line the walls, sublimely highlighting each bottle in the collection. At the centre of it all is the pièce de résistance, a bottle of Scotch whisky from 1843. Kappen and Zagatti spend a private moment in front of the custom-built glass case containing the bottle, which was gifted by a father to his daughter for her wedding. This much is clear: even though Zagatti might not officially own it anymore, the collection still is very much his.
'I never thought something like his would happen in my lifetime,' Zagatti says as we sit down a little while later. 'It's nothing short of a miracle. When I became fully blind at 11 years old, I thought my life was over. The only reason I started this collection is because I stopped smoking. I mean, who would've thought? I never imagined that quitting cigarettes would turn into something like this.'

Mystery bottle: Dated 1843, the whisky was gifted from a father to his daughter for her wedding day

If there was ever someone whose life was turned around by whisky, it surely is Valentino Zagatti. Collecting whisky is what he does. It gives him purpose. Or as he puts it: 'The collection is what gives me joy in life.' Before he started collecting he was an accomplished accordionist, teaching at Rome's Lanaro academy, and winning the Italian championship in 1956 for classical accordion music. It brought him great happiness and pride, yet something was missing.
'When you play accordion, you're always alone,' says Zagatti. 'Whisky has brought me a lot of new friends. That's why I'd rather be with my whiskies than with my accordion. I haven't played my accordion for years. You need to play eight hours a day to hone your skill. I was always alone, playing, practicing. I'm never alone with whisky. There are always people to share the whisky with and to share an experience with.'
For Zagatti, the thrill of collecting is finding a bottle previously thought to be un-findable. He remembers a particular bottle of Bowmore eight-year-old, which he eventually bought from Giovannino Guareschi, the famous Italian writer of Don Camillo, a series of books that was later turned into films. Zagatti still gets giddy when mentioning what he paid for it: 30,000 Italian lira – or just over £13. His biggest victory though, came at the expense of another famous Italian collector.
'I was looking for a particular 23-year-old Tamdhu,' Zagatti reminisces. 'One day a gentleman from Modena called me up to say he had that whisky for me. But he had also called several other people. So I told my wife: "We have to go. Now!" It was 11 in the morning and she had just returned from getting the groceries. We left for Modena immediately. When I came in, he sold me the bottle. Not a minute later Guiseppe Begnoni, a well-known Italian collector, entered the room. "I'm here to collect the Tamdhu," he said. "But I already bought it," I replied. It was a great victory!'

Family matters: Zagatti celebrates the collection's opening with his family and Michael Kappen (fifth from left)

Whisky has brought Zagatti many places, most notably Scotland, which he has visited three times. But he also fondly remembers the many tastings he attended closer to home, in Emilia Romagna, Milan, Turin and other places in Italy. One of his favourite whiskies is a 10-year-old Glen Mhor, which was also one of his first whiskies when he started drinking way back when. Most recently he bought and opened the Talisker 40-year-old, which he finds 'bellissimo'. 'Whenever something special is released I buy it, and if possible I buy two. A leopard can't change its spots.'
Indeed, he may have sold his collection, but Zagatti will never stop being a collector. His modest home is once again filled to the brim with bottles. He proudly boasts of his current collection, consisting of roughly 3,500 bottles. It's mainly whisky of course, but Zagatti also has centuries old Cognac and Armagnac, as well as old bottles of Tequila. Collecting means one thing, and one thing only to Zagatti: 'There are always people at my home, from all over the world. I think there are even more people visiting nowadays than when I still had my old collection at home. Collecting brings me companionship.'