Whisky Works, an 'innovation arm' of Whyte & Mackay, has added two new expressions to its range, Quartermaster and a 20-year-old Speyside malt finished in Cognac casks.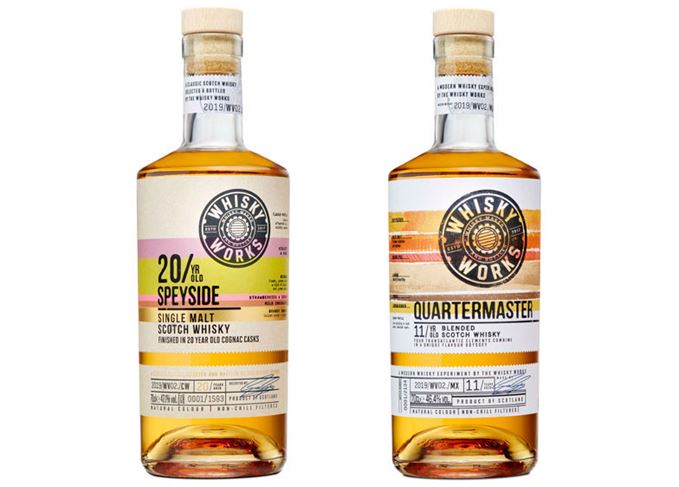 Whisky maker Gregg Glass created Quartermaster as a 'modern whisky experiment', an 11-year-old blended whisky combining grain and malt whiskies matured in four different casks.
Glass used Highland grain whisky matured in ex-rum barrels, further maturing a portion in PX Sherry casks for 'more rich flavours'.
He then combined the whisky with two Speyside malts, one matured in American white oak, the other in Sherry butts.
The resulting whisky has been bottled at 46.4% abv, and is described as having a 'fresh, vibrant character with notes of almonds, rum-steeped peaches, ginger, coffee and dried fruit'.
Just 2,134 bottles will be made available, priced at £75 per 70cl bottle.
Meanwhile, the 20-year-old Speyside edition is a single malt from an unnamed silent distillery, matured for 20 years in American white oak casks before being finished for seven monts in Cognac barriques from the Bourgoin Estate.
Bottled at 47.1% abv, the whisky is described as having 'sweet herbal notes' with 'aromas of milk chocolate, violet florals, brandy snaps, rose, and strawberries and cream'.
Only 1,593 bottles have been created, priced at £150 each.
Glass said: 'At the Whisky Works, we've worked hard to cultivate strong relationships with world-class producers to bring us closer to every part of the whisky making process.
'The collaboration and experimentation involved in the making of these two whiskies really demonstrates the core values of what the Whisky Works is all about.'
The Whisky Works range launched earlier this year and also includes the Glaswegian, a 29-year-old single grain, and King of Trees, a 10-year-old Highland blended malt part-finished in native Scottish oak.
The two new editions will be unveiled at the Whisky Show London this weekend (28-29 September), with Glass running a series of free masterclasses featuring the whole Whisky Works range as part of Scotchwhisky.com's Evolution of the Cask experience.
Registration for the classes will be offered at the Evolution of the Class experience on the first floor of the show at Old Billingsgate, and accepted on a first-come-first-served basis.