Islay single malt Ardbeg has revived its peatiest expression, Ardbeg Supernova, four years after the 'final' release of the cult whisky.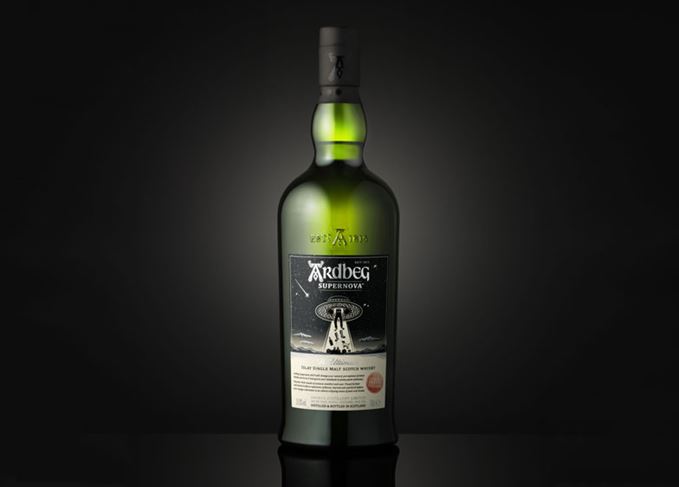 Ardbeg Supernova will be released to members of the Ardbeg Committee – a global network of Ardbeg enthusiasts – in the UK tomorrow (2 October) in what is described as a 'brief and earth-shattering return'.
The limited edition Supernova series of Ardbeg releases began in 2009, with the fourth and most recent in 2015 described at the time as its final bottling.
The fifth – and definitely final? – Ardbeg Supernova was matured in ex-Bourbon casks is described as having aromas of 'pungent aniseed, menthol and eucalyptus', with a 'nebula of bonfires, soot, charred oak, birch tar and menthol' on the palate.
The limited NAS (no age statement) release – Ardbeg is yet to reveal exactly how many bottles are available – will be priced at £140 per 70cl bottle.
'Supernova is the peatiest expression we produce at Ardbeg,' said Dr Bill Lumsden, Ardbeg's director of distilling, whisky creation and whisky stocks. 'The way the flavours build and build and then explode in a burst of pungent peat and smoke is truly astonishing.'
Ardbeg distillery manager Mickey Heads added: 'The incredible peat explosion in Supernova probably explains why these bottlings have been so popular with the Ardbeg Committee over the years.
'Supernova 2019 is the fifth edition in the series, and I'm sure it will be snatched up in no time at all.'
The last release of Supernova in 2015 marked the end of an experiment during which vials of Ardbeg new make spirit and shards of Ardbeg casks were sent into orbit around the Earth as part of a collaboration with US space research company NanoRacks and the International Space Station.