Twenty years ago today, late on a beautiful Islay night, a clear spirit trickled fitfully from the stills of a ramshackle, uncared-for distillery on the island's Kildalton coast. Ardbeg was battered and bruised, but back in business – and it hasn't looked back since. Richard Woodard reports.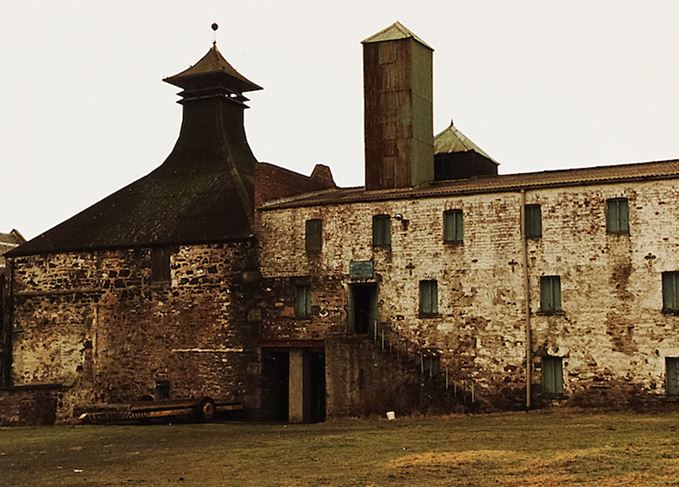 'It was late at night – it was a beautiful, beautiful Islay night – and we didn't get the spirit off until about 10pm… What I had was two nosing glasses and that was basically it… The thing that amazed me about it was the fact that it didn't nose as phenolic as I'd expected. It's the secret to the success of Ardbeg. It's got this very big fruitiness that helps to mask the phenolics – but they're still there.'
The words of Ed Dodson recall a seminal moment in the recent history of Scotch whisky – the instant when, after years of neglect, production began again at Ardbeg on 20 June, 1997. But there was no fanfare, and no photographers or film crews to preserve the event for posterity. Just a handful of workers were present, along with Jim Murray, Whisky Bible author and champion of the distillery.
What was Ardbeg at the time? A single malt with a cult status among those in the know, but lacking the wider fame that it enjoys today. A distillery with a chequered history, that had once employed dozens of staff, built its own school and bowling green, but which had spent most of the 1980s and 1990s silent, conducting experiments and being pillaged for spare parts by neighbouring Laphroaig (both distilleries were owned by Allied Distillers post-1989).
'Allied were going to flatten it,' recalls Dodson. 'But that would have been bad press for them. The Mactaggarts own the estate next to it, and they had thought about buying it, but they didn't know how to operate it.'
Dr Bill Lumsden, distillery manager at Glenmorangie at the time, remembered Ardbeg from his days working at United Distillers, when he would visit Port Ellen maltings, managed at the time by Kenny Gray. Lumsden says: 'I remember Kenny said: "I think Ardbeg kind of makes some spirit every so often, but I don't think it's got too much time left on this Earth." And I thought, well, it's always sad when a distillery closes, but c'est la vie.'

Stuck fermentation: Of the six washbacks, one was missing and two leaked badly

Then The Glenmorangie Company bought it. For £7.7m, which seems an absurdly featherweight sum today, but probably felt about right for a clapped-out old distillery needing years of remedial work. 'It was in a very, very sad state when we purchased it,' says Lumsden.
Lumsden was needed at Glenmorangie, so the six-month task of resurrecting Ardbeg fell to Dodson, distillery manager at Glen Moray (then also owned by Glenmorangie) and involved in whisky since 1963. 'I was the only guy in the company who had been in a place like it,' he says. 'It was so antiquated – the equipment and everything.'
After Glenmorangie closed the deal at the end of February 1997, Dodson was dispatched to Islay to restart operations. 'I set myself a target of 1 July, but we managed to get going a couple of weeks earlier,' he recalls.
At first, that schedule looked highly ambitious. 'There were supposed to be six washbacks, but there were only five, and two of them were leaking pretty badly,' says Dodson. 'The heating tank [for boiling up the water for mashing] was cast-iron. When I saw that, I thought that's going to have to go. The mash tun was also cast-iron, and it was 18 inches off the ground. If something happened under the mash tun, you had to crawl under it.'
Lumsden takes up the story. 'Pauls Malt had bought the Glenesk maltings [home to the former Hillside distillery] from Diageo, and there were some very good-condition wooden washbacks there, and some big bundles of wooden staves.' The washbacks were acquired, reduced in size to fit and then shipped to Ardbeg.
But it wasn't just the equipment that was below par. 'There was no discipline, no programme for a balanced distillation,' says Lumsden. 'The cut points were all over the place.
'We were essentially looking to recreate the classic, old-style spirit of Ardbeg. Allied Distillers had a small number of samples of new make spirit and 10-year-old, so we used that as a template. I didn't muck around too much with the cut points, although I have recently pulled them back a bit more into the feints to capture more of the smoky phenolic compounds. We did use the expertise of Jim Murray. He knew that spirit arguably as well as anyone.'

Stuttering start: Ardbeg was to suffer more shutdowns as essential repairs took place

There was also Duncan Logan, Ardbeg's brewer for 35 years and still living in one of the distillery cottages. 'He was always walking around, seeing what was happening,' says Dodson. 'If I wanted to know anything, I would always go to him.'
There were other ex-Ardbeg staffers too: Ruari Macintyre and 'Wardie', the only workers kept on after the distillery shut down in 1996; by early June, they had been joined once again by Hamish Gillespie (The Gow) and Alex Livingstone (Aza).
New faces arrived as well. Former fisherman Neil Johnston (Philco – everyone, it seems, has a nickname at Ardbeg) started work on 19 May, and was immediately sent by Dodson to Laphroaig to learn 'the rudiments of the business'. By early June, Malcolm Rennie had also been taken on.
'The place was terrible,' recalls Johnston. 'After going down to Laphroaig, you were, like: "Holy smoke!" It was bad. But Ruari and Wardie had been there since 1989 [when distillation restarted after an eight-year hiatus], and they said then it was just horrendous.'
Production since 1989 had been spasmodic and often experimental (including the distillation of unpeated Kildalton spirit). The equipment was in such a poor state that Dodson had to work 14-hour days, six days a week, alongside mainland contractors to get things up and running. He explains: 'We got it working, but you lay in bed at night – I was staying up at the Machrie Hotel – and thought: "I wonder how long it will be before they're calling me out."'
As June wore on, they were getting somewhere. 'On the Friday/Saturday [13/14 June] before we started, we tested everything three days on the trot,' says Dodson. 'Then on the Monday [16 June] we did the milling, and that went through no bother. For the mash, I pressed the pump to start it, and it went bang. Ten hours later, we got our mash.'
Then came that beautiful Islay night of Friday, 20 June. 'I remember it was my first night in the stillhouse,' says Johnston. 'Talk about being thrown in at the deep end! I hadn't actually worked in the stillhouse at Ardbeg at all.'

Any old iron: The mash tun was earmarked for replacement early on

Meanwhile, Dodson still had concerns. 'We were nosing the spirit as it came in,' he remembers. 'The washbacks had been steeped in water – peaty, Islay water – and I didn't like the smell of it after all that time. The first spirit was almost vegetal, but after two or three fermentations everything was good.'
It was a start, but only that. Ardbeg was to endure more shutdowns in the months and years ahead as essential work was carried out: replacing that cast-iron mash tun, installing a new spirit still, renewing copper and electrical wiring.
'We ran it for a few months and literally that was as long as we could do it for,' says Lumsden. Johnston adds: 'We mashed at the beginning of the week and then we would fill casks in the middle of the week. The last two days we would run the stills. Whatever we made was a huge bonus.'
Jackie Thomson, manager of the Ardbeg visitor centre and Old Kiln Café, first visited in August 1997 (her husband Stuart took over as distillery manager when Dodson finished his six-month stint), before a permanent move in October.
'It was a great team from the start, but things were pretty grim at first,' she says. 'We did think: "What have we done? My goodness, we're embarking on something that's just extraordinary…" People come now and they see how it is, and they don't piece it together.'
'At the time, nobody [on the island] knew much about Glenmorangie because they weren't linked to Islay in any way,' adds Johnston. 'But the fact that they invested so much money so quickly – in 1998, the visitor centre opened – they were obviously there for the long haul.
'Glenmorangie has always had a good name, but now the good name is Ardbeg – it's got a good enough name to stand up on its own.'

As it was: An engineer's photograph of the Ardbeg stillhouse in 1997

And what of the next 20 years? Expansion is firmly on the agenda. 'We've tweaked and worked absolutely flat-out, to the point where we couldn't squeeze any more out,' says Lumsden. 'The current production level is enough to allow us to double sales from where we are now, but that's not enough.
'We are now looking at what we would need to do in order to really expand… The first thing we can do is we can tweak the fermentation and put some more vessels in there, more washbacks and another wash receiver. We can get more out of it without necessarily going from two to four stills.'
The grim spectres of the 1980s and 1990s have departed from Ardbeg; those grimy walls are freshly whitewashed, the place is buzzing with visitors and the stillhouse is rarely silent. Out of the darkness of the past has emerged a brighter, sunnier Ardbeg, one with a spirit of fun forged, perhaps, by those difficult days. 'It's been great,' says Thomson. 'Ardbeg isn't crusty, it has a sense of humour, and that keeps things very fresh for the people working here.'
'There was such a feelgood factor when we reopened the distillery and there was employment for people on the island,' adds Lumsden. 'It was great fun from that perspective.
'I'd like to think we were in the vanguard of the new wave of optimism and positivity on Islay, with Bruichladdich and Kilchoman – having fun, releasing new things. I certainly didn't expect that we would reach the level where we are today so quickly.'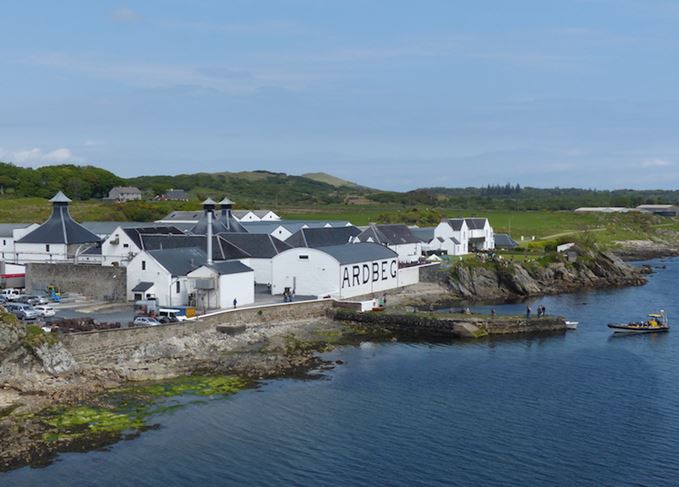 Sunny disposition: Ardbeg has emerged brighter and happier from difficult days