Ardbeg is giving its annual Ardbeg Day celebrations a Caribbean twist with the release of its first rum-finished whisky.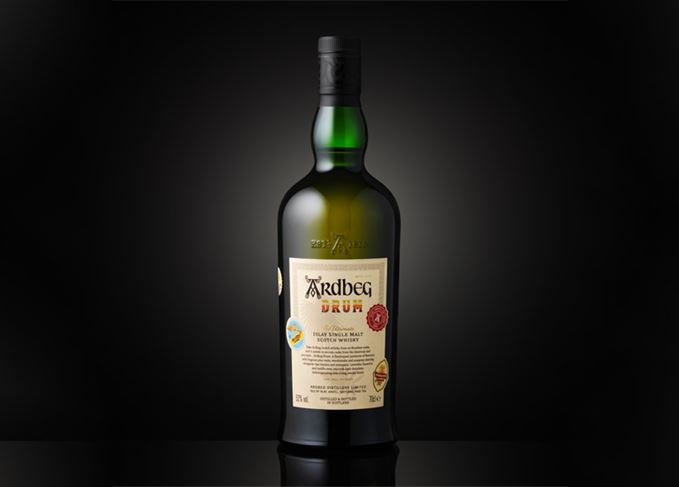 Ardbeg Drum is a no-age-statement single malt matured in ex-Bourbon casks and then finished in ex-rum casks from the Americas.
Described as having notes of fragrant pine resin, wood smoke, ripe banana and pineapple, the expression is bottled at 46% abv.
The expression will be released globally to coincide with Ardbeg Day on the final day of the 2019 Islay Festival (24 May-1 June).
A separate, limited edition Committee Release bottled at 52% abv, will be available exclusively to members of the distillery's fan group – which is free to join – when it goes on sale on 5 March.
In keeping with its Caribbean theme, the Islay distillery will be hosting a tropical carnival in celebration of Ardbeg Day, encouraging guests to don colourful headdresses and partake in a number of celebratory activities and tastings.
The celebrations are said to pay homage to the island's past tradition of decorating colourful floats for a parade between the village of Port Ellen to Ardbeg on the final day of the festival.
Mickey Heads, distillery manager, said: 'The Ardbeg Day Carnival is about embracing all things tropical. From music and dance to food and fashion, we're all set to revel in both the culture and character.
'Preparations are well underway, but orchestrating a bash this breathtaking is no mean feat. The finer details are yet to be revealed, but rest assured, the Ardbeg Day Carnival 2019 will be a spectacle you won't forget.'
Last year's Ardbeg Day release was Ardbeg Grooves, a whisky matured in re-toasted red wine casks which were intensely charred to create heavy grooves in the surface of the wood.
The release of the Ardbeg Grooves Committee Release was so popular that unexpectedly high demand caused Ardbeg's website to crash upon its release.
Ardbeg Drum will be available to buy globally from 1 June for around £98 a bottle.