Despite being introduced to whisky at the tender age of 10, it was a formative Scotch experience with master blender Richard Paterson that ignited Bihan Yang's enthusiasm for Dalmore, as Angus MacRaild discovers.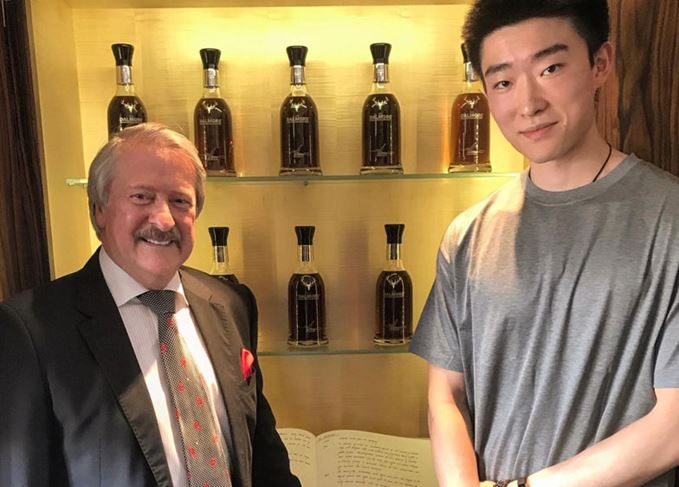 Commentary about whisky – writing, journalism, call it what you will – has always sought to categorise, to compartmentalise the participants in this mighty drink and contrast them. It's been done along varying lines of sex, age, nationality and degrees of possession of facial hair.
These efforts at cultural cataloguing are at best boring and most often inaccurate and devoid of nuance. However, the appeal is understandable. Especially when speaking to someone who tempts such startling comparisons as Bihan Yang.
For starters, he is tall and speaks with a quiet thoughtfulness that makes him seem a little older than his mere 24 years. Born in China, he moved to London in 2007 at the age of 12.
'My parents wanted me to receive a better education, so that's how I ended up in London,' he says. The influence is there in the way he speaks and his sense of humour, a fusion of Chinese and British sensibilities that in itself reflects an inevitable future of increasing integration between the two cultures.
'The first time I was exposed to whisky, I was 10. My mother brought me to an event hosted by a whisky distillery in Beijing. It was the first time I had a chance to taste whisky and it really triggered an interest. After I came to the UK, I purchased my first bottle of whisky on the day I could legally buy alcohol.'

Broad assemblage: Yang collects old and modern whiskies from a range of distilleries

When speaking to Yang, what strikes most is his approach to, and ideas about, the subject. So often, discussions with collectors are inevitably rooted in the past. But, despite possessing and coveting liquid of yesteryear, Yang is most excited by the future.
'I am positive about the future of whisky; just look at today's whisky fans, born in the 1980s and 1990s,' he says. 'They already have amazing consumption power. Imagine in the next one or two decades, when these two generations become the mainstay of society, no matter the consumption power or the influence they hold, whisky will surely occupy a great status with these people.
'At that time, when we look back at this current stage and where we are right now, we will realise this was just a beginning.' It's a characteristic mix of slightly giddy, youthful enthusiasm, tinged with a degree of intellectual clarity.
Within this line of thought you can see the foundations of a new era for whisky, one where it is possible to reconcile the appreciation of older-style whiskies of the past with the more complex realities of today's market, and the way the two worlds might inform and improve each other via a more educated and demanding consumer base in the future.
You can see it in the fledgling second-tier industry emerging with today's smaller-scale, independent distilleries. For such producers someone like Yang is a model customer: young, educated, interested and willing to spend their considerable disposable income on whiskies they perceive to be of true, undiluted quality.

Prized liquid: One of Yang's favourite whisky bottles is a personalised 25-year-old Dalmore

This interlocking fascination with the past and the contemporary is further illustrated by his feelings about his favourite distillery. 'For Dalmore, I generally prefer the modern expressions; I have tried lots of 1960s, '70s, '80s and '90s Dalmores, but the flavours are hard to describe and always feel a little weird…
'I admit the regular products that most people are exposed to in the market are not always great, but Dalmore's single casks are definitely competitive [in terms of quality].'
Despite casting a broad net as a collector, the heart of Yang's passion remains Dalmore. 'My dream is to collect every last Dalmore, so my "holy grail" would be the ones that I lack, for example Dalmore Oculus,' he says.
'I had a memorable experience during my first visit to Dalmore [in 2017]. Richard Paterson accompanied me throughout my visit and explained everything in great detail.
'I was so touched by his generosity throughout the visit, and this is the main reason for my love of Dalmore today... If I had to choose a favourite bottle in my collection it would be the one gifted by Richard during my first visit to Dalmore, a 25-year-old bottle with my name on it.'
Apart from the burgeoning collection accumulated while he has been studying in the UK, Yang has also established a small whisky 'room' back in Beijing; not quite bar and not quite club. He describes it as '...a place for whisky and cigar lovers to taste and share. It has the potential to become a paradise for the whisky/cigar lover, because no matter if you're a beginner or an experienced player, everyone can find a place here.
'It's called "Han She" which means "home" in Chinese. Welcoming people is the main purpose of having Han She, and I very much welcome whisky lovers to come and chill, have a glass of whisky that one can only find there that I personally selected, a nice cigar – wonderful.'

Whisky hunt: Bihan Yang enjoys searching for new favourite bottles of Scotch

Speaking to Yang, and hearing about the whiskies he has already tasted, bought or is seeking, it becomes inescapable that a large part of what enables this is his wealth. The notion of 'new Chinese money' encroaching on whisky and its resulting disruption of both the industry and culture has been a hot topic for some time now.
However, to speak to Yang, or some of his other young and enthusiastic friends at festivals around Europe, it becomes clear that the privilege of wealth does not automatically separate or exclude them from passion, knowledge and a sense of humility and willingness to listen and to learn.
Indeed, it is perhaps an unwillingness on behalf of the West in general to understand this nuanced reality about the younger Asian generations which helps to foster misunderstanding, frustration or mistrust in the first place.
This is where notions of comparison and symbolism become tempting. Yang is young, savvy, passionate about whisky, learning fast and unclouded by ideas about what he is supposed to think about whisky.
Rather, he seeks to discern truth through learning and cultivates his own opinions and tastes, and is unashamed about chasing down the bottles he loves. It would be easy to paint him as illustrative of the new young generation of Chinese whisky lovers.
It is always easy to criticise or characterise wealth if it is flaunted or yielded without intelligence. It is this balance of passion and intrigue for the future, married with a thirst for knowledge and an enquiring mind, which sets Yang apart as a distinctive young collector in his own right.
He is his own man, and you get the sense that, whatever his situation in life, his ambition and infectious enthusiasm would always propel him to seek out that which is new and better.
'I always hope for the chance to taste better whiskies,' he says. 'There are quite a few that I have always wanted to try – Bowmore Bouquet, Samaroli 1967 Laphroaig, Ardbeg 1965 Cadenhead for Mizuhashi bar – hopefully I can try them some day. Hopefully I can always update my "best-ever" whisky.'