A new £3m investment fund aims to tap into latent demand for high-end Scotch in China, importing thousands of rare and collectible bottles into the country every year.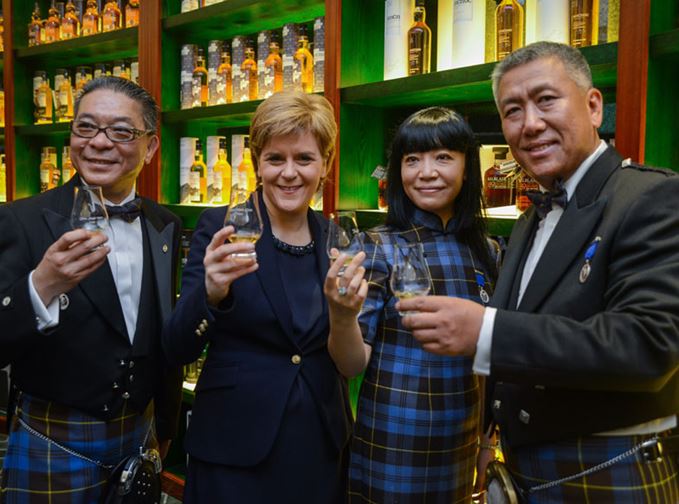 Members of the Single Malt Club China (SMCC) have generated the fund to purchase rare and valuable malt whisky from Scotland, including limited editions and single cask bottlings.
According to the SMCC, the club imported 60,000 bottles to China in 2014, and anticipates the investment fund to increase the figure by 20% this year.
The campaign comes amid declining exports of Scotch whisky to the country, which fell 23% to £39m during 2014, according to the Scotch Whisky Association.
Scottish First Minister Nicola Sturgeon unveiled the new fund this week as part of a trade visit, which included the promotion of Scottish businesses in Beijing.
As well as launching the fund, Sturgeon opened the SMCC's new Whisky Experience Centre in the capital, which provides an educational base for consumers interested in single malt Scotch whisky.
As well as showcasing photography and items from Scottish distilleries, the centre teaches visitors about the whisky production process and houses a display of Scotch whisky available in China.
Sturgeon said she hoped the centre would continue the club's dedication to increasing awareness of Scotch in China. 'Scotch whisky is world famous and is one of our most iconic products,' she said.
'Scotland is the home of whisky and there is a clear global demand for our national drink.
'The Single Malt Club China has worked hard to promote Scotch whisky for a decade and now has nearly 5,000 members throughout China.
'We value their efforts in promoting Scotland, our iconic products and our culture and look forward to working with them to continue this relationship.'
The SMCC has collectively grown its imports of Scotch whisky by double digits every year since its inauguration in 2005, it says.
Raymond Lee, founder and chairman of the SMCC, said: 'Single Malt Club China constantly strives to promote the love of single malts, which is the pinnacle of enjoyment in spirits.
'Understanding Scottish culture is an integral part of enjoying whisky, which makes single malt Scotch even more enjoyable.'