Gordon & MacPhail has unveiled what is billed as 'the world's most exclusive single malt Scotch whisky': a 75-year-old bottling from Mortlach distillery.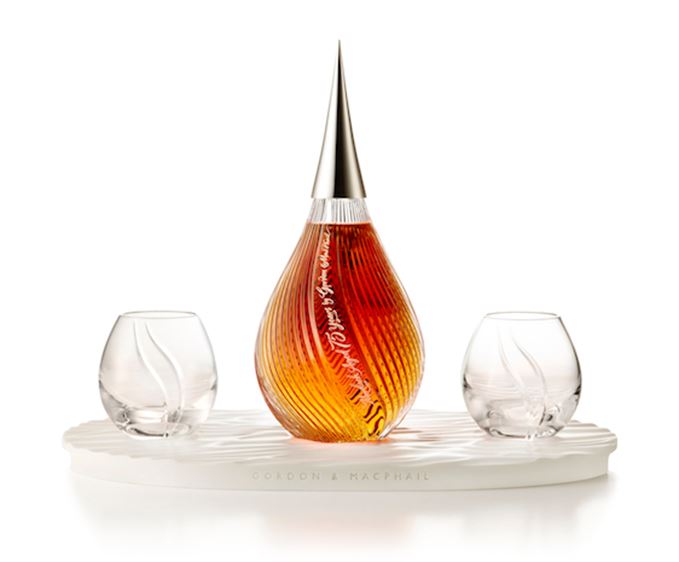 Mortlach 75 Years Old by Gordon & MacPhail was filled into a first-fill Sherry cask in 1939 and is the latest release in the company's Generations range – previous bottlings including 70-year-old whiskies from Mortlach and The Glenlivet.
Only 100 teardrop-shaped crystal decanters of Mortlach 75 are being released, priced at £20,000 each. Each decanter has 75 'cuts' to its crystal, and the package, including presentation plinth and two crystal glasses, comes in an Aniline leather travel bag.
Also included is an accompanying book, Seven Nights with Mortlach, co-written by whisky writer Charles Maclean and best-selling author Alexander McCall Smith, and illustrated by up-and-coming Scottish artists.
The whisky marks the long involvement of the Urquhart family with Gordon & MacPhail: John Urquhart – the first generation of the family to work for the business – instructed that the cask be filled with new-make spirit from Mortlach on 17 November 1939.
Stephen Rankin, Urquhart's great-grandson, said: 'We've been anticipating this moment for a long time. Having been nurtured and cared for by four generations of our family, it gives us great pleasure to release this unique and incredibly rare single malt.'
Mortlach 75 is both an expression of continuity and a throwback to a different age: while Mortlach's fiendishly complicated distillation regime remains the same, the historic use of coke and peat in the malting process ceased in the 1960s – giving the spirit in Mortlach 75 a different character to that found today.