A 70-year-old Glenlivet bottled by Gordon & MacPhail is estimated to sell for £30,000-£40,000 at auction this week.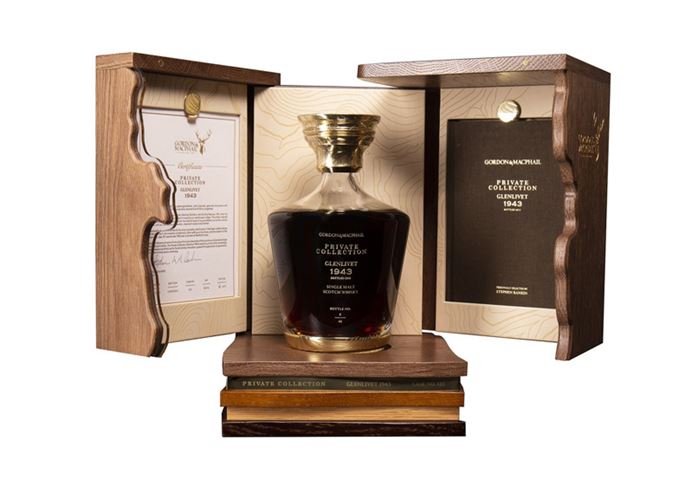 The Rare & Collectable Whisky Auction will take place on Friday (17 August) at McTear's Auctioneers in Glasgow, with the Glenlivet 1943 expected to attract 'considerable interest' from potential buyers.
'We have seen some exceptional bottles come through the doors at McTear's over the years and there is no doubt this sits as one of the most magnificent whiskies we have had the privilege to auction,' said McTear's whisky expert Graeme Maxwell.
The Private Collection Glenlivet 1943 is one of only 42 bottles released by Gordon & MacPhail in 2017 at £30,000 each.
The whisky has been fully matured in Cask #121, a European oak ex-Sherry cask laid down by first generation Gordon & MacPhail owner John Urquhart.
It was eventually released three generations later by Stephen Rankin, Urquhart's great-grandson and current Gordon & MacPhail director of prestige.
'The creation of this stunning single malt has been a true family affair, with generations of the Urquhart family ensuring that the finished product takes its rightful place as one of the finest single malt whiskies on the planet,' said Maxwell.
The whisky is bottled in a hand-blown decanter featuring gold engravings of the land surrounding the Glenlivet distillery, and a presentation box depicting the River Spey.
In addition to the Private Collection Glenlivet 1943, the Rare & Collectable Whisky Auction will feature 235 different lots including rare bottlings of Macallan, Springbank, Dalmore and Bowmore.