Independent bottler Gordon & MacPhail has released The Glenlivet 1943, claimed as one of the oldest and most exclusive single malt whiskies in the world, and priced at £30,000 a bottle.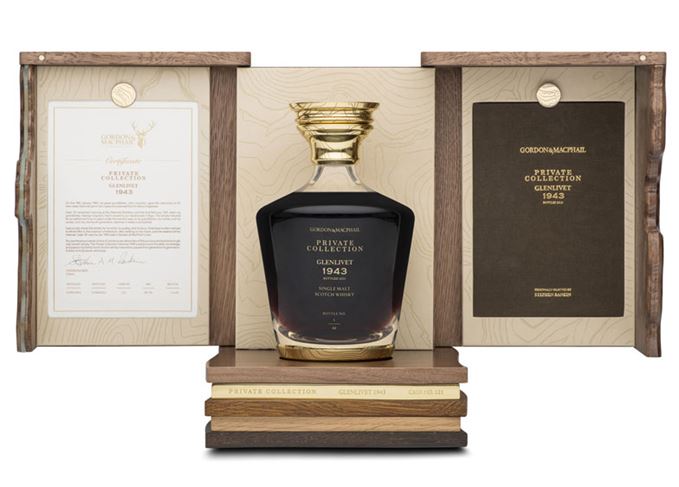 The latest release from the Elgin-based company's Private Collection range, Private Collection Glenlivet 1943 is limited to only 40 decanters worldwide, bottled at a cask strength of 49.1% abv after spending 70 years in a first-fill Sherry hogshead cask.
The spirit was distilled on 14 January 1943 and filled into Cask 121 – now the last remaining 1943 vintage from Gordon & MacPhail's considerable stock inventory.
Its distillation coincided with a significant date in the Second World War: the Casablanca Conference attended by Prime Minister Winston Churchill, President Franklin D Roosevelt, General Charles de Gaulle and General Dwight D Eisenhower.
By this time, the war had taken a significant toll on Scotch whisky production, with prices and duty rising fast and rationing restricting the availability of raw ingredients.
According to Gordon & MacPhail, many distilleries closed after October 1942, with The Glenlivet stopping production the following spring.
By the late 1940s and early 1950s, mature whisky was in high demand, meaning that casks from this period were in increasingly short supply.
Cask 121 was selected for filling at The Glenlivet distillery in 1943 by John and George Urquhart, representing the first and second generations of the family that owns Gordon & MacPhail.
The decision to bottle the whisky was taken by Stephen Rankin, a director of the company and John Urquhart's great-grandson.
He said: 'This beautiful whisky has been nurtured and cared for by four generations of our family and it gives us enormous pleasure to release this unique and incredibly rare single malt.
'We believe Private Collection Glenlivet 1943 by Gordon & MacPhail is a malt without comparison from a defining date in the history of a world in conflict.'
The whisky comes in a hand-blown decanter featuring gold engravings of the contours of the land surrounding The Glenlivet distillery, enclosed in a hand-crafted wooden box with a closure depicting the River Spey.
Each numbered decanter comes with a certificate of authenticity signed by Stephen Rankin and a commemorative book by whisky writer Jonny McCormick.
A small number of decanters will be available from Gordon & MacPhail's shop in South Street, Elgin. Purchasers will also have the opportunity to enjoy an 'exclusive tasting experience'.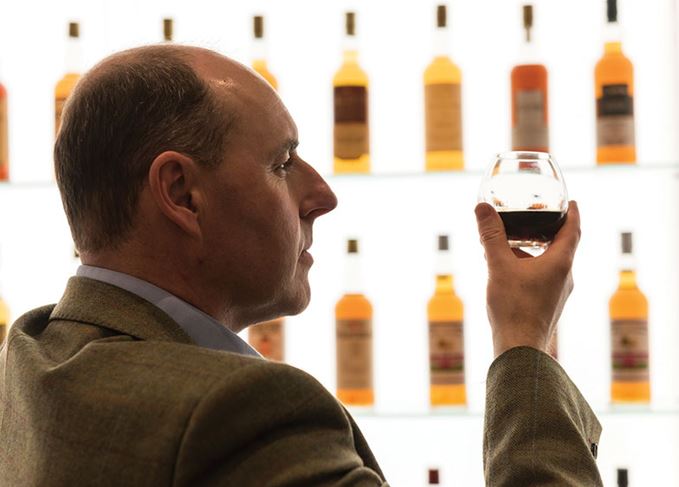 Family pride: Stephen Rankin is a great-grandson of John Urquhart