The founder of Arran distillery and veteran of the D-Day landings passed away on 15 March at the age of 91.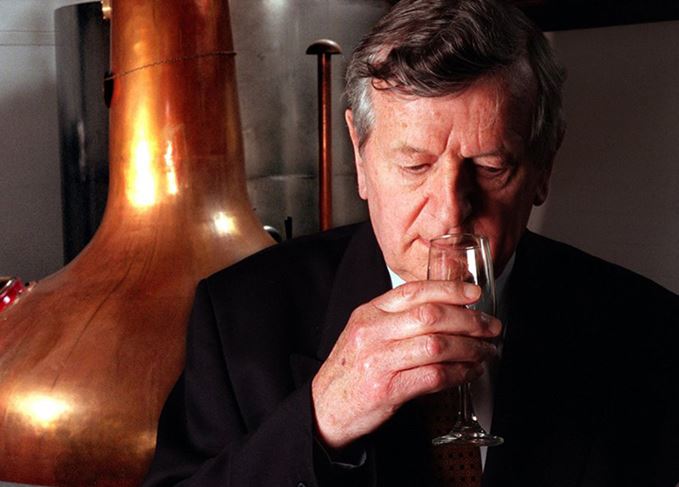 Harold, or Hal as he was also popularly known, was born in Liverpool in 1924 and grew to become a keen football and whisky fan.
During World War II, upon reaching the age of 18, he enlisted with the Royal Armoured Corps and subsequently joined the 4th Country of London Yeomanry in 1944.
On 7 June 1944, Hal fought alongside the 'Desert Rats' of the 7th Armoured Division during the D-Day landings, one of the conflict's most brutal tank battles, against forces led by the notorious Waffen-SS first lieutenant, Micheal Wittman.
Half of Hal's regiment was lost during the battle.
He was the last living member of his regiment, and in October 2015 was officially awarded the Legion d'honneur, France's highest military honour, for his role in the landings.
Following the war, Hal began a life immersed in his two great loves – football and whisky.
He joined Liverpool and Bristol wine and spirit merchants Rigby & Evans, and in 1960 was personally asked to become joint managing director of the UK arm of the House of Seagram by Sam Bronfman.
Hal went on to take over Seagram's Scotland operations as managing director of Chivas Brothers in Glasgow. After Bronfman passed away in 1971, the group's UK operations fell to Hal also.
During this time Hal moved his young family – he met wife Barbara at a dance – from Cheshire up to Dalry in Ayrshire.
Now living in Scotland, Hal also became chairman of St. Mirren Football Club in Paisley, and in 1974 talked a young Sir Alex Ferguson into accepting the club's manager's position.
In his autobiography, Ferguson wrote: 'Willie [Cunningham] said he was leaving because he had had enough of football but painted an attractive picture of St Mirren as a club ready to be revived by someone with ambition and drive. Although flattered I was not convinced… I was invited to meet the St Mirren chairman, Harold Currie, at his Glasgow office. I went to the meeting intent on declining the offer of the job. Yet Harold Currie made a point that gave me pause: "Can East Stirlingshire [where Ferguson was currently manager] become a big club? If not, why do you want to stay if you are ambitious?"'
Hal stepped down as chairman in 1976, passing the reigns onto Willie Todd who, ironically, is the only man ever to fire Sir Alex.
Around the same time Ferguson joined St Mirren, Pernod purchased the House of Campbell Scotch whisky brand and asked Hal to become MD. In 1975 the Pernod and Ricard houses merged and Hal was promoted to head of UK operations until his retirement in 1982.
He remained a consultant for the company until the early '90s when David Hutchison, who owns property on Arran, planted the seed of an idea for a new distillery on the island. It was an idea that has long earned Hal a reputation as a visionary.
Legal distilling had long been absent from Arran since the closure of Lagg distillery in 1837, although the island had been rife with illicit stills. However Hal and Hutchison considered the remote island to be the perfect location to build a site.

Harold Currie toasts the first liquid off the stills at Arran distillery in 1995.​

In December 1994 work began building the new Arran distillery in Lochranza on the north of the island, and the first spirit flowed the following summer.
The distillery released its first official bottling – a three-year-old – in 1998, and has just this month released its first 18-year-old expression.
Hal remained closely involved in the operation of the distillery until very recently.
Euan Mitchell, managing director of Isle of Arran Distillers, said: 'In 1995, at the age of 70, Harold opened the Isle of Arran Distillery and created the foundations of the amazing brand we see today.
'Harold was delighted with the progress the company has made in recent years and was a frequent visitor to the distillery until very recently. An amazing life and a remarkable man.'
Paul Currie, Hal's youngest son and managing director of The Lakes Distillery, who was also closely involved in the establishment of Arran distillery during its early years, said: 'My father has been a huge inspiration to all my family, and even though this is a very sad time for us, we can look back on an extraordinary life in his 91 years.
'From taking part in the D-Day landings to taking on Alex Ferguson when he was chairman of St Mirren, and of course spending most of his working life in the whisky industry, he approached everything with great thoroughness and great humour.
'Setting up Isle of Arran Distillers involved overcoming many hurdles, and it is wonderful that the distillery can be his legacy in the years to come.'
Neil Wilson, author of The Island Whisky Trail: Scotland's Hebridean and West Coast Malt Whisky Distilleries, recalled meeting Hal for the first time while researching his book in the 1980s.
Wilson said: 'Hal was as generous with his time and knowledge then as he was most recently when I visited him on several occasions at his home to piece together the history of the distillery at Lochranza and the company he co-founded in retirement, Isle of Arran Distillers.
'He never stopped working and although his last few years were difficult for him, his wife Barbara and his sons were hugely supportive as were the nurses who tended to him on home visits. He was one of the last of the great whisky gentlemen.'
Hal leaves behind his wife, Barbara, and four sons, John, David, Andrew and Paul.