Harold 'Hal' Currie (1924-2016) enjoyed a successful career in spirits, but it was only after his retirement that he saw his biggest achievement – the revival of whisky distilling on Arran for the first time in over 150 years. Neil Wilson tells his story.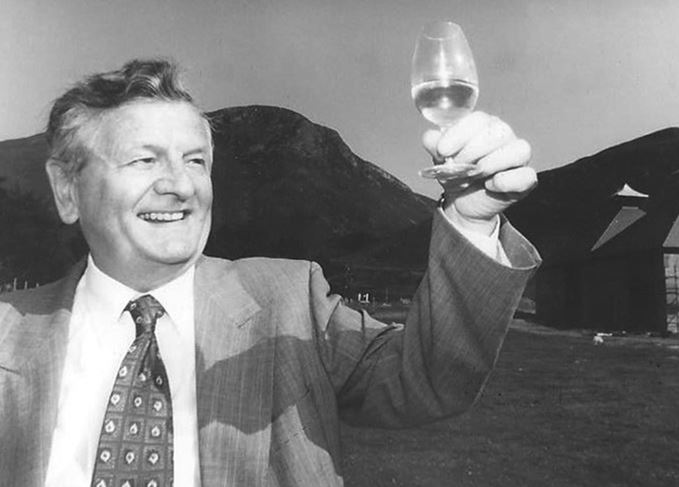 A career spent in the wine and spirits trade prepared Harold Currie for his greatest achievement – bringing distilling back to the Isle of Arran after more than 150 years. When he passed away in March 2016 the whisky industry lost one of its greatest gentlemen. 'Hal' had had a very full life and was even still dealing with a Malaysian customer a few months before he died, aged 91.
Currie saw active service in the Second World War and took part in the infamous tank battle at Villers-Bocage in Normandy just after the D-Day landings. He was lucky to survive and he went on to Berlin where he went into partnership with a German leatherworker producing handbags for troops to take home to wives and girlfriends – an early entrepreneurial trait that was to serve him well in later life. His wartime contribution was eventually recognised in October 2015 when he received the Légion d'Honneur.
After the war, Currie joined the Liverpool and Bristol wine and spirit merchant Rigby & Evans before moving to Seagram UK in 1960 and then Chivas Brothers as managing director, based in Paisley, in the 1970s. He then went on to head the UK operations of Pernod Ricard soon after its creation and was responsible for the expansion of the House of Campbell brand.
As well as whisky, Currie had a great passion for football and spent many years as a referee, even managing to have the FA arrange for him to referee fixtures while on business abroad. He was then invited to join the board of his 'local' club, St Mirren FC in Paisley, in the early '70s. The team was then struggling in the second division and he agreed to become chairman before promptly deciding to recruit a young manager called Alex Ferguson, who was making a big impression at the helm at East Stirlingshire. Ferguson was eventually convinced to take on the St Mirren job by Jock Stein, and from 1974-78 he created a thrilling young team which won the Scottish Cup in 1977 with a squad that had an average age of just 19. The rest, as they say, is history.
Retirement followed for Currie in 1982, but he was retained as a consultant by Pernod Ricard before calling it a day in early 1990. It was after a chance remark from his architect friend, David Hutchison, over dinner at Currie's Ayrshire home in 1991, that he began to seriously consider the prospect of establishing a distillery on Arran, where Hutchison had a home and good connections.

New Hope: Star Wars actor Ewan McGregor (left) opened the first cask of Arran single malt on 25 July 1998


Arran's reputation for producing excellent whisky, both bootleg and legal, ended in 1837 when Lagg distillery closed in the south of the island. Clearly if a good water source, available land, adequate funding and approved planning could be brought together, then there was a fighting chance a distillery could be built in the area.
A series of visits to Arran followed, where David introduced Currie to local contacts such as Jim Lees in the village of Sannox, who was able to make introductions to other parties that Currie needed to court. One such was Charles Fforde, one of the major landowners on Arran. Fforde had a parcel of grazing land at the entrance to Lochranza which, after positive analysis of the water in the adjacent Easan Biorach, he sold to the newly formed Isle of Arran Distillers Ltd, formed by Currie and David Hutchison in November 1991.
Once Hutchison had created the proposed plans for the distillery, the normal submissions were made and approval sought. It was not easy or straightforward, and when Currie and his son Andrew attended a public meeting at Lochranza in November 1992 along with Hutchison, the mood at the start was not positive, largely due to a number of vocal objectors, most of them retirees from the mainland. Gradually, as the meeting progressed the mood changed, until a groundswell of support carried the evening. Currie was delighted but it had been a close call.
Finance was raised in the form of a Bondholder scheme, which gave the subscribers (a Bond cost £450) the option to purchase whisky in the future at favourable rates, duty paid. With Currie's sons Paul and Andrew working on the scheme, Hutchison finalised the distillery plans while Currie courted his contacts in the whisky trade and met with potential investors as he went about promoting the scheme.
Scottish Natural Heritage objected to the plans on an almost continual basis until Secretary of State Ian Lang finally gave approval in May 1993. By November the following year, through the efforts of Currie's financier friend Ross Peters, a total of £861,000 was raised from private investors which, along with £200,000 from the principals and £640,000 from the Bonds, meant that the project was sufficiently capitalised and the first sod on the site at Lochranza was cut on 16 December 1994.

Almost there: Despite setbacks, Currie doggedly persued his Arran distillery dream


Following delays in construction due to nesting eagles in the hills behind the distillery, April 1995 saw the delivery of the distilling plant and initial trial runs were commenced on 24 June with the first mashing. Currie had hired Gordon Mitchell from Cooley distillery in Dundalk, Ireland who oversaw these trials in the company of Bob Gibson and Ewen Fraser of consultant engineer, Forbes Leslie Network.
On 29 June the first whisky produced at the distillery was diverted into the spirit receiver and the first cask was filled the next week. 'Arran Water' had returned to the island after a 158-year absence. For Currie, this was his crowning achievement as a Scotch whisky elder statesman, and on 17 August he addressed a large gathering at the distillery to mark the event. A pair of eagles also joined in above the distillery and it is claimed that each anniversary they come back again.
But for Currie, the start was also the beginning of the end of family involvement at Lochranza, as the finance underpinning the development of the distillery gradually was whittled away while strenuous efforts to build the brand were challenging. With the support of major investors the distillery did survive and an award-winning visitor centre was built in 1997, which is now one of the most visited in Scotland.
Trading losses were to continue for many years and in June 1999 Currie resigned as a director, followed by his son Andrew in September. The grim reality of setting up a distillery and waiting for stock to mature had taken its toll and from that point onwards Currie and his family could only look on, as the majority shareholders on the board determined how Isle of Arran Distillers should evolve. Over the ensuing years that involved share issues to raise further capital.

Living monument: Harold Currie's legacy lives on in the whisky produced on Arran

Finally in August 2003, Paul Currie resigned from the board and sold his remaining shares to Les Auchincloss who had become the largest shareholder. Currie however, along with Hutchison, never sold their remaining shareholdings and so a link remained, however tenuous.
Currie did however see the launch of Arran's 10-year-old single malt, when the company received the Queen's Award for Enterprise: International Trade, as under managing director Douglas Davidson, much work had been done establishing Arran's presence in overseas markets.
In 2007 Arran had been named 'Distillery of the Year' in the inaugural Whisky Magazine World Whiskies Awards, but a level of consistent profitable performance was still some way off. However in 2008 James MacTaggart arrived from Bowmore as distillery manager and Euan Mitchell became MD. From this point onwards Currie felt a sense of relief as his brainchild became more focused and the core range was planned by Mitchell and overseen by MacTaggart.
Isle of Arran Distillers Ltd finally prospered and move into profit in 2010, but Currie's health began to fail and he spent his final years wheelchair-bound and being cared for by his wife Barbara, sons Andrew and Paul, and visiting nurses. But his mind was ever sharp, and he continued doing the odd bit of business into his latter years.
Unfortunately Currie never made it to the 21st anniversary celebrations of his distillery, as he died just months earlier, on 15 March, only days before the company announced the creation of a second distillery at Lagg.