Diageo has opened its first Johnnie Walker House in Europe at Amsterdam Airport Schiphol, making some of its exclusive bottlings available on the continent for the first time.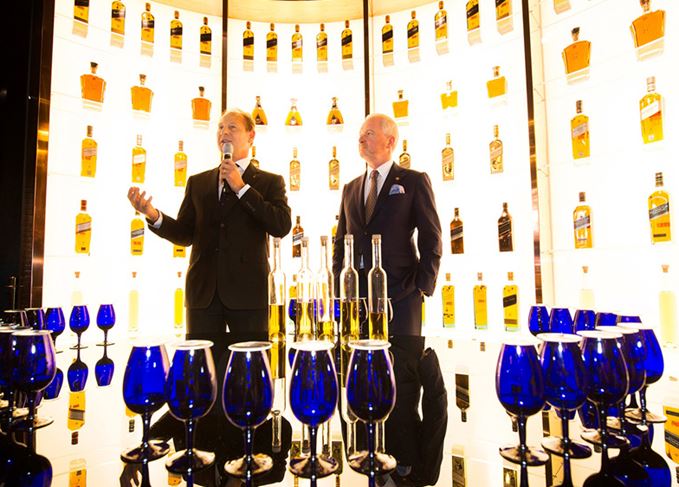 The two-storey 'part gallery, part museum' is a new permanent installation at the Dutch airport, offering a tasting bar, 'theatrical' educational sessions and a shop to purchase the full Johnnie Walker range.
Exclusive to the Johnnie Walker Houses are the John Walker & Sons Master Blenders Collection, Johnnie Walker Epic Dates Collection, and Johnnie Walker House Zodiac Collection.
In addition, the Amsterdam House will offer an exclusive Schiphol edition of Johnnie Walker House Blue Label Casks Edition, commissioned to celebrate the opening of the installation and illustrated by artist Merjin Hos.
Previously these bottlings were only available to visitors to the flagship Houses in Shanghai, Beijing, Seoul and Chengdu, and Singapore, Taipei, Mumbai and Johannesburg airports.
Doug Bagley, managing director, Diageo Global Travel and Middle East, said: 'Since the House opened we have seen fantastic engagement from consumers, with Johnnie Walker Blue Label proving a firm favourite with discerning travellers followed closely by our range of House exclusives.'
Registered members of Johnnie Walker Houses are able to purchase tasting sessions in the Schiphol House private bar, although the House is open to all passengers travelling through Lounge 2.
Amsterdam Schiphol is Europe's fifth largest airport, with over 26 million travellers departing and arriving each year.
According to Bagley, the airport's visitors are estimated to grow faster than any other in Europe over the next few years.
He said: 'This growth, combined with the burgeoning demand for luxury spirits in travel retail, offers a prime opportunity for the Johnnie Walker House Amsterdam Airport Schiphol to deliver an innovative and appealing shopping experience to travellers, as well as giving them access to some of the world's finest Scotch Whiskies and exclusive House editions.'