Johnnie Walker has created its oldest whisky to-date, a 50-year-old blend named the John Walker Masters' Edition, which will be available for US$25,000.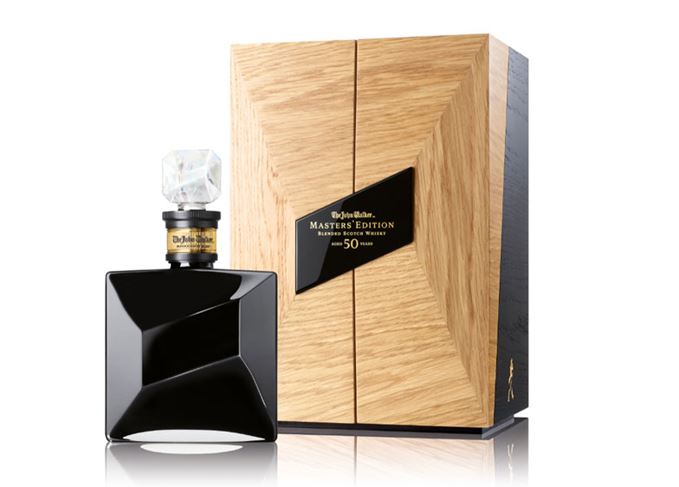 Presented in a black Baccarat crystal decanter within a bespoke cabinet by NEJ Stevenson, cabinet maker to the Queen, the expression has been blended from six whiskies, each matured for a minimum of 50 years.
The six whiskies have been selected from distilleries that were operational during John Walker & Sons founder, John Walker's lifetime (1805-57), five of which are now silent.
They include malts from the now closed Glen Albyn and Glenury Royal distilleries – which fell silent in 1983 and 1985 – as well as Blair Athol which continues to operate in the Highlands.
Also featured are grain whiskies from Caledonian, Cambus and Port Dundas distilleries, all of which also closed in 1988, 1993 and 2011 respectively.
The John Walker Masters' Edition has been 'triple matured' before being blended in a bespoke marrying cask, and bottled at 43.3% abv.

Limited expression: Just 100 black Baccarat crystal decanters have been created for John Walker Masters' Edition

Johnnie Walker master blender Jim Beveridge said: 'Each drop of this whisky has been hand-selected from some of the most valuable and precious casks of malt and grain whiskies to be found in our reserves.
'About 20 years ago, Johnnie Walker blenders recognised that these individual whiskies were very special and the decision was made to put them aside for special use, allowing each of them to continue to mature in their casks, knowing that, in time, something even more remarkable would emerge.
'Our goal was to pay tribute to the whisky masters who worked with these whiskies such a long time ago and, with the creation of The Masters' Edition, I believe we've done that.'
The expression is described as having notes of blackcurrants, citrus and dark chocolate, with a subtle smokiness.
Just 100 decanters have been created, which will be available in limited selected markets. One bottle will be auctioned at Bonhams Hong Kong in 2019.