Johnnie Walker has released the fifth and final whisky in its 'highly collectible' John Walker & Sons Private Collection, described as its 'richest and most indulgent' yet.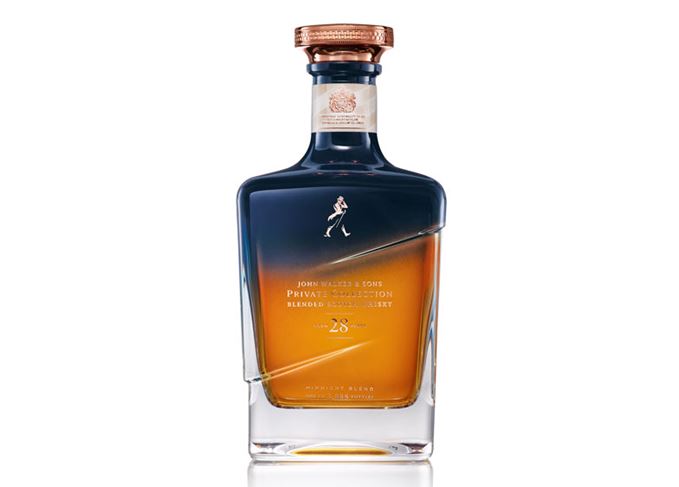 The 28-year-old Midnight Blend has been created as an after dinner whisky using 'extremely rare' malt and grain whiskies from around Scotland, including Caol Ila and Strathmill distilleries.
Bottled at 42.8% abv, the blend is described as having notes of 'citrus, apples, toffee and raisins' with 'layers of creamy vanilla, caramel and butterscotch' and a 'mellow west coast smokiness'.
Johnnie Walker master blender Jim Beveridge said: 'Each individual malt and grain used in the final whisky adds layers of flavour to the 28 Year Old Midnight Blend, leaving hints of fruit, sweet and spice and making it a wonderful final addition to the Private Collection.'
Priced at US$750 a decanter, of which 3,888 will be available globally from this month, the Midnight Blend forms the final expression in the blender's John Walker & Sons Private Collection series.
Launched in 2014, the Collection has featured limited releases of themed blends created from 'the most valuable parts of the Johnnie Walker reserves'.
The first expression, 'A Unique Smoky Blend', was based around the smoky character of Islay, Island and Highland distilleries.
It was followed in 2015 by 'Rare Fruit Character', which celebrated exotic Speyside fruitiness and spicy west Highland fruit notes, and in 2016 by 'Fine Honeyed Notes', which was based around a selection of single grain whiskies.
The penultimate release was last year's 'Mastery of Oak', an 'experimental' study of oak and the effect of maturation on flavour.