Scotch whisky brand Chivas Regal has given five innovative social enterprises a total of US$750,000 in the culmination of the second year of its 'The Venture' initiative.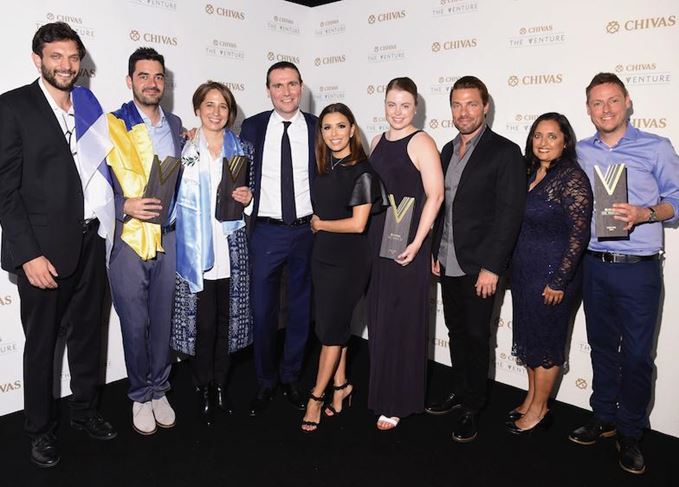 In an event held at New York's Pier 59 and hosted by The Daily Show presenter Trevor Noah, five grand finalists pitched in front of a live audience and a judging panel including actress Eva Longoria.
Also on the panel was Alexandre Ricard, chairman and CEO of Chivas owner Pernod Ricard, who paid tribute to the victims of the Bastille Day attacks in Nice, in which more than 80 people died.
'All our thoughts go to the families of the people who are in pain as we speak tonight in France,' he said, adding: 'Tonight, actually, what we are celebrating, we're celebrating people that want to do good to this world, and this world desperately needs people that want to do good to this world.'
Terrible attack: Pernod Ricard CEO Alex Ricard pays tribute to the Bastille Day victims

Conceptos Plásticos from Colombia won the largest share of funding on the night – $300,000 to aid its work transforming plastic waste into construction materials for permanent housing.
WeFarm, a UK-based knowledge-sharing platform for small-scale farmers, was awarded $200,000, while EyeControl, a mobile communication device for 'locked-in' patients, and Wakami, a producer of fashion accessories supporting community businesses in Guatemala, received $100,000 each.
Coolar, developer of a healthcare cooling system enabling doctors to preserve life-saving medicines in areas with no electricity, was awarded $50,000.
Ricard said the enterprises were 'great examples of how innovative, passionate and forward-thinking the social entrepreneurship movement is'.
Launched in September 2014, The Venture awards an annual fund of $1m to social enterprises from around the world.
Projects are now being invited to apply for funding during The Venture Year 3, which starts on 5 September this year.