A legendary whisky entrepreneur, Jimmy Barclay built the reputations of not one but two great blended Scotch brands, Ballantine's and Chivas Regal, in a career spanning the dark days of Prohibition and the glory years of the 1950s. Iain Russell tells his story.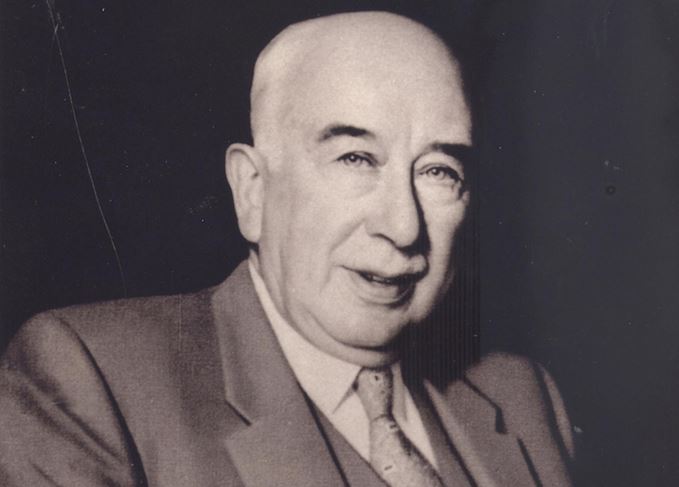 Jimmy Barclay (1885-1963) was a legendary figure in the Scotch whisky industry, described by the Canadian whisky executive Maxwell Henderson as 'one of the greatest whisky entrepreneurs ever to graduate into the respectable era from the bootlegging days'.
The Canadian heard 'amazing tales' about Barclay's adventures in New York during Prohibition, including 'the night he climbed down the Hotel Astor's fire escape to avoid being subpoenaed by internal revenue officers'. He was subsequently involved in some of the most important and complex whisky business deals of the 1940s and 1950s.
Barclay was born in Gargunnock, Stirlingshire, in 1885, but was brought up in Strathspey. He began work as an office boy at the Benrinnes distillery near Aberlour.
In 1909, Barclay went to Glasgow to work for Peter Mackie & Co, eventually taking charge of the firm's home trade, distilleries and warehouses.
There was a recession in the whisky market after the First World War, and the young manager, with his extensive knowledge of the market, was well-placed to spot business opportunities.
In 1919, Barclay left Mackie's and joined RA McKinlay (owner of Alexander McGavin & Co) to purchase George Ballantine & Son. In 1921 they acquired The Stirling Bonding Co and, in 1922, James & George Stodart. T&A McClelland and Highland Bonding Company followed.
Through these acquisitions, the duo not only acquired large maturing stocks at keen prices, but owned and bottled their own brands, including Ballantine's and Old Smuggler.
The dapper McKinlay took charge of the office and the production of blended whiskies. The gregarious Barclay, meanwhile, concentrated on sales and deal-making.
During the 1920s, he travelled extensively to establish the Ballantine's and the Gaelic Old Smuggler brand names in the US. The fact that the Americans had recently introduced Prohibition was a mere inconvenience.

In the midst: Barclay (centre) was instrumental in the introduction of Chivas Regal in the US

Herb Hatch of Hiram Walker believed that 'Ballantine's made its American debut in the whorehouses of Havana, Nassau and New York' during the Prohibition years of the 1920s and early 1930s. Certainly, Barclay made influential contacts in the US, Bahamas and Canada during that time, including Jack Kriendler and Charlie Berns of the 21 Club, the famous Manhattan speakeasy, who also set up a liquor distribution company.
That company, 21 Brands, was appointed as US distributor for Ballantine's, which became one of the most popular Scotches in the country. Its success impressed two more of Barclay's friends from Prohibition days – Hatch and Bill Hume of the distillers Hiram Walker – Gooderham & Worts.
They bought a controlling interest in Stodarts and the Stirling Bonding Co in 1930, and in Robert Ballantine & Son in 1935, in a deal which must have made small fortunes for their owners.
Barclay stayed on as a director of Hiram Walker's Scotch whisky subsidiary, Hiram Walker & Sons (Scotland) Ltd, for a couple of years. He arranged the purchase of the Miltonduff and Glenburgie distilleries for the company, to guarantee the supplies of single malt whisky required for the Ballantine's blends. And he worked closely with James Horn and George Robertson to create a new premium blend, Ballantine's 17 Year Old.
One of Barclay's final acts in connection with Hiram Walker came in December 1938, when he appeared in Glasgow Sheriff Court to give evidence in a case in which Hiram Walker, George Ballantine & Son and other companies were prosecuted under the Merchandise Act 1887: they had allegedly used the false trade description 'Scotch whisky' in connection with blends of Scotch malt whisky and grain whisky from Northern Ireland.

Brand home: Barclay (centre, with Kenny Grant and Willie Mitchell) helped acquire Strathisla for Chivas

Barclay told the court that he believed a whisky could be called 'Scotch' if it was a blend of Scotch malt whisky 'and any other British-produced patent still grain whisky', apparently supporting other defence witnesses who believed that Scotch had become a term which indicated a 'style' rather than a place of origin.
He went on to say that, since the First World War, 'Irish grain was bought and sold by reputable firms for the purpose of being blended with Scotch malt and being marketed as Scotch or blended Scotch whisky' – even if there was as little as 5% Scotch malt in the blend (although he added that such a small amount was practically unheard-of).
This latest 'What is Scotch Whisky' case attracted headlines in British newspapers in 1938 and 1939. All the plaintiffs other than Barclay's old company, McGavin's (which had simply bottled the products for their clients), were found guilty and given nominal fines. The little-remembered test case established quite firmly that Scotch mixed with spirit made in any other place 'must not be labelled Scotch whisky'.
Barclay then became entangled in the celebrated Excess Profits Tax avoidance scandal of the 1940s. EPT was levied by the British Government to prevent rampant profiteering when the prices of whisky stocks went through the roof at the beginning of the Second World War.
Established brokers and a number of 'straw men' formed a syndicate to buy and sell whisky companies and their valuable stocks at small margins, over and again, before the final transfer to the new owner.
This labyrinthine scheme ensured that the EPT liability for the vendor was kept low, while each link in the selling-on chain was no doubt rewarded with a tidy fee.
According to the media, the scheme was fronted by Jay Pomeroy, a Russian émigré, entrepreneur and opera impresario, but involved a who's who of the Scotch whisky brokerage trade, including Barclay.

Target America: Bottles of Chivas Regal being packed before their transatlantic journey

The latter was named in connection with the purchases and re-sales of Bladnoch distillery, William Longmore & Co and other businesses. However, after the introduction of retrospective legislation to close the tax loopholes, and after the Inland Revenue finally began unravelling the deals to claim appropriate amounts of EPT, the authorities ruled that he had been involved only as a consultant.
Even before he severed his ties with Hiram Walker in the late 1930s, Barclay had begun working closely with one of its Canadian rivals – the colourful Sam Bronfman of the Distillers Corporation – Seagram's Ltd.
Bronfman had 'issues' with Distillers Company Ltd, the dominant player in the Scotch whisky industry, which in 1933 had rejected a proposal to work in partnership with his company in the US.
He became obsessed with a plan to create a blended Scotch that would compete with Johnnie Walker and other great DCL brands. Barclay, who had known Bronfman since Prohibition days, was happy to assist.
In 1935, Barclay had purchased the Glasgow firm Robert Brown Ltd for Seagram's and began to amass the large inventory of aged grain and malt whiskies that would be required for the launch of a new, premium blended Scotch.
He husbanded the stocks through the Second World War and, working with a number of well-known brokers, found ways to add to them. In 1949, when reserves of pre-war Scotch whiskies were at an all-time low, and the 12 years age statement had been removed even from Johnnie Walker Black Label, Bronfman made his move.
Seagram's paid considerable sums to buy The Highland Bonding Co and William Walker & Co from Barclay, along with their large stocks of maturing whisky. Barclay then acted for the company to purchase the Aberdeen grocer Chivas Brothers (with its prestigious Royal Warrant), acquiring more stock, but also the rights to the Chivas Regal brand name.

Bottling facilities: The Glasgow Bond was used by Seagram's to package Chivas Regal

The Canadian company also required a distillery to guarantee supplies of single malt for the new blend, and in 1950 Barclay acquired on its behalf the Milton (renamed Strathisla) distillery in Keith.
The previous owner, William Longmore & Co, had been forced into liquidation in the wake of the EPT scandal and of demands made to shareholders to settle claims for more than £500,000 in unpaid tax.
Finally, Bronfman needed facilities for bottling his Scotch whisky, so Barclay put The Glasgow Bonding Co's bottling facilities in Glasgow at Seagram's disposal.
Cockney master blender Charlie Julian was employed to re-formulate Chivas Regal as a rich 12-year-old blend, and it was launched in New York in August 1951.
At a time when bottles of older Scotch were hard to find, Chivas Regal stood out from the crowd. By 1960, Seagram's sold more than 100,000 cases in the US each year, and it remains (with Ballantine's) one of the world's most famous whisky brands.
The ever-restless Barclay left the Chivas board in the late 1950s, in search of yet more business opportunities. He bought four hotels, including the famous art deco Beresford in Glasgow, as well as three farms and a herd of pedigree Aberdeen Angus cattle.
He retained business interests in Nassau in the Bahamas, and he remained a major player in the whisky trade: when he died in 1963, it was said that his company, T&A McClelland, held larger stocks of Scotch whisky than any other private firm.