The illicit whisky trade of the 19th century was the source of Malcolm Gillespie's professional success, and also, eventually, his demise. But was he a whisky hero or a whisky villain? Gavin D Smith tells his compelling tale.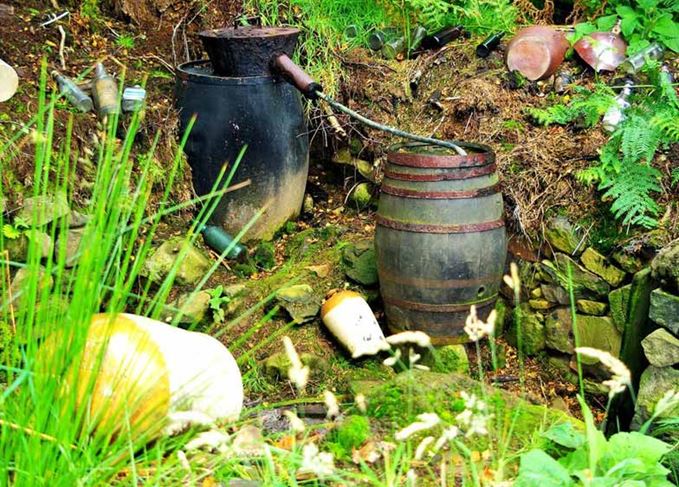 Whether or not Malcolm Gillespie's contemporaries considered him a hero or a villain would largely have depended on whether they were law-abiding establishment figures – or persons connected with the illicit distilling trade.
For Gillespie was a 'gauger', or excise officer, and one whose effectiveness and personal bravery were quite remarkable. Yet he died on the scaffold for the then capital offence of forgery. It is due to his posthumously-published memoirs that we have such detailed and vivid – albeit partial – accounts of his activities and the world of Scottish illicit distilling in the early years of the 19th century.
Gillespie was born in Dunblane, Perthshire, and joined the excise service in 1799, as he was unable to afford the purchase of a commission in the Army. Initially, he was based at Prestonpans on the southern shores of the Firth of Forth, where he made his mark detecting fraud in relation to the taxation of the salt produced there.
As a result of his diligence and success, Gillespie was promoted to revenue officer at Collieston in Aberdeenshire, transferring to the port of Stonehaven in 1807, and then to the Skene Ride on Deeside in 1812. It was there that he first tangled with illicit whisky smugglers in earnest.
Assault was an occupational hazard, but Gillespie acquired an ally in the shape of a bull terrier. As he explained, he taught the dog to:
'… seize the horses one by one, till they tumbling some, and others by dancing, in consequence of the pain occasioned by the hold the dog had of them by the nose, the Ankers [small casks of whisky] were all thrown from their backs.'

Secret garden: The smugglers' trail leading to The Glenlivet distillery (photo: Ann Harrison)

According to journalist J Gordon Phillips in his series of five articles for the Distillers' Magazine and Spirit Trade News, titled The Origin of Glenlivet Whisky, With Some Account of the Smuggling (1897):
'Malcolm Gillespie cared neither for God or man, and he was said to be selfish and brutal with women, but he loved his dog passionately.'
Ultimately the bull terrier suffered a fate that Gillespie himself narrowly avoided on occasions, being shot and killed by a smuggler at Carlogie near Carnoustie, in the county of Angus.
Despite Phillips' opinion of Gillespie, few could doubt his courage and tenacity when it came to detecting illicit stills and intercepting deliveries of the spirit made in them. In March 1824, for example, he and one assistant took on about 30 smugglers of The Glenlivet at Inverurie, while they were on their way to sell their liquor in Aberdeen.
Gillespie was badly injured in the melee, and was only saved when the rest of his officers and a group of local militia arrived on the scene. Ten carts containing 410 gallons (1,864 litres) of whisky were confiscated as a result of Gillespie's intervention.
This would have been a valuable haul for Gillespie, who was paid a modest salary, with part of the proceeds of such seizures being intended to compensate for his low income. The proceeds of the sale of spirit and equipment were split equally between the Exchequer and the excise officer in question.
However, a gauger in Gillespie's position was expected to pay, arm and feed his staff, and also spend his own money paying informants for information leading to detections of stills and seizures of spirit.
Indeed, Gillespie could sometimes be left out of pocket to the tune of as much as £30 or £40 (approximately £1,500-£2,000 today) after a 'successful' venture and, in The Memorial and Case of Malcolm Gillespie (1828), he wrote that:
'… captures of the greatest magnitude are attended with very great expenses; for in a country where the inhabitants are almost wholly connected with the illicit trade, it is difficult to find a person among them who can be prevailed upon to give information against his neighbour and nothing short of the Officer's Share of the Seizure can induce the informant to divulge his secret. It has principally been in this way that I have involved myself in debt.'

Modern discoveries: An illicit still was discovered at Cabrach last year

That debt, partly incurred as he struggled to support his wife and children, ultimately led to Gillespie forging Treasury Bills, for which he was convicted at Aberdeen Circuit Court of Judiciary in September 1827. He was subsequently executed on 16 November, and is said to have been the last person to be hanged in the outdoor gallows in the Granite City.
Phillips' The Origin of Glenlivet Whisky, With Some Account of the Smuggling was by no means an impartial account of the struggle between the excise service and the smugglers, with whom he had very obvious sympathy. He wrote:
'Gillespie was the best-hated gauger in the north-eastern counties. He was forever in difficulties himself, and he showed none of that generosity which was a common trait in many of the excise officers. On the contrary, he hunted all over the country, seizing whisky wherever he got the chance, and if rumour is correct, he did not often destroy it, and the Revenue was little better for what he had seized.'
Gillespie's own pamphlet was, of course, equally biased, but the facts and figures quoted in it appear to be accurate. He declared that he had received 42 wounds to his body in the service of the Revenue, and that during his 28 years of employment he had seized in excess of 20,000 gallons (91,000 litres) of spirit, 60,000 gallons (273,000 litres) of wash, 407 stills and 165 horses.
Whisky hero or whisky villain? It really does depend on whose side you choose to take…