Alfred Barnard's famous 1887 book The Whisky Distilleries of the United Kingdom provides an invaluably-detailed record of 162 British distilleries, including 129 Scotch operations. He provided modern historians with a unique insight into Victorian distilling practices, yet little is known about the man himself. Gavin D Smith takes up his tale.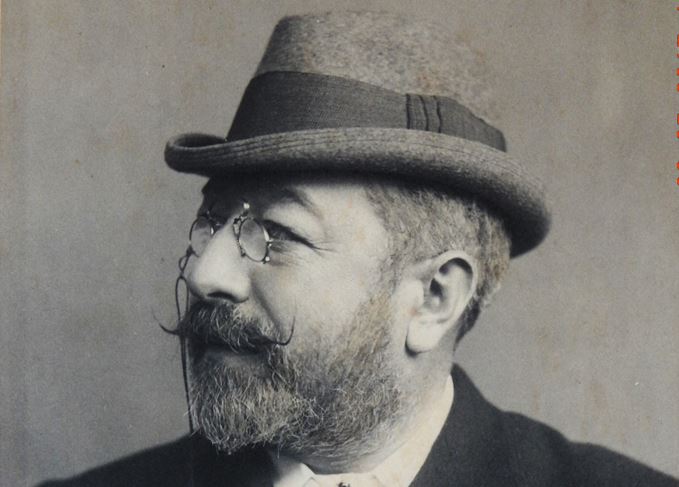 Barely a month goes by without another new whisky book hitting the shelves. Some are original, others derivative, but very few could be described as 'ground-breaking'. To find the most 'ground-breaking' whisky book of them all, we have to travel back to the 1880s and the work of a certain Alfred Barnard.
The substantial tome, titled The Whisky Distilleries of the United Kingdom, provides a unique insight into the British whisky-making industry at one of the most significant times in its history. The book was researched and written between 1885 and 1887, when the global thirst for blended Scotch was reaching its height.
Barnard visited no fewer than 129 Scottish distilleries, 29 in Ireland, and four in England: a tremendous undertaking considering the remoteness of many of those distilleries, and the limitations of Victorian-era travel. At the time Barnard was writing, Scotch was still on the up, and by 1899 the Scottish complement of distilleries had risen to 161 – just before the bubble of over-production burst, and the industry entered a lengthy period of recession.
While other whisky books such as Aeneas Macdonald's Whisky (1930) and Neil Gunn's Whisky and Scotland (1935) may be considered more entertaining and inspirational, Barnard really got to the nuts and bolts – quite literally – of what was happening in Britain's distilleries, and the record he left has proved invaluable to historians and whisky aficionados alike.
Thanks to Barnard, we have first-hand accounts of long-lost distilleries such as Isla in Perth, Gleniffer near Paisley, Gerston in Caithness, and a whole host of Campbeltown distilleries; numbering no fewer than 21 in total.
Barnard was an obsessive when it came to detail, and his descriptions of distilleries leave no malt hopper unspecified and no low wines receiver unquantified, giving us an extraordinary-detailed account of British distilling.

Detailed engravings: Alfred Barnard recorded this view of Glenugie distillery in 1887

Yet Barnard also prefixed many distillery visits with lengthy and colourful preambles about his modes of transport, the scenery and history of the areas through which he passed – often exhibiting a pleasing sense of humour, and giving us an altogether more rounded account of his travels and discoveries than might otherwise be the case. Many of the entries are also accompanied by detailed engravings of the distilleries in question, providing a valuable visual resource to accompany the text. Curiously, however, he rarely mentions the characteristics of any of the whiskies being produced.
Although anyone with even a passing interest in whisky history at least knows of the existence of The Whisky Distilleries of the United Kingdom, very few know anything about its author. So just who was Alfred Barnard, and why did he undertake his daunting task of visiting all 162 British distilleries?
Barnard was born in the Essex village of Thaxted during 1835; the son of a grocer and draper, and one of eight children. At the age of 22, while working as a grocer in Kensington, London, he married Fanny Ruffle, who was the same age, and the couple went on to have two daughters and a son.
When the Barnards' first daughter was born, the birth certificate described her father as a 'toilet soap exporter', and by the time of the next birth he was a 'merchant', finally achieving the status of 'gentleman', ultimately boasting a smart address in Cavendish Square; part of London's fashionable West End. In 1881, he was living near Dulwich, south London.
He operated an advertising agency connected with the wine and spirits trade before joining Harper's Weekly Gazette – a logical move given that the publication featured that very business. As secretary of Harper's, he conceived the idea of visiting all of Britain's whisky distilleries and writing up the story of each, to be published on a weekly basis in the magazine.

Dundashill distillery: Barnard wished to educate the public on the product they consumed

In an edition of Harper's dated 5 March 1887, it is stated that, 'In the early part of 1885 our correspondent, Mr Alfred Barnard, during a visit to many of the Highland distilleries, was struck with the fact that the whisky world in general was entirely ignorant of many, if not the whole of, the establishments from which the various makes of whisky emanate.
'At public sales, and on the market generally, the make of Glen this and Ben that are freely referred to and dealt in, but how few know anything of the locality or detail of the manufacture connected therewith. Thus, the idea was formed of a personal visit to every distillery in the United Kingdom for the purpose of describing its history, locality and method of working...'
Having accomplished this task, the fruits of Barnard's labours were subsequently published in their entirety in 500-page book form by Harper's in 1887.
Original editions now change hands for in excess of £2,000, but the book has been reprinted on a number of occasions, most notably in 2008 by Edinburgh publisher Birlinn. This edition contains not only a facsimile of the original text, but additionally several pamphlets subsequently commissioned from Barnard by a number of distillers.
These include How to blend Scotch Whisky, undertaken for Mackie & Co, and works on the distilleries and brands of Pattison, Elder & Co, John Walker & Sons Ltd, Highland Distillers and Dalmore.
After the publication of that volume, a stand-alone edition of Dalmore was released by Distilled Discourse (2010) and US whisky enthusiast Aaron Barker has re-published Barnard's A Visit to Watson's Dundee Whisky Stores and A Ramble Through Classic Canongate: In Connection With J&G Stewarts Olde Scots Whisky Edinburgh.
Apparently undaunted by the rigours of researching and writing The Whisky Distilleries… Alfred Barnard embarked on a parallel project relating to beer, visiting 110 breweries between 1889 and 1891, which appeared as the multi-volume Noted Breweries of Great Britain and Ireland.
Barnard died in 1918 at the age of 81 in Croydon, south London, and the Essex lad who worked so industriously throughout his long life has secured an honoured place in whisky history, as author of arguably the most important book on the subject ever written.