He began his career as a salesman for the Cork Distilleries Company, but Paddy O'Flaherty's personal and flamboyant approach to sales saw his name eventually assigned to the distillers' Old Irish Whisky. Gavin D. Smith gets the backstory.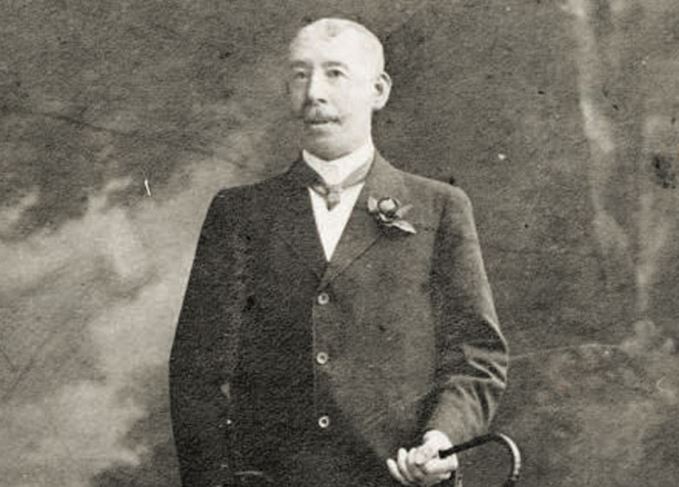 During the later decades of the 19th century, blended Scotch whisky was fast becoming a drink for the world, thanks in part to the high-profile and colourful antics of leading blend entrepreneurs such as 'Whisky Tom' Dewar, 'Restless Peter' Mackie, and the criminally-inclined Pattison Brothers. They plied their trade in the dining rooms of exclusive Mayfair hotels and centres of influence all around the globe.
Meanwhile, in the towns and villages from Youghal to Mallow in County Cork, Irish whiskey had its own champion, a man no less flamboyant in his own way than the Scotsmen who would ultimately bring about a steep decline in the Irish industry. His name was Patrick J. O'Flaherty, better known simply as Paddy.
O'Flaherty was born in 1850 into a family with drinks trade links, as his mother's side ran a pub. He started work in his home city of Cork as a salesman for the Cork Distilleries Company (CDC) in 1882. The company had been formed 15 years earlier by the merger of Cork's Daly's, North Mall, Watercourse Road and The Green distilleries, with Midleton distillery joining the new amalgamation in 1868.
The idea for the merger came from James Murphy, a member of the family that owned Midleton, and the aim was to provide an efficient, financially robust company that could withstand the might of the all-conquering Dublin distillers, including the Big Four of Irish whiskey, namely John Jameson & Son, George Roe & Company, John Power & Son, and William Jameson & Company.

Irish resistance: Cork Distilleries Co. railed against the might of larger distilling groups

Paddy O'Flaherty proved a very important weapon in the Cork Distilleries Company's resistance to the Big Four as he set out to sell its Old Irish Whisky, which had been introduced in 1877. The spelling of 'whisky' now associated with Scotch was much used in relation to the Irish spirit at that time and, indeed, in the case of Paddy was only changed to the more widely accepted 'whiskey' during the 1970s.
When O'Flaherty began selling it, Old Irish was a pure pot still whiskey, aged for 10 years, and far removed in character from the light-bodied, grain-led, triple-distilled blend we know today. The age statement remained in place until 1964.
The gregarious O'Flaherty travelled by train from town to town and by jaunting car from railway stations to drinking establishments in the vicinity. His MO was to walk into a bar and buy everyone a glass of Old Irish. Understandably, this made him a popular figure and obliged landlords to keep stocking the brand as it became increasingly in demand.
It is rumoured that O'Flaherty would send word ahead to the next village or town he was due to visit in order to ensure he was greeted by an enthusiastic crowd and by all accounts, though small in stature, he was large in character.
When it came to ordering or reordering from CDC, landlords soon came to ask simply for Paddy's whiskey, and in 1913 CDC bought the rights to use his name and officially rechristened the brand Paddy. Initially, the firm used the correct O'Flaherty version of his surname, but ultimately dropped the O in the facsimile signature that appears on bottle labels.

Forever salesman: This 1916 advert features Paddy's likeness, three years after his retirement

O'Flaherty retired in 1913, after 40 years of service, and died in January 1928. He is buried in St Joseph's cemetery in Cork City, ironically close to the legendary Apostle of Temperance, Father Mathew, who had established the cemetery in 1830.
As for Paddy whiskey, the merger of several distilleries to form Cork Distilleries Company was replicated during the 1960s, only this time the no-longer-so-mighty Dublin distillers were also involved.
The great success of blended Scotch was one of several factors that contributed to the decline of Irish whiskey during much of the 20th century, and in 1966 John Power & Son joined forces with John Jameson & Son and the Cork Distilleries Company to form Irish Distillers.
The most obvious way for the ailing combination to cut costs and increase competitiveness was to centralise distilling on one site, and the historic decision was taken to cease whiskey-making in Dublin. Midleton also closed and a large, combined pot still and grain whiskey distillery was constructed adjacent to the old Midleton plant.

Limited edition: The seven-year-old centenary whiskey was released in 2013

'New' Midleton came into production during July 1975, and Paddy – now a blended Irish 'whiskey' like Powers and Jameson – has been produced there ever since. Ownership of Irish Distillers passed to Pernod Ricard in June 1988, and 2013 saw the release of a limited-edition, seven-year-old pot still expression of Paddy to commemorate the centenary of O'Flaherty's retirement.
In 2016 the Paddy brand was sold to New Orleans-based Sazerac Company, best-known for its ownership of Buffalo Trace distillery in Kentucky and Southern Comfort liqueur. Currently, Paddy is the world's fourth best-selling Irish whiskey, with sales of 200,000 nine-litre cases per annum across 28 countries worldwide at the time of the Sazerac acquisition.
In the nine decades since Paddy O'Flaherty's death, Irish whiskey has enjoyed some highs and many lows, but the clubbable Corkman would surely have taken great delight in the exuberance once again enveloping the spirit he worked so tirelessly to sell.