Found orphaned and starving in southern Africa, Biawa Makalaga was introduced to an unlikely new life as servant to Major James Grant, the eccentric owner of Speyside distillery Glen Grant. He went on to serve in the First World War – and as goalkeeper in local football team, Rothes Victoria. Iain Russell reports.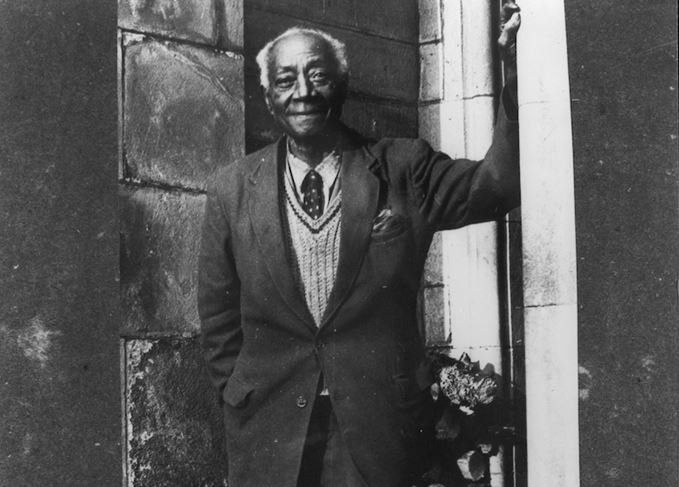 Biawa Makalaga was surely the only African butler ever to play in goal for a Scottish football team: that fact alone inspires curiosity about his life and times. But it is only one of many intriguing aspects of the life of this modest and gentle man. And, while Biawa played almost no part in the actual manufacture or selling of Scotch whisky, he remains a central character in the story of one of Scotland's most famous distilleries.
Biawa came to Scotland in highly peculiar circumstances. In February 1898 Major James Grant, the eccentric and impulsive proprietor of the Glen Grant distillery in Rothes, sailed for southern Africa in search of big game and adventure.
He was accompanied by his second wife, Fanny, on an adventure which took them eventually to Bulawayo to meet up with the Major's old friend, the soldier and adventurer 'Boss Johan' Colenbrander (1856-1918). With Colenbrander and friends they set off on safari to hunt tigers, giraffes, wildebeest and other big game.
Returning to Bulawayo a few weeks later, the expedition passed through an area of Matabeleland recently devastated by drought and famine. The hunters came across two skinny young orphan boys in the care of a destitute cattle herder and his wife. The couple told the multilingual Colenbrander that the boys were of the Kalanga people, and had been found wandering in the bush.

Culture shock: Biawa was taken from southern Africa to Speyside while still very young

The Major said later that the Europeans felt the boys' chances of survival with the old couple were slim. One of his companions announced he would take a youngster back to Bulawayo and employ him as a servant. The Major decided he would take the other. When he and Fanny returned home to Rothes, the bewildered child travelled with them.
The Major's new ward was called Biawa Makalaga. Rothesians pronounced Biawa's name as 'Byway' and believed that he received the name because he was found by the wayside. It's an unlikely explanation.
S Muteiwa of the National Archives of Zimbabwe told me in 1995 that it is more likely that the name was a corruption of a Shona word, pronounced 'beewa', meaning 'stolen'. Makalaga was the word used by European settlers in southern Africa to refer to the Kalanga, the original inhabitants of Matabeleland, but the name had also come to refer to Shona peoples captured or subjugated by the Ndebele.
We don't know if young Biawa himself told the Europeans his name, or if it was given to him by Colenbrander. Whatever the truth, it seems that someone identified him as 'The Stolen Kalanga'. Whether that implied that he had been stolen from his family, or subsequently from the old couple, we will probably never know.
The Major employed Biawa as a pageboy at Glen Grant House, dressing him in a Little Lord Fauntleroy suit and a high, starched white collar. He was educated at the local school, and spoke English with a strong Rothesian accent.
When he grew older he became the Major's footman and general house servant. However, his life 'below stairs' in the distillery's big house was interrupted in 1916, when he was conscripted into the British Army and sent to do his bit for the British Empire.

Serving soldier: Private Biawa Makalaga 203281, who was posted to Egypt during the First World War

Biawa enlisted in the Northamptonshire Regiment at Fort George, near Nairn. In February the following year he set sail for Alexandria in Egypt, where he was posted to 3 East Africa Field Ambulance with the Mesopotamia Expeditionary Force, fighting the Turks.
He served in the Middle East for the remainder of the war and was subsequently awarded the British War Medal and the Victory Medal for his war service. When he was demobilised in March 1920, he returned to life as a servant at Glen Grant House.
Back in Scotland, Biawa joined the local amateur football team, Rothes Victoria. He played in goal and locals remember him as a solid and reliable performer between the sticks. He remained a loyal supporter after his playing days ended, and regularly attended home games after the club joined the Highland League as Rothes FC in 1938.
The late Ernie Sherret, manager at Glen Grant and a Rothes player himself, remembered that Biawa became such a fixture at the club's ground, Mackessack Park, that he was given a complimentary seat in the stand and a half-time cup of tea on match days. On the rare occasions when he went to watch Rothes play away from home, he travelled on the team bus.
Major Grant died in 1931 and his will stipulated that 'any heir occupying Glen Grant House shall maintain Biawa as a servant so long as he is obedient, respectful and sober and willing to remain'. Biawa stayed on to work for Mary, the Major's daughter by his third marriage.

Back home: Biawa returned to Glen Grant House after an unhappy time at Lossiemouth

Biawa had to move out of Glen Grant House during the Second World War, when the 51st Highlanders requisitioned the building and Mary moved to a new home in the south of England.
He found a position as a servant in a mansion in Lossiemouth, but he did not enjoy the experience, telling a friend: 'I am so very, very tired of private service,' and pleading for help to find a job elsewhere. After the soldiers departed from his old home, he was happy to hand in his notice and return to Rothes.
Mary never returned to Glen Grant House, and the Major's grandson and successor as proprietor of the distillery, Douglas Mackessack, chose not to move there. The mansion was divided into flats and let out to distillery workers and their families. Biawa had his own rooms, and Mackessack made sure that Biawa had his meals provided each day at the Seafield Arms in the town.
Biawa died on 4 January 1972. No-one, including Biawa himself, knew his correct age, but he was probably in his early 80s. In his will, the adopted Rothesian left his life savings and any money that might be realised by the sale of his gun, fishing rod and wood saw to his beloved Rothes FC. The club received a cheque for the sum of £36.11s.
There is a local legend that Biawa's ghost is sometimes seen at night wandering through the Glenrothes distillery in the town. It seems a strange place for someone to revisit when his affections and loyalties must have lain with Glen Grant, the distillery along the road.
He certainly doesn't haunt the place in search of a dram, however. Biawa never did develop a taste for the fine single malt whiskies from the town's distilleries. According to the regulars at the Seafield Arms, his favourite tipple was gin and tonic.