Ben Nevis distillery
Highland Single Malt Scotch Whisky
The washbacks are wooden and, more significantly, brewer's yeast is used, making this the last distillery in Scotland to insist on this old way of inducing fermentation. Distillation is slow and steady, giving a rich, deep distillate which matures well in ex-Sherry casks where a ripe, chewy texture is produced.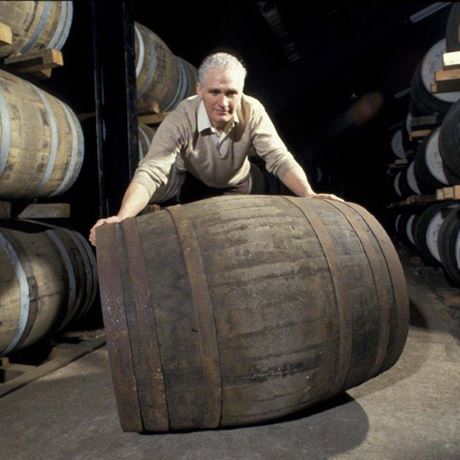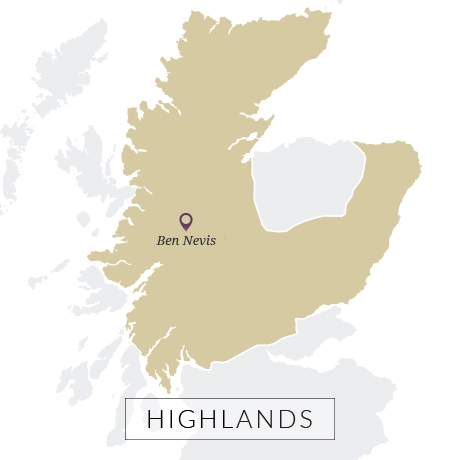 Region

Highland

Production type

Blended Scotch
Single grain
Single malt

Distillery Status

Working
Ben Nevis History
It was in 1825 that 'Long' John Macdonald took out a licence for his Ben Nevis distillery on the outskirts of Fort William and close to Britain's highest mountain. His son Peter took up the reins soon after and built a significant business. By the end of the 19th century, when blended Scotch was becoming the fashion, Long John's Dew of Ben Nevis was a successful single malt brand.
Such was the popularity of the MacDonald's whisky that Peter built a second distillery, 'Nevis', which ran in tandem with the original unit. At one point, over 200 people were employed in this virtual whisky city.
This golden age was not to last. In 1908 Nevis closed and its sister plant operated intermittently until 1941 when the colourful Canadian entrepreneur (and former bootlegger) Joseph Hobbs bought the firm. The Long John brand name had already been sold to Seager Evans, and Hobbs sold off the former Nevis site to Associated Scottish Distilleries. Closed during WWII, Hobbs restarted production in 1955 when he installed a Coffey still. He then started to blend his malt and grain together before maturing.
The distillery fell silent in 1978, but production started again, along with much needed refurbishment, in 1981 when it was bought, appropriately enough, by Long John International – by then the whisky division of the brewer Whitbread. In 1989, Long John sold it to the Japanese distiller Nikka which had been buying malt and grain from the distillery for a number of years.
Ben Nevis has continued in production and has split its whisky between bulk supplies for Japan, the Dew of Ben Nevis and Macdonalds of Glencoe blends, and single malt bottlings, which start with a 10-year-old expression but in recent years have been extended to include Macdonald's Traditional Ben Nevis which includes smokier components. Whisky from one of the last 'Blended At Birth' casks appeared as a 40-year-old in 2002.
Timeline
1825

'Long' John Macdonald licenses Ben Nevis distillery near the landmark mountain

1856

Long John dies, passing the distillery down to his son, Donald P. Macdonald

1878

Demand for Macdonald's whisky is so great that Long John's son, Peter, builds a second distillery, Nevis, nearby

1908

Nevis distillery is closed and used for bonded warehousing as part of the Ben Nevis estate

1941

The distillery is sold to Ben Nevis Distillery, headed by Canadian entrepreneur Joseph Hobbs

1955

Hobbs installs a Coffey still, making Ben Nevis Scotland's first dual-operational distillery

1964

Joseph Hobbs passes away

1978

Ben Nevis ceases production

1981

Production resumes after being purchased by Long John Distillers, owned by Whitbread

1984

Following a £2 million restoration, Ben Nevis resumes production once again but minus the Coffey still, returning the distillery to solely malt distillation once more

1986

The distillery closes just two years after refurbishment

1989

Ben Nevis is purchased by Nikka Whisky Distilling Company and reopened a year later with a visitors' centre added in 1991

1996

Ben Nevis 10 Year Old, the heart of the brand's portfolio, is launched
Owners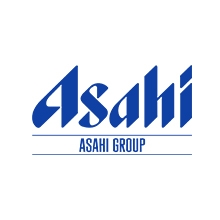 Parent company
Current owner
Previous owners
Whitbread & Co

1981 - 1989

Joseph W Hobbs

1955 - 1981

DP MacDonald & Sons

1856 - 1955

John MacDonald

1825 - 1856
Contact
Address

Ben Nevis Distillery




Lochy Bridge




Fort William




Inverness-shire




PH33 6TJ




United Kingdom

Phone

+44 1397 700200

Visitor Opening Hours

Monday

9.30am to 5pm

Tuesday

9.30am to 5pm

Wednesday

9.30am to 5pm

Thursday

9.30am to 5pm

Friday

9.30am to 5pm

Saturday

10am to 4pm (Easter-Sept)

Sunday

noon to 4pm (July and Aug)