Day one at the Islay Festival means Lagavulin, and whisky fans queuing around the block to get their hands on this year's prized Fèis bottling. The 2017 open day may have lacked the frenetic atmosphere of last year's 200th anniversary event, but there was plenty to keep the distillery's passionate fans entertained. Becky Paskin was there.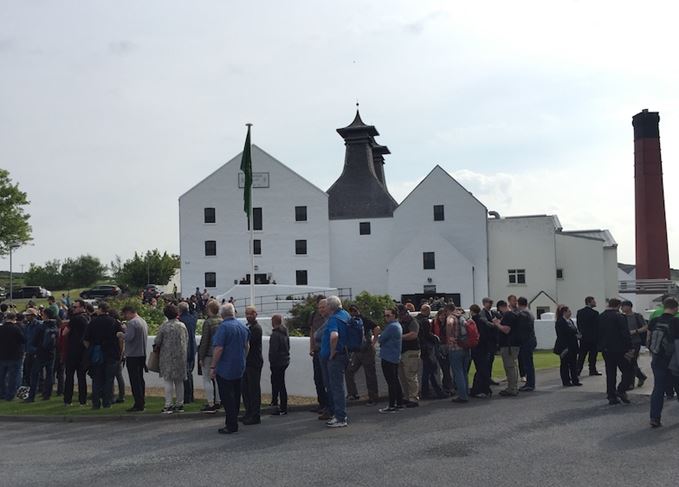 It's been said that Fèis Ìle attracts so many visitors that it's a wonder the island doesn't sink. It's only now, having finally made the journey to Islay's annual arts, music and whisky festival, that I believe it.
As the festivities kicked off on Friday, roads were lined with shiny new rental cars and campervans, and tents were pitched on seemingly every inch of grass available, irrespective of flood warnings.
'No vacancy' signs hung in every hotel and guesthouse window, while Islay's pubs and restaurants were turning away disappointed customers. By late afternoon, the shelves at the Co-op in Port Ellen had been ransacked. You could tell something big was about to go down.
Come Saturday morning the crowds had migrated to one place, drawn to the magnet of Lagavulin distillery in the south of the island for its festival open day. The queue, although smaller than that during last year's Lagavulin anniversary celebrations, circled the courtyard as festival-goers waited eagerly to purchase an exclusive festival bottling.
Available only to buy at the distillery, this year's Fèis Ìle edition was a 16-year-old Lagavulin finished in Moscatel casks previously used to mature Caol Ila Distiller's Edition. Despite the sense of urgency brought on by the queues, with 6,000 bottles available, there were plenty to go around.
As the clouds drew in and threatened to upset a glorious period of weather for the island, about 100 visitors headed for shelter in Warehouse No 3 for one of the highlights of the day – the Manager's Masterclass led by Lagavulin's genial distillery manager Georgie Crawford, with musical accompaniment from Edinburgh-based band The Blueswater.

Tasting highlight: Georgie Crawford recalled last year's 200th anniversary celebrations

Between lively rhythm and blues renditions, sips of current distillery releases – including the festival bottling ­– and bites of food pairings, Crawford regaled the intimate yet roomy warehouse with tales of the distillery's work over the past year as it celebrated its 200th anniversary.
Reflecting on the number of events held across the world to mark the milestone, she said: 'I'm so glad it's 2017 now, because while all that was going on we didn't rest here at the distillery.'
Bursting with pride, she explained how the anniversary encouraged Lagavulin owner Diageo to embark on an oral history project, recording the experiences of former distillery workers still living on and off the island. The project, conducted in collaboration with Strathclyde University, has since been stored both at the Diageo Archive and at the National Archive of Scotland.
Meanwhile, a limited edition single cask bottling created as celebrations came to a close in January this year, raised over £500,000 for Islay-based charities, including the Islay Festival Association and Islay Heritage.
Beyond Warehouse No 3, celebrations had kicked off in the distillery courtyard, with crowds enjoying more live music and dancing, fresh seafood and oysters –and plenty of whisky.
The distillery was buzzing with excited Lagavulin fans, making their annual pilgrimage from as far afield as Australia. One man from Melbourne, who has been attending the festival since 2009, described pilgrims like himself as 'Islay tragics' for their insurmountable attraction to the island.
Among the 'tragic' pilgrims and whisky club gangs, however, were a pleasantly surprising number of young people. I was struck by the youthfulness of the crowd, a sign that whisky's demographic may now be tipping.

Funny business: Iain MacArthur gives an impromptu tutorial in the use of the valinch

Tours and masterclasses continued throughout the day. Warehouseman and Lagavulin stalwart Iain MacArthur, who has been at the distillery for 47 years, led an exclusive single cask tasting in Warehouse No 1, inviting guests to draw their own samples straight from the cask – with often hilarious results and a good-natured insult or two from MacArthur.
Meanwhile, global brand ambassador Donald Colville took visitors through an exploration of flavours traditionally found in Lagavulin, with the help of specially-created tasting kits containing vials of peat, malt and whisky.
Diageo whisky ambassadors Colin Dunn and Erwin Trykowski were back with hands-down the most energetic and colourful session of the day, introducing a variety of Lagavulin cocktails.
'We want to bring cocktails to a new generation,' cried Trykoswki as he stood on a makeshift bar to address the crowd. Having partnered with Alessandro Palazzi of London's Duke's bar, the team handed out a series of Lagavulin-based drinks, including the popular Smokey Cokey (credited to Dave Broom), a mixture of Lagavulin 16 and Coke.

No sacrilege: Erwin Trykowski wants to bring whisky cocktails to a new generation

Mixing a single malt with cola may be blasphemy to some, but the crowd soon drained their glasses with nods of approval. If there was any doubt that Scotch should be mixed, then further creations including an indulgent chocolate twist on an Old Fashioned and a smoky Whisky Mac soon changed minds.
'The enjoyment of whisky is down to the temperature you serve it at, the vessel you serve it in and the people you drink it with,' Dunn explained, before leading the entire room in a rendition of the Hokey (Smokey) Cokey.
He may be a typical showman but Dunn was right – a simple drink made well and a room brimming with joviality made for one of the most enjoyable experiences of the day. Of course, the setting at Lagavulin distillery helped.
As the day began, and crowds slowly made their way to Lagavulin from across the island, the question on everyone's lips was whether the distillery could top last year's anniversary celebrations. Some 3,000 people attended then, and while 2017 may not have seen the same numbers, the drained glasses, dancing feet and contented smiles suggest the legacy of Lagavulin's 200th anniversary is still going strong.
Those unable to attend a masterclass during Lagavulin's open day are still able to book into one of the many bite-size classes taking place during the course of the festival. Visit www.islayfestival.com for details.
Watch our video report from the Lagavulin distillery open day on day one of this year's Islay Festival…